EPPO governing and technical bodies
EPPO Council
The EPPO Council is the general assembly of the Organization where all member countries are invited to participate. EPPO Council meets once a year in September and decides about the policies and programme of activity of the Organization, and its budget. All EPPO Standards are submitted to the formal approval of Council before being published in the EPPO Bulletin which is the official journal of the Organization. The EPPO Council is headed by a Chairman and Vice-Chairman, elected for a period of three years. Every second year, an EPPO Council Colloquium is also organized after the adminitrative session, so that Heads of NPPOs can share their views on topical issues.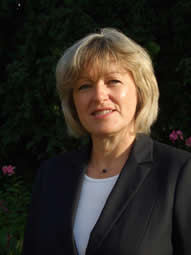 Ms Karola SCHORN
Chairman of EPPO
Federal Ministry of Food and Agriculture
Plant Health, Phytosanitary affairs in export
Rochusstrasse 1, 53123 Bonn, Germany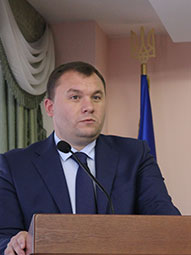 Mr Andrii CHELOMBITKO
Vice-Chairman of EPPO
State Service on Food Safety and Consumer Protection
Department of Phyto Security, Control in Seed Growing and Plant Nursery
7, Koloskova street, 03138 Kiev, Ukraine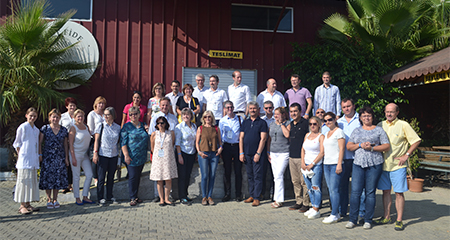 EPPO Council Colloquium (Antalya, TR, 2017-09-28)
EPPO Executive Committee
The Executive Committee prepares the work for Council (both financial and technical aspects) and ensures that the activity of the Organization conforms with the decisions of Council. It meets twice a year (in April and September). It is composed of the Chairman and Vice-Chairman, and of delegates from 7 governments elected on a rotational basis.
Current composition of the Executive Committee (as agreed in September 2018)
Chairman (Ms Karola Schorn)
Vice-Chairman (Mr Andrii Chelombitko)
Czech Republic
Israel
Jersey
Kazakhstan
Latvia
Portugal
Sweden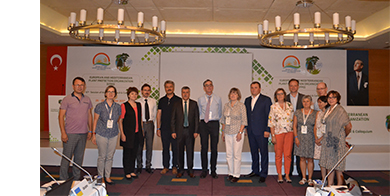 EPPO Executive Committee (Antalya, TR, 2017-09-25)
EPPO Working Parties and Panels
The technical activities of EPPO are directed by two Working Parties: on Phytosanitary Regulations (broadly plant quarantine) and on Plant Protection Products. Each Working Party meets once a year (in June and May respectively). Meetings are held in member countries throughout the EPPO region. The Working Parties draw up their programmes subject to the approval of the Executive Committee and Council. They assign specific tasks to Panels of experts. These Panels are composed of specialists from member countries, nominated as individuals by their respective NPPOs, and they prepare detailed draft standards which will be recommended (after formal approval by Council) to all member countries. Every year, 20-25 Panel meetings are held in Paris or in scientific centres throughout the region. Panels generally meet once a year, but according to the priorities and work programme of the Organization, more meetings may be required or certain Panels may meet at longer intervals. The technical work of the Organization depends on the active and continued participation of experts from member countries in the Working Party and Panel meetings.
Read more details about membership of EPPO Panels
EPPO Secretariat and hosted networks
The EPPO Secretariat prepares and runs all meetings, and coordinates the activity which arises from them. It is responsible for all publication and information services (including databases). Since 2014 and 2015, EPPO is hosting Euphresco and the EU Minor Uses Coordination Facility (MUCF), respectively. The EPPO Secretariat is headed by a Director-General and an Assistant Director.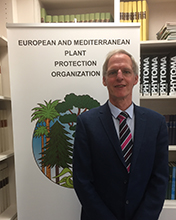 Nico HORN - Director-General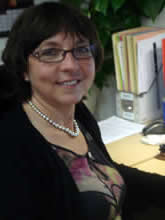 Françoise PETTER - Assistant Director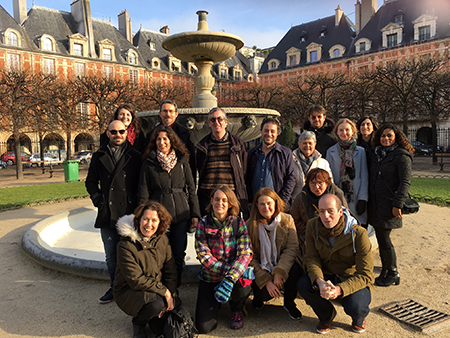 EPPO Secretariat, Euphresco and MUCF – Place des Vosges, Paris (December 2017)
Composition of the EPPO Secretariat
Nico Horn, Director-General: is responsible to the Council for the overall direction of EPPO, chairs the two Working Parties and several Panels, and leads on development and implementation of the work programme.
Françoise Petter, Assistant Director: leads the programme of the Working Party on Phytosanitary Regulations, including work on Pest Risk Analysis and Diagnostics, and chairs the Panel on Phytosanitary Measures and the six Diagnostics Panels.
Vacancy, Scientific Officer: leads the programme of the Working Party on Plant Protection Products.
Anne-Sophie Roy, Information Manager: leads the work on horizon scanning and the EPPO Alert List, produces the monthly EPPO Reporting Service, maintains and manages the EPPO website and databases and maintains EPPO Codes.
Andrei Orlinski, Scientific Officer: leads the programmes of work on quarantine pests for forestry and biological control agents, and leads on communications with Russian speaking experts in the EPPO region.
Eliane Madène, Administrator: is responsible for all aspects of administration and financial record keeping and worked with EPPO's chartered accountant to produce the annual accounts.
Damien Griessinger, IT and Systems Manager: manages delivery of EPPO's IT systems, manages the EPPO administrative support team and works with the Information Officer to develop databases and web services.
Muriel Suffert, Scientific Officer: leads the programme of work for the Panel on Phytosanitary Measures for Potatoes, supports the Panel on Phytosanitary Measures, and carries out pest risk analysis.
Madeleine McMullen, Managing Editor: manages the production of the EPPO Bulletin, edits EPPO's outputs in English, and supports three of EPPO's Diagnostics Panels.
Rob Tanner, Scientific Officer: leads the programme of work on Invasive Alien Plants, including managing an EU LIFE Project on risk from invasive alien plants, produces the monthly IAP section of the EPPO Reporting Service and supports the Inspections Panel.
Valerio Lucchesi, Scientific Officer: supports the plant protection products programme and projects within that programme, such as EPPO Codes for Crop Groups, and supports the Panel on CPM Affairs.
Cintia Mauchien, Administrative Assistant: provides administrative support, particularly in relation to the MUCF and other projects, translates administrative documents into French and supervises the administrative support team.
Diana Ryzhkova, Administrative Assistant: provides administrative support for organisation of technical meetings and translated administrative documents into Russian.
Joséphine Meyer, Administrative Assistant: provides assistance across many areas of EPPO's work, including organisation of technical meetings.
Camille Picard: continues a secondment from the Ministry of Agriculture of France, and leads the project developing recommendations on Regulated Non-Quarantine Pests for the EU. EPPO is very grateful for this additional support provided by France for the work of the Organization.
Euphresco
Baldissera Giovani: works as Co-ordinator of Euphresco (75% of his time) and also supports the work of three of EPPO's Diagnostics Panels.
MUCF
Jeroen Meeussen: leads the EU Minor Uses Co-ordination Facility (MUCF), which is hosted by EPPO and funded initially by the European Commission, France, Germany and the Netherlands.
Flora Limache: works as Technical Expert for the MUCF.
Nathalie Boutron: provides IT support, particularly to the MUCF, including development of website and databases.