EPPO Standards
General background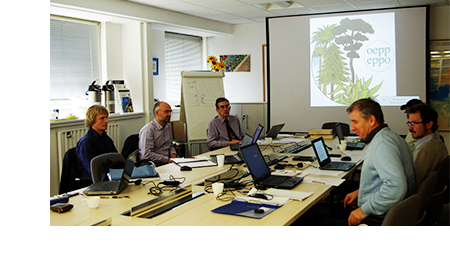 As a result of the work undertaken by the different technical bodies of the Organization (e.g. Panels and Working Parties), EPPO prepares Standards covering its two main fields of activities (plant protection products and phytosanitary measures). EPPO Standards are recommendations that are addressed to the NPPOs of EPPO member countries. EPPO Standards are also 'Regional Standards' in the sense given by the International Plant Protection Convention (IPPC).
In order to ensure international acceptance, draft standards go through an approval procedure, during which all EPPO member countries have the opportunity to express their views. Final decisions are obtained by consensus and EPPO Standards are officially adopted by the EPPO Council. Following approval, EPPO Standards are published in the EPPO Bulletin and can also be retrieved via this website (via links to the EPPO Bulletin website). In addition, they are stored as PDF documents in the EPPO Global Database. All EPPO Standards except PP1 Standards can be obtained free of charge. PP1 Standards are stored in a dedicated database and registration is required to access specific PP1 standards.
To be informed by e-mail when new EPPO Standards are available:
S​​​​​ubscribe to the 'Standards' mailing list

List of EPPO Standards
EPPO Standards have been separated into two main series: PM Standards on phytosanitary measures (covering regulatory measures, treatments, PRA, diagnostics, certification, and safe use of biological control) and PP Standards on plant protection products
EPPO Standards on phytosanitary measures
PM 1 – General Phytosanitary Measures: recommendations on the use of phytosanitary certificates, the EPPO A1 and A2 Lists of pests recommended for regulation as quarantine pests, and standards on Arthurdendyus triangulatus.
PM 2 – Pest-specific Phytosanitary Measures: all Standards in this series (previously called SQRs, Specific Quarantine Requirements) are now withdrawn.
PM 3 – Phytosanitary Procedures: methods to be followed for performing inspections, tests or treatments of commodities moving in trade, or surveys of quarantine pests.
PM 4 – Production of Healthy Plants for Planting: steps to be followed for the production of vegetatively propagated planting material whose health status is attested by an official certificate (ornamentals, fruit crops, and potatoes).
PM 5 – Pest Risk Analysis: detailed guidance on the analysis of risk presented by certain pests, in relation to their potential status as quarantine pests or regulated non-quarantine pests.
PM 6 – Safe use of Biological Control: guidelines for assessing and reducing the risks associated with various aspects of the introduction and use of biological control agents and, as appropriate, for comparing them with the benefits in terms of efficacy.
PM 7 – Diagnostics: internationally agreed diagnostic protocols for regulated pests and horizontal standards on diagnostic issues.
PM 8 – Commodity-specific Phytosanitary Measures: recommendations about phytosanitary measures which should be used or required by EPPO member countries for certain commodities moving in trade to prevent introduction and spread of quarantine pests.
PM 9 – National Regulatory Control Systems: procedures to be followed for official control with the aim of containing and eradicating pests.
PM 10 – Phytosanitary Treatments: methods to be followed for treatments of commodities and treatments of crops for containment or eradication of regulated pests.
EPPO Standards on plant protection products
Standards approved by EPPO Council in 2017-09
At its last session which took place in Paris (2017-09-26/27), the EPPO Council approved the following draft standards. All of them are now in press and will be published in due course in the EPPO Bulletin. They will also be accessible from this website and stored in the EPPO Global Database.
EPPO Standards PM 1 - General Phytosanitary Measures
Revision of EPPO Standard PM 1/2 EPPO A1 and A2 Lists of pests recommended for regulation as quarantine pests.
Additions to the A1 List (pests absent from the EPPO region):
Bactrocera latifrons (Diptera: Tephritidae)
Ceratothripoides brunneus and Ceratothripoides claratris (Thysanoptera: Thripidae)
Prodiplosis longifila (Diptera: Cecidomyiidae)
'Candidatus Phytoplasma phoenicium' (Bacteria)
Ralstonia syzygii* (Bacteria)
Additions to the A2 List (pests locally present in the EPPO region):
Platynota stultana (Lepidoptera: Tortricidae)
Meloidogyne mali (Nematoda)
Citrus bark cracking viroid (Cocadviroid),
Ralstonia pseudosolanacearum* (Bacteria)
Thekopsora minima (Fungi)
Cardiospermum grandiflorum (Sapindaceae)
Gymnocoronis spilanthoides (Asteraceae)
Pistia stratiotes (Araceae)
Salvinia molesta (Salviniaceae)
Transfer from the A1 to the A2 List
Xylella fastidiosa (Bacteria)
[* Modification of pest listing following changes in taxonomy for Ralstonia solanacearum].
EPPO Standards PM 3 - Phytosanitary procedures
Fragaria plants for planting - Inspection of places of production – NEW
Synchytrium endobioticum: descheduling of previously infested plots (revision PM 3/59)
EPPO Standards PM 5 - Pest Risk Analysis
Preparation of pest lists in the framework of commodity PRAs – NEW
EPPO Standards PM 7 - Diagnostic protocols for regulated pests
Dacus ciliatus – NEW
Zeugodacus cucurbitae – NEW
Guideline on the main tasks of Reference Laboratories for official plant pest diagnostics – NEW
EPPO Standards PM 8 - Commodity-specific Phytosanitary Measures
Castanea (revision PM8/3)
Quercus (revision PM8/3)
Betula – NEW
Populus – NEW
Salix – NEW
Potato (revision PM8/1)
EPPO Standards PM 9 - National Regulatory Control Systems
Microstegium vimineum – NEW
Synchytrium endobioticum (revision of PM 9/5)
Bactericera cockerelli and 'Candidatus Liberibacter solanacearum' – NEW
EPPO Standards PP 1 - Efficacy Evaluation of Plant Protection Products
Specific standards
Thrips on citrus and stone fruit – NEW
Thrips on table grapes – NEW
Aphids on citrus – NEW
Aphids on fruiting vegetables of the Solanaceae and Cucurbitaceae families under protected and field conditions – NEW
Ceratitis capitata – bait application – NEW
Ceratitis capitata – foliar application – NEW
Eutypa lata on grapevine – NEW
Aphid vectors of Barley yellow dwarf virus (revision of PP 1/70)
Control of suckers in orchards – NEW
Weeds in soybean – NEW
General standards
Principles of efficacy evaluation for low-risk plant protection products – NEW
Principles of acceptable efficacy (revision of PP 1/214)
---
EPPO approval procedure of Standards