Workshop for inspectors on risk-based sampling and inspection
(Bern, 2023-04-26/28)
A Workshop for inspectors on risk-based sampling and inspection was organized from the 26th to the 28th of April 2023 in Bern (CH) at the Swiss Federal Office for Agriculture, in collaboration with the Animal and Plant Health Agency (GB), the Danish Agricultural Agency (DK) and the European Food Safety Authority (EFSA) and the Swiss Plant Protection Service. The Workshop was attended by 57 participants from 19 countries.
The aim of the workshop was to make inspectors familiar with aspects of risk-based sampling and inspection and to address some of the main inspection challenges faced by EPPO member countries when conducting risk-based sampling and inspection. The Workshop was comprised of oral presentations and practical hands-on sessions.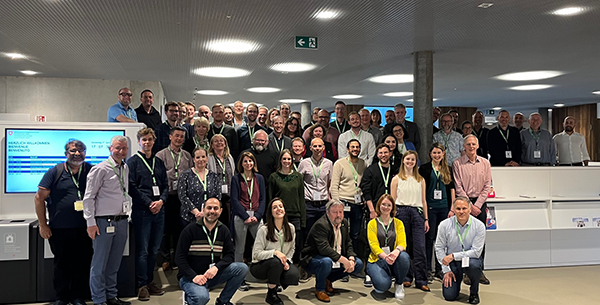 Workshop participants
Presentations
In the introductory session, presentations were given on the principles of risk-based sampling and inspection, on its statistical background and on EPPO's work contributing to risk-based sampling and inspection. This was followed by case studies from Estonia, Finland, Australia, North America, Italy and the Netherlands.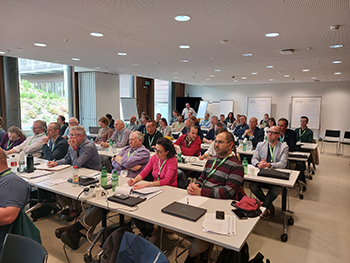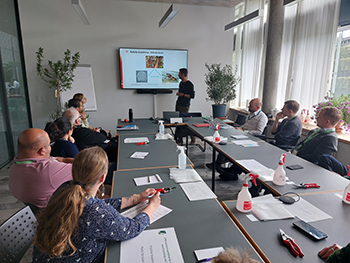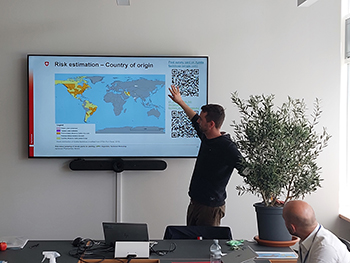 Practical sessions
A bean counting exercise was conducted in small groups with the aim to demonstrate how percentage-based sampling and risk-based sampling differ with respect to efficacy and consistency of results.
The second practical session involved the use of the EFSA RiPEST tool to design robust risk-based surveys against three pests: Agrilus planipennis, tomato brown rugose fruit virus (ToBRFV) and Bursaphelenchus xylophilus.
The third session allowed workshop participants to discuss risk-based sampling of different commodities (woody plants, seed, wood, and fruits and vegetables) and gain practical hands-on experience on sampling and inspection of these commodities.
In an interactive session, participants shared their thoughts on how their roles as inspectors can be enhanced based around a fictious outbreak scenario.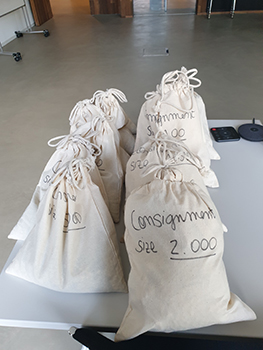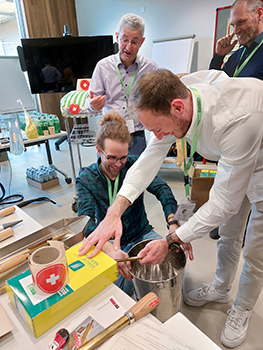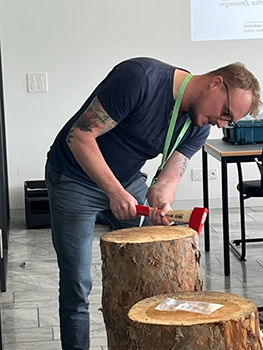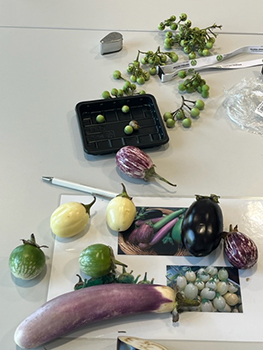 For the final session the workshop participants worked again in small groups for a brain-storming session focused on new technologies to support inspections. The groups moved from table to table (World Café) discussing six different technologies and shared their ideas by reacting on questions and on remarks of other groups on how these technologies can support inspection, and how these technologies can increase the sensitivity of detection and how any restrictions to their use can be overcome.
The suggestions made during the interactive sessions will be presented and discussed at the Panel on Phytosanitary Inspections and at the Working Party on Phytosanitary Regulations where they will be considered for possible activities to be included in the EPPO Work Programme.
Special thanks are due to Mr Andreas von Felten (Swiss Federal Plant Protection Service) and his team for the excellent local organization. EPPO would also like to thank all participants, the Organizing Committee (Mr Kelvin Hughes (Animal and Plant Health Agency, GB), Ms Lis Stenstrup (Danish Agricultural Agency, DK) and Mr Sybren Vos (European Food Safety Authority, IT), the session Chairs and the facilitators of the practical sessions for their excellent work. Last but not least, we thank all speakers for sharing their work and their experience and NAPPO for kindly providing input for the exercises.
Workshop programme and abstracts

Outcome of the practical sessions

The presentations and speakers are listed below with links to the PowerPoint presentations
---
Workshop presentations
Welcome and Open address by Peter Kupferschmied (head of the NPPO of Switzerland)
Risk-based sampling: setting the scene (Chair: Andreas von Felten)
The role of EPPO in supporting risk-based sampling and inspection – Nico Horn, EPPO
What is risk-based sampling? – Derek McCann, GB
Risk-based sampling: the statistics behind the scene – José Cortiñas Abrahantes, IT, EFSA
Reduced checks of plants and plant products at import: a risk-based and data driven system - Jeroen Stellingwerf, NL
Case studies (Chair; Nico Horn)
Risk-based survey of Agrilus planipennis in Estonia – Mart Kinkar, EE
Risk-based inspection of plants for planting for the detection of EU-pests – Michiel Koning, NL
Evaluating a risk-based sampling inspection scheme for plant pests and diseases on Mexican produce imported by truck – Barney Caton, US
Case studies (Chair: Mariangela Ciampitti)
Pleasures and pains of risk-based sampling – Andrew Robinson, AU
NoBa Landcover Retriever helps determining areas to be used for EFSA tools – Aino-Maija Alanko, Juha Tuomola, Salla Hannunen, FI
Discussion session 2: Technologies for risk-based sampling (Chair: Sybren Vos)
Survey programme in Lombardy: criteria and tools for planning sampling and data collection – Mariangela Ciampitti, IT
Rapid testing technologies- can they help plant health inspectors? – Neil Boonham, GB
Presentations for the practical session Risk-Based Sampling (RBS) of consignments