5th EPPO Workshop for Heads of Plant Pest Diagnostic Laboratories
(Oeiras, PT, 2023-04-19/20)
The 5th EPPO Workshop for Heads of Plant Pest Diagnostic Laboratories took place in Oeiras (PT) at the kind invitation of INIAV. The meeting was opened by Patricia Ignacio (Member of the Board of Directors of INIAV).
The objectives of the meeting were:
To share experiences on the use of High Throughput Sequencing (HTS) as a diagnostic tool for plant health and the implications for laboratories and for reporting.
To share experiences on how to ensure the proficiency of laboratories.
The Workshop was attended by 61 participants from 28 countries. The EPPO Secretariat thanks INIAV, the organizing committee, the speakers, and the participants for making this workshop possible. The organizing committee was composed of Ms Anthoine (ANSES, FR), Ms de Andrade (INIAV, PT), Ms Reisenzein (AGES, AT), Ms Ross (Sasa, GB) and Ms Weekes (Fera, GB).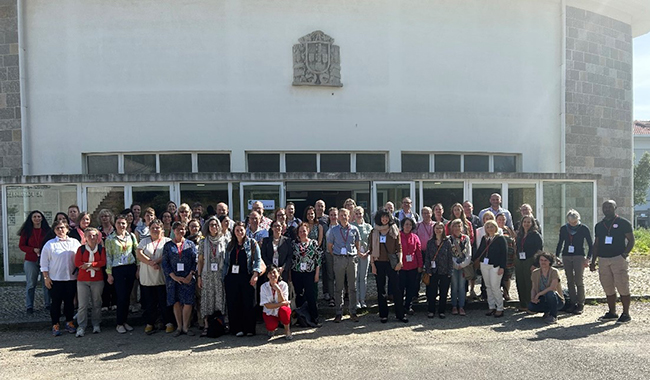 Workshop participants
Session 1 – Use of HTS as a diagnostic tool for plant health
The first part of the session included 8 presentations (see below) and started with a general introduction on HTS followed by examples of its use in plant pest diagnostic laboratories, and presentations on the challenges of establishing HTS in a laboratory (including challenges related to bioinformatics, accreditation, reporting and communication to NPPOs). A brief overview of the EPPO Standard PM 7/151 Considerations for the use of high throughput sequencing in plant health diagnostics was also given. Finally, an example of use in human health was presented.
In the second part of the session small groups were formed to discuss three topics in relation with HTS:
Specific resources needed to set up HTS in a laboratory
Accreditation
Reporting the results to the NPPO and follow up actions
Specific resources needed to set up HTS in a laboratory
The groups highlighted:
The importance of data storage e.g. the need for server capacity which is expected to increase, security, the data to be archived (the groups considered that at least the raw data and final results should be archived), the need to monitor software evolution and to be able to retrieve data in the future. The need to pay attention to potential problems with ownership of the data in relation to where the server is hosted.
The need for user friendly informatic platforms and guidelines for bioinformatics.
The need for curated databases and to share sequences between laboratories, although limitations were noted (such as the possible trade consequences of sharing metadata linked to sequences and the Nagoya protocol).
The need for bioinformatic skills but also plant health expertise to properly interpret HTS data.
Outsourcing of library preparation and sequencing was considered valuable when few samples are to be analyzed, however the other steps of HTS (e.g. nucleic acid extraction, bioinformatic part) should remain in house.
For laboratories starting with HTS, it was recommended to begin with a few samples and to ensure to get the support from a bioinformatician.
Accreditation
Differences of approaches between national Accreditation Bodies (ABs) were stressed. The level of flexibility authorized by ABs is variable and accreditation under a fixed-scope may be required by some ABs before a flexible scope is accepted. In addition, accreditation of HTS when some steps are outsourced is not possible in some countries.
The need for communication between laboratories and ABs to define the conditions under which laboratories could be accredited for HTS was highlighted. There is a need for sharing more examples on how performance criteria of HTS can be evaluated or monitored (e.g. repeatability reproducibility, robustness), and on how databases can be used (in particular the need to critically analyse the results obtained). Alien controls (definition available in PM 7/151) were cited as a way to monitor trends. It was noted that when interpreting data any uncertainties should be considered.
Reporting the results to the NPPO and follow up actions
Requirements to report results to NPPOs is not specific to HTS, however this technique is expected to increase the number of new findings and consequently reports to NPPOs. Usually, laboratories notify the NPPO when pests which were not known to be present in the country are found or for known regulated pests if they are found on new hosts. For new pests, contextual information on the sample needs to be provided and, if possible, include elements regarding the related risk (quick Pest Risk Analysis).
The group discussed the need for confirmation of an HTS result and noted that different approaches exist and that this needs further discussions.
There is a need to raise awareness among researchers on the need to report regulated (or new) pests findings to the NPPO.
There is a need to provide background information on HTS and interpretation of results to the policy makers and risk managers and also to exchange views on what should be reported to them (criteria for prioritization). This communication with NPPOs is important in particular for raising funds for research on emerging pests identified through HTS.
Session 2: Proficiency of laboratories: how to ensure it?
The first part of the session included 12 presentations (see below) and started with a presentation from the Portuguese AB on the importance of proficiency for accreditation. In the following presentations, two topics were discussed and illustrated by examples and experience of laboratories.
How to ensure proficiency of laboratories in a network with proficiency tests?
How can a laboratory demonstrate proficiency when there is no proficiency test scheme available?
In the second part of the session small groups were formed to discuss three topics.
Specific resources needed for proficiency test organization.
Alternatives to proficiency test.
Optimization of proficiency assessment.
Specific resources needed for proficiency test organization
Organization of proficiency tests (PTs) relies on availability of reference material, and this is a key difficulty for laboratories, in particular for pests absent from the region and non-culturable pests. Material transfer agreements (MTA) are sometimes requested and usually restrict the possibility to share or use the material. Outsourcing the preparation of reference material is generally not done maybe due to a limited demand .
Staff expertise is required for critical points for the organisation of the PT. For small teams, the organisation of PTs may be difficult, in particular when the laboratory also intends to participate in the PT. Staff from other laboratories or from the administrative team may be involved for some steps.
The cost of organising a PT is usually a limitation. Some organisers charge the participants of a PT, but it usually does not cover the costs, in other cases the organizer is not able to receive fees, and other sources of funding are needed (e.g. from the NPPO, from the EU Commission).
Some difficulties related to the packaging and dispatch of the samples were highlighted, with the importance of packaging material ensuring stability and security of samples. It was noted that some specific custom codes can be used for sharing diagnostics related materials.
Alternatives to proficiency test
Alternatives to PT to demonstrate proficiency are important, in particular for methods that are not frequently used or pests that are not often tested for.
Small interlaboratory comparisons (ILC) are used by some countries to demonstrate proficiency when no PT is available. The groups highlighted the importance of collaboration and networks (e.g. Euphresco, Baltic Network of laboratories) to organize those small ILC. They also thought that guidelines applied to the Plant Health field would be useful.
Internal blind test and confirmation by a laboratory with recognized expertise (e.g. EURLs) or participation in workshops may also be used when PT are not available.
Optimization of proficiency assessment
The groups noted that the frequency of participation in PTs varies (between every 3 to every 5 years) depending on ABs but that laboratories should participate in at least one PT per accreditation period.
Some small national or regional PTs are organised. It was stressed that it is not always easy to be aware of PTs that are organised and the groups found that a platform listing all PT offers with an automatic alert system would be useful. However, it was noted that PTs are usually not open to many participants outside a given network.
The type of sample included in a PT was discussed, it was agreed that this should be similar to a real sample to provide an assessment of the whole diagnostic process, but that this is not always possible.
The development of a horizontal approach for proficiency assessment is essential, in particular when no samples for a given pest are received in the laboratory. It was noted that different approaches should be used to show proficiency (see previous point) and that it is important to communicate regularly with ABs to have horizontal approaches accepted.
General recommendations from the workshop
On the use of HTS as a diagnostic tool for plant health:
Organize a practical training course to help laboratories engage progressively in HTS. A challenge on the use of HTS similar to the VIROMOCK challenge could be organised for disciplines other than virology.
It was recommended that EPPO develop further guidelines on HTS in particular on the bioinformatic analysis and on test descriptions.
Discussions with ABs at national level are essential and strongly recommended to see how HTS tests could be accredited in countries under a flexible scope. EPPO will make a comparison of the different flexible scopes for Plant Health in the EPPO region and will continue exchanging with EA on the difficulties and lack of harmonisation regarding accreditation under the flexible scope and outsourcing in EPPO countries. Communication material to present the different approaches could be prepared by EPPO and circulated to countries to help discussions with ABs.
A presentation of HTS to risk managers will be organized to strengthen the need to communicate with laboratories about what should be reported.
On the evaluation of the proficiency of laboratories:
EPPO will prepare guidelines on the organisation of small interlaboratory comparisons and blind tests.
EPPO will investigate the need to provide additional information on reference material.
In addition to Test Performance Studies (TPS), PT could be organised through Euphresco projects. Laboratories should indicate their needs and propose topics through their Euphresco national contact points.
EPPO will investigate the possibilities to develop a platform to list PTs and small ILCs, to look for collaboration exchanging information on offers and needs, with an automatic alert.
To continue discuss with AB about horizontal approaches and alternatives to PTs.
---
Workshop presentations

View presentations on YouTube
Session 1 – Use of HTS as a diagnostic tool for Plant Health
Session 2 – Proficiency of laboratories: how to ensure it?
Consistent proficiency: the foundation of accreditation, P. Tavares (IPAC, PT)
PM 7/122 Guidelines for the organization of interlaboratory comparisons by plant pest diagnostic laboratories, C. Trontin (EPPO)
PT organization for National Reference Laboratories: Challenges for morphological tests in entomology, A. Taddei (EURL-ANSES, FR)
PT organization at national level: Challenges and lessons learned, S. Koenig (JKI, DE)
Optimization of proficiency assessment (remote presentation), M. Rolland (ANSES, FR)
Experience of participation in proficiency tests (PTs) from KIS (Slovenia), B. Geric Stare (KIS, SI)
A review of proficiency tests in plant pathology in the Luxemburgish NRL by the example of potato viruses, S. Rauch (ASTA, LU)
Proficiency test: our experience from the laboratory to the field, A.P. Lanteri (CeRSAA, IT)
Small but perfectly formed; how very small ILCs can help when there is no PT scheme available, R. Weekes (FERA, GB)
Experience from INIAV (PT), J. Fradique (INIAV, PT)
How to make a lab quality manager happy?, V. Čermák (ÚKZÚZ, CZ)
Across the board - Method-based system approach to proof proficiency in plant health laboratories, M. Westenberg (NIVIP, NL)