Workshop on the use of Next Generation Sequencing technologies
for plant pest diagnostics
Bari (IT), 2017-11-22/23

The Workshop on the use of NGS technologies for plant pest diagnostics was organized jointly by the European Cooperation in Science and Technology (COST) Action FA1407, the European Phytosanitary Research Coordination network (Euphresco) and the European and Mediterranean Plant Protection Organization (EPPO) and took place on 2017-11-22/23 in Bari, Italy.

Participation to the Workshop was open to all interested parties and was attended by 147 participants from 45 countries including 12 countries which are not EPPO Member countries. It should be noted that the interest for this workshop went beyond the expectations of the organizers and that the Organising Committee finally decided to allow more participants than originally scheduled.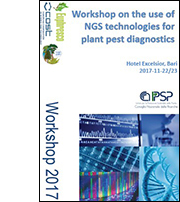 High-throughput sequencing technologies, namely Next Generation Sequencing (NGS), have open the way to fast and cheap analysis of genomes. NGS technologies have the potential to be routinely used for plant pest diagnostics in the near future. NGS technologies can be used for the detection of known pests as well as 'unknowns'. These technologies can, at the same time, increase knowledge on pest diversity (e.g. genomics, population biology, epidemiology). The Workshop provided basic information on these technologies and about their most recent advances and gave the opportunity to discuss, for the first time, its applicability for plant pest diagnostics. The target audience of this workshop was current and potential users of NGS with a focus on application in plant health as well as plant health risk regulators.
Two plenary sessions were organised:
The first session was an introduction to NGS with a general presentation on NGS followed by the presentation of the COST Action DIVAS and Euphresco project NGS-detect. Initiatives from non EPPO countries (AU, CA, NZ, US) and the view of the International Plant Protection Convention Secretariat were presented.
The second session included several presentations on the experiences of different laboratories that use NGS.
Presentations made during the plenary sessions
| | |
| --- | --- |
| What's in the pipeline? | Mr van der Lee (WUR, NL) |
| Defogging NGS and plant virus diagnostic: the role of a collaborative network (COST Action FA1407) | Mr Massart (ULG, BE) |
| Euphresco 2015-F-172: the application of Next Generation Sequencing technology for the detection and diagnosis of non-cultural organisms: viruses and viroids | Mr Ziebell (JKI, DE) |
| Euphresco 2015-F-172: Next Generation Sequencing proficiency testing of virus infected grapevine and fruit trees | Mr Rott (CFIA, CA) |
| Next Generation Sequencing in the context of the International Plant Protection Convention (IPPC) | Ms Moreira (IPPC) |
| The impact of NGS in New Zealand | Ms Lebas and Ms Souza-Richards (MPI, NZ) |
| The impact of NGS on policy regulations: a case study in New Zealand | Ms Souza-Richards (MPI, NZ) |
| The application of Next Generation Sequencing technology for the detection and diagnosis of non-culturable organisms – an Australian perspective | Mr Rodoni (DPI, AU) |
| High Throughput Sequencing as a tool for viral pathogen diagnosis and expedited release of quarantined propagative plant material | Mr Al Rwahnih (UC-Davis, US) |
| Validating siRNA sequencing and assembly to replace classical virus indexing in root and tuber crops | Mr Kreuze (CIP, PE) |
| NGS-based viral diagnostics, lets confront some difficulties | Mr Candresse (INRA, FR) |
| Deep sequencing for quality control of real-time PCR diagnostic used for potato certification | Mr Schump (Agroscope, CH) |
| In search for the causal agent of faba bean gall disease in herbarium samples | Mr Van der Lee (WUR, NL) |
| Comparison of NGS pipelines and traditional diagnostics in annual Daucus carota surveys for the detection of 'Candidatus Liberibacter solanacearum' and 'Ca. Phytoplasma solani' | Mr Westenberg (NVWA, NL) |
| NGS technology at CNR-IPSP: from de novo virus discovery to the sanitary status of plants for planting | Mr Saldarelli (IPSP CNR, Bari, IT) |
| Maize lethal necrosis in East Africa: tracking an emerging disease using NGS | Mr Boonham (Fera, GB) |
| Detection of plant viruses by NGS at NIB | Ms Ravnikar (NIB, SI) |
Posters
Spread of Citrus tristeza virus in Greece and characterisation of identified isolates with classical and modern technologies (NGS)
Beri D, Kektsidou O & Varveri C
Virtool: Software for detection of plant virus using Next Generation Sequencing
Boyes I & Rott M
Fast dissection of viral infection by Minion Sequencer
Calassanzio M, Prodi A & Ratti C
Next Generation Sequencing for virus discovery and large-scale virus screening in the cassava collection at CIAT's genebank
Carvajal-Yepes M, Cuervo M, Olaya C, Martínez A, Lozano I, Niño D, Aranzales E, Debouck D, Wenzl P, Cuellar W & Tohme J
NGS technologies for plant pests diagnostics in Romania: where we are and what we aim?
Ciceoi R & Bădulescu L
Unravelling the little cherry disease complex at European scale to improve transnational diagnostics and management of the disease (EURAVELCH)
De Jonghe K
Benefits of integrative methods on analysis of low coverage NGS data
Dudic D
Full genome characterisation of 10 tospoviruses by Next Generation Sequencing
Dullemans AM, van Bekkum PJ, Roenhorst AJW, Kormelink R & van der Vlugt RAA
High-throughput sequencing for discovery & genome assembly of plant viruses at the DSMZ Plant Virus Department
Knierim D, Margaria P, Menzel W & Winter S
Effect of template enrichment for RNA-Seq library preparation: case study of multiple viral infection in red clover
Koloniuk I, Fránová J, Sarkisova T, Přibylová, Petrzik K, Lenz O & Špak J
Viruses and viroids of grapevines revealed by NGS in Czech Republic
Kominek P, Komínková M, Eichmeie A & Baránek M
Identification of Nectarine stem pitting-associated virus infecting Prunus persica by Next Generation Sequencing in Hungary
Krizbai L, Kriston E, Kreuze J
& Melika G
Detection of plant viruses by next-generation sequencing (NGS)
Mehle N, Kutnjak D, Pecman A & Ravnikar M
Diagnosis of viruses and viroids via Next Generation Sequencing in local grapevine, Turkey
Önder S, Gökçe ZNÖ & Serçe ÇU
Deep Sequencing of a local grapevine variety in Turkey for diagnosis of viruses and viroids via Next Generation Sequencing techniques
Önder S, Gökçe ZNÖ & Serçe ÇU
Identification and characterization of Phytophthora hybrids using genotyping-by-sequencing
Van Poucke K, Haegeman A, Goedefroit T, Ruttink T & Heungens K
Two novel virus-like sequences from grapevine
Vončina D & Alemida RPP
The etiology of watermelon 'hard fruit syndrome': an NGS approach
Zaagueri T, Miozzi L, Mnari-Hattab M, Noris E, Accotto GP & Vaira AM
Hands-on sessions
During the morning of the second day, 3 parallel hands-on sessions were organized. The topics of these sessions had been identified by the Organizing Committee and were related to the expertise declared when participants registered.
Group 1 was made of scientists with no expertise on NGS and bioinformatic tools. This group was asked to consider the regulatory consequences of a detection of a new virus or a new host using NGS.
Group 2 was made of scientists with some expertise on NGS and bioinformatic tools. Participants were provided an overview on the bioinformatic analysis of viral sequence obtained with NGS technologies and how to link it to pest diagnosis.
Group 3 was composed of scientists with expertise on NGS and bioinformatic tools. This group identified the Quality Control and Quality Assurance criteria for the NGS pipeline.
Session on 'harmonized guidelines on the use of NGS in diagnostics'
The final session on 'harmonized guidelines on the use of NGS in diagnostics' was introduced with a presentation of a framework for the evaluation of biosecurity, commercial, regulatory, and scientific impacts of plant viruses and viroids identified by NGS technologies (COST Action FA1407)

.
After a presentation of the EPPO Standard setting process

, six parallel brainstorming sessions were organised to determine the main scope and content of a possible EPPO Standard that would address the needs of laboratories.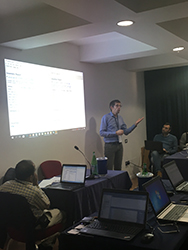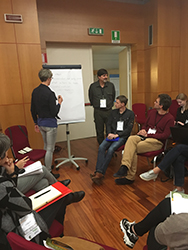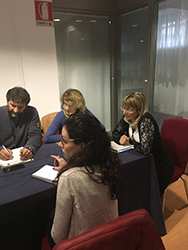 Workshop conclusions
The main conclusions of the brainstorming sessions and of the workshop are presented below.
Group 1 agreed that a technical document was needed that would describe best practices for sampling (e.g. conditions for sample shipment, use of gloves and disposable material for each sample, sample storage), library preparation (e.g. addition of spikes, how to minimise cross-contamination and pipetting mistakes), sequencing (e.g. how to minimise carry-over between runs, track and trace samples throughout the sequencing step), bioinformatic analysis (e.g. quality assurance of data), validation (e.g. regular validation of the pipeline) and reporting (e.g. confirm the outcome of the NGS-based analysis with another test). Guidelines that cover the regulatory aspects of NGS would also be needed.
Group 2 supported the idea of developing a set of recommendations, that could be included in the EPPO Standard PM 7/98 (2) Specific requirements for laboratories preparing accreditation for a plant pest diagnostic activity. They noted that NGS required a RNA of higher quality compared to PCR tests and protocols must be adapted to take into account the matrix, the virus, the season. Library preparation could be outsourced, commercial kits could be used upon verification and home-made procedure should be validated. Communication with providers of sequencing services is essential to agree on the controls to use or to get information on previous runs (potential carry-over). The group highlighted the difficulty of validating analysis on unknows and recommended that new findings are accompanied by a pest risk assessment.
Group 3 was in favour of developing general and technical recommendations for scientists but also for regulators. Sampling recommendations would be host-specific; different tissues should be taken to get a representative sample. The type of plant analysed will also determine the requirements in terms of quality of RNAs. The use of controls/spikes (synthetic vs biological) will be useful for library preparation and the subsequent bioinformatic analysis. The bioinformatic pipeline should be tested with standard data. Concerning validation, the group supported the idea of using/adapting approaches used in other disciplines (i.e. medical sector). The reporting should allow an independent laboratory to follow what was done.
Group 4 considered that one Standard would be more appropriate as an early attempt to standardize NGS activities. For this group, the sampling for NGS would not be different from the sampling done for other tests (i.e. real-time PCR). Composite samples should be used when dealing with multiple targets. Negative controls should be included during the library preparation. Validation of the NGS pipeline may be possible with a known pest but is not feasible with unknowns. Results should be confirmed by another test.
Group 5 also concluded that sampling for NGS will be similar to what done for other tests. They discussed the use of sample preparation using fresh or frozen plant material and the importance of having best practices to prevent contamination.
Group 6 reached the same conclusions as the other groups. They were in favour of guidelines that should be specific for each application of NGS technologies. Standard on sampling already exist; NGS will need additional (positive and negative) controls. The group agreed that library preparation was platform-dependent and a fast-moving area, standardization will then be difficult. Equivalence of in-house methods and commercial kits should be proved. Basic QC minimum criteria that are platform independent should be established; concerning bioinformatics, recommendation should not be too specific/prescriptive, to leave freedom to the operator.
As a result of the brainstorming sessions, it was concluded that two documents should be prepared.
A white paper for communication on NGS mainly directed mainly to risk managers underlining the importance and potential of NGS for diagnostics. This paper will be developed by an international group (some preliminary discussions on the steps for the preparation of this white paper have already taken place in the COST group in the meeting that followed the Workshop).
Technical guidelines that should form recommendations for laboratories using or intending to use NGS.
Acknowledgements
The EPPO Secretariat would like to express its gratitude to the Organizing Committee, the trainers and the local organizers for their support in the organization and running of the Workshop.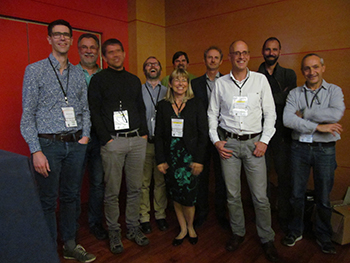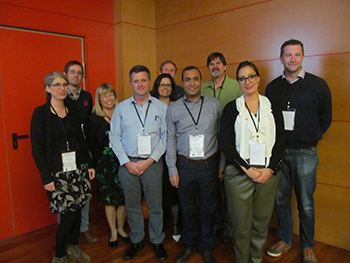 Organizing Committee
Maja Ravnikar (National Institute of Biology, Slovenia, 'Dissemination working group leader in COST Action FA 1407')
Sebastien Massart (Gembloux Agro-Bio Tech University of Liège, Belgium Chair of the COST Action FA 1407 - www.cost-divas.eu

)
Angelantonio Minafra (Institute for Sustainable Plant Protection, local organizer, Italy)
Heiko Ziebel (Julius Kuehn Institute, Euphresco project coordinator, Germany)
Trainers
Neil Boonham (Fera Science Limited, UK)
Thierry Candresse (Université de Bordeaux, FR)
Michela Chiumenti (CNR – IPSP, IT)
Dragana Dudic (Faculty of Agriculture, University of Belgrade, RS)
Jan Kreuze (International Potato Center, PE)
Denis Kutnjak (National Institute of Biology, SI)
Sebastien Massart (Gembloux Agro-Bio Tech University of Liège, BE)
Laura Miozzi (CNR – IPSP, IT)
Maja Ravnikar (National Institute of Biology, SI)
Michael Rott (Canadian Food Inspection Agency, CA)
Noa Sela (Agricultural Research Organization, IL)
René Van der Vlugt (Wageningen Plant Research, NL)
Thierry Wetzel (DLR Rheinpfalz, Institute of Plant Protection, DE)
Adrian Fox (Fera Science Limited, UK)
Local organizers from the Institute for Sustainable Plant Protection, Italian National Research Council:
Angelantonio Minafra, Michela Chiumenti, Annalisa Giampetruzzi, Francesco Palmisano, Vitantonio Pantaleo, Pasquale Saldarelli, Maria Saponari, Luciana Savino.
And finally, we would like to thank all participants for having contributed to this successful event.