Feed-back from NPPOs on the 'Don't Risk It!' campaign
Since 2013, many EPPO member countries have used the EPPO templates in their national awareness raising campaigns targeted at travellers and tourists to warn them about the risks of moving plants and to encourage responsible behaviour. The EPPO Secretariat is always very happy to receive feed-back from NPPOs on how these templates have been used in practice and to display on this webpage translations, shared experiences and pictures of the poster in situ.
Translations of the EPPO poster in different languages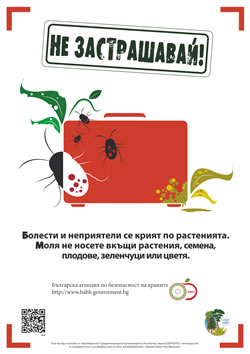 Bulgarian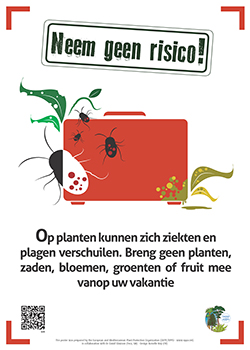 Dutch (Belgium)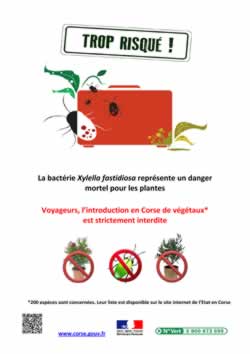 French (Corsica for Xylella fastidiosa)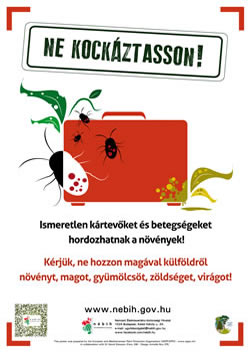 Hungarian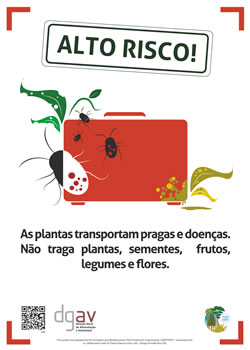 Portuguese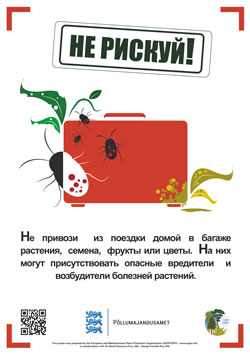 Russian (Estonian NPPO)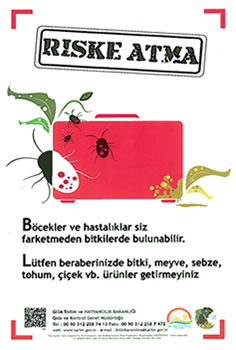 Turkish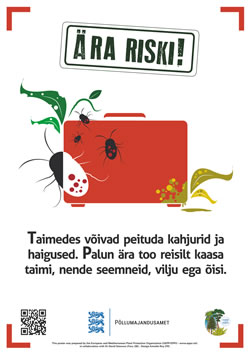 Estonian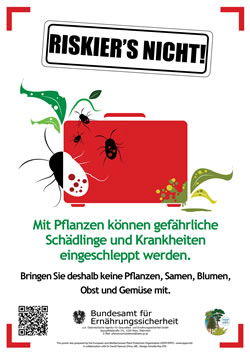 German (Austria)
Italian (Corsica for Xylella fastidiosa)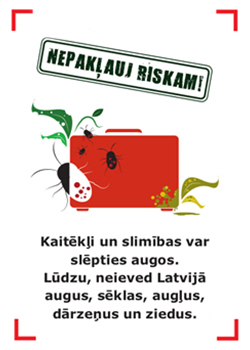 Latvian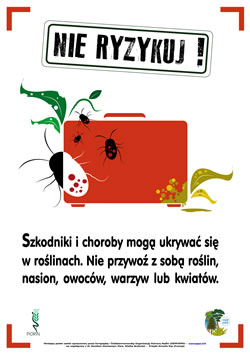 Polish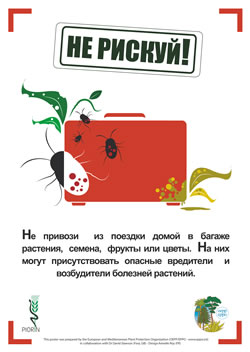 Russian (Polish NPPO)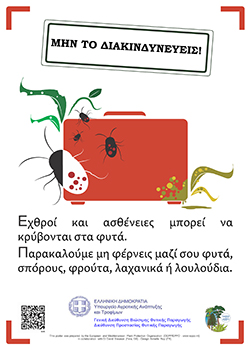 Greek
French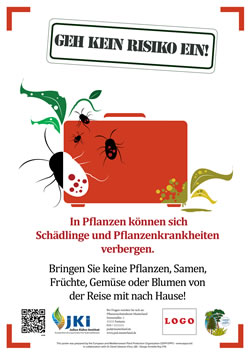 German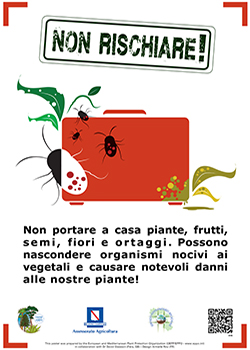 Italian (Campania region)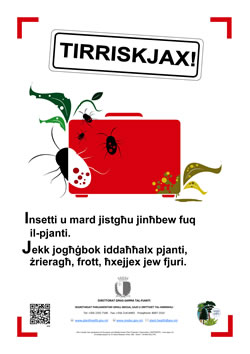 Maltese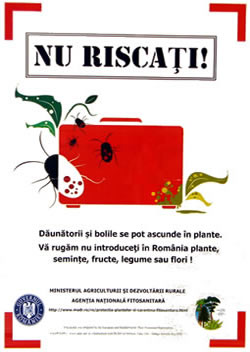 Romanian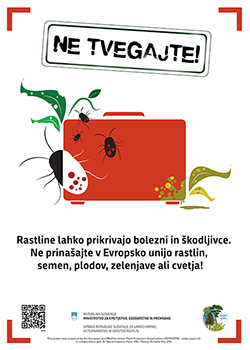 Slovene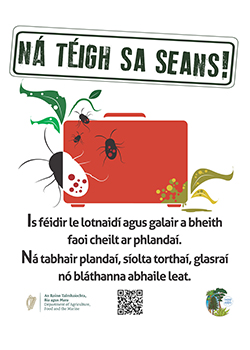 Irish
Regione Toscana in 2018

Experience at Naples Airport (IT)
Social information campaigns serve to inform the public and all the relevant actors to induce changes in people behavior. With the support of the EPPO Secretariat in Paris, the Plant Protection Service of Campania Region (part of the NPPO of Italy) has designed and built an information campaign about the risks of introducing organisms that are harmful to plants and plant products via passenger baggage. The actions started with the drafting and publication of posters and brochures, using the form supplied by the EPPO Secretariat, entitled "Don't Risk It".
In a second phase, distribution of this material was organized by the PPS inspectors staff at the Naples airport, with the participation of the airport managing body (Gesac Capodichino Naples Airport). Participation and direct contact between authorities (police, customs, etc.) and passengers by the inspectors enhanced the understanding of the importance of the problem and this was found to work better than just displaying a poster on the wall. Passengers (mainly tourists) and airport staff, were curious and appreciative about this unique new initiative, and also asked questions. Many people were familiar with the history of the latest phytosanitary emergencies in the regional and national territories such as Rhynchophorus ferrugineus (red palm weewil), Dryocosmus kuriphilus (chestnut gall wasp), Toumeyella parvicornis (pine caribbean scale), Aromia bungii (redneck longhorned beetle).
The information campaign was launched in parallel with the start of phytosanitary inspection of passenger baggage in collaboration with the Naples Customs Agency 1, with which a memorandum of understanding (MOU) has been signed for the implementation of these initiatives.
Warm thanks are due to Dr Eduardo Ucciero – Plant Inspector – Regional Plant Protection Service, Campania (IT) who kindly prepared this short paper.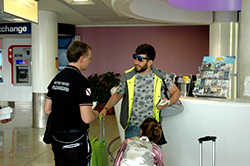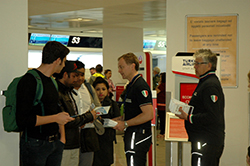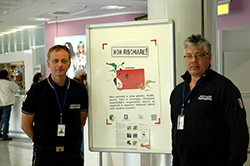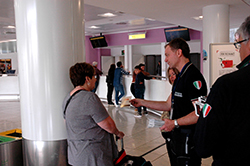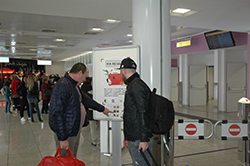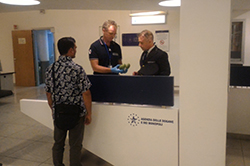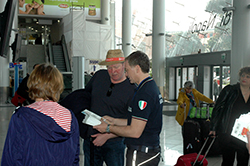 Collaboration in Naples airport: a Custom Officer controlling a passenger from Bangladesh with a phytosanitary inspector specialist.
more pictures

EPPO poster displayed at various airports and seaports
The pictures below of the EPPO poster displayed at various airports and seaports were kindly given by NPPOs and many travellers. More can be viewed in the EPPO Gallery.
If the EPPO poster has also been displayed in your country, please let us know and send us a picture!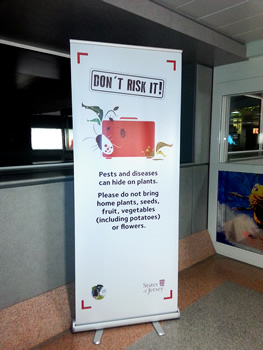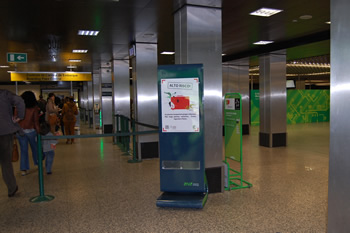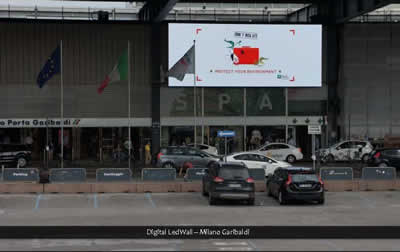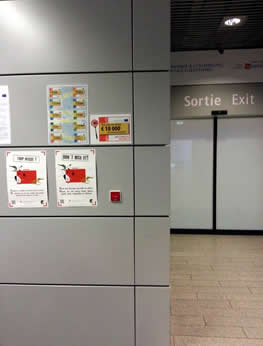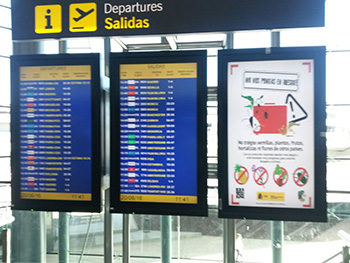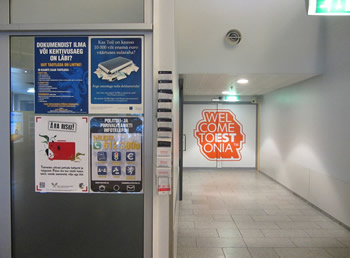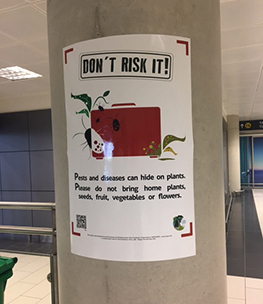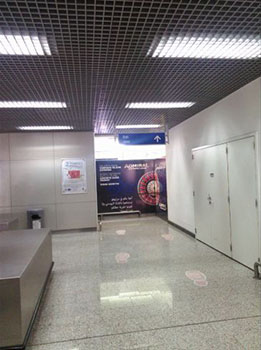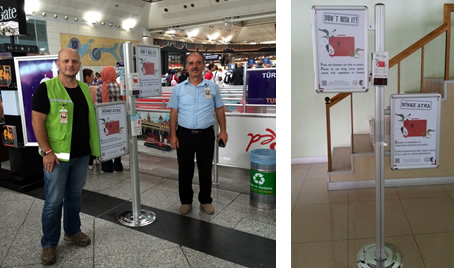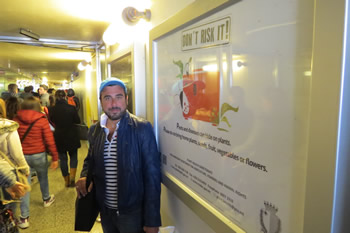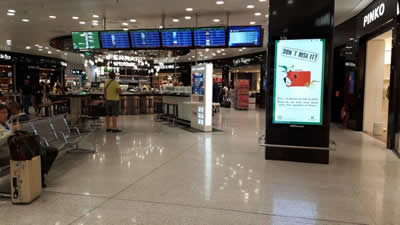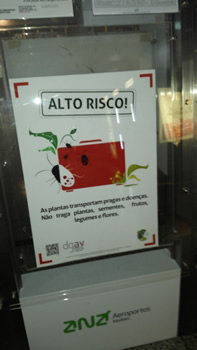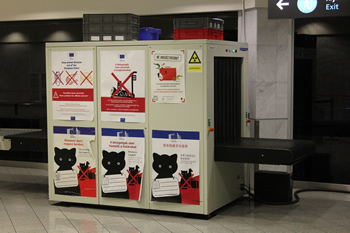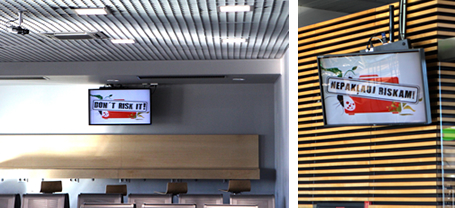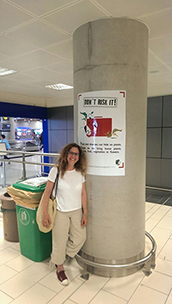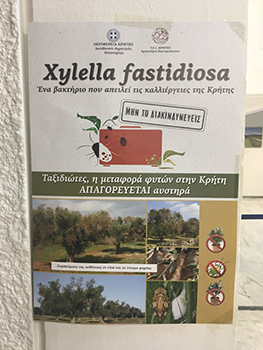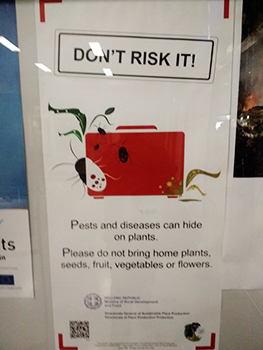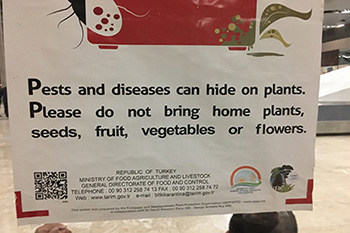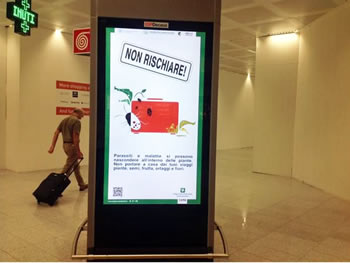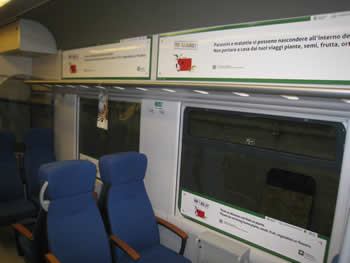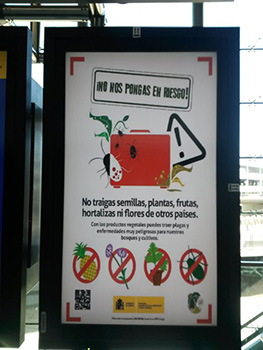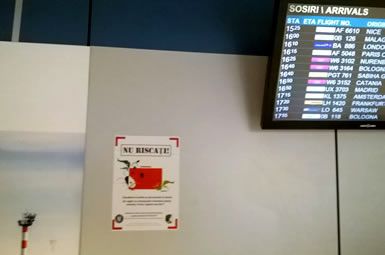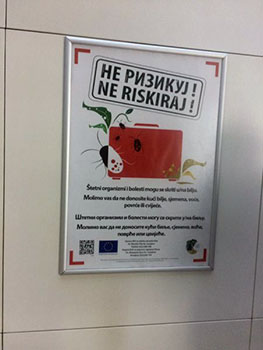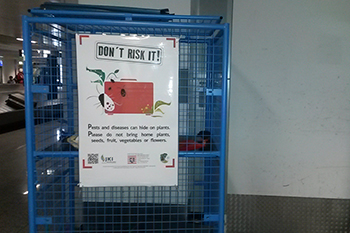 Frankfurt international airport
Courtesy: Wolfgang Willig (DE)