Workshop for inspectors on tools available for inspection
York, GB, 2017-12-13/15

A Workshop for inspectors on tools available for inspection was organized from the 13th to the 15th of December 2017 in York (GB) at the National Agri-food Innovation Campus. The Workshop was attended by 61 participants from 23 countries.
The aim of the workshop was to address some of the main inspection challenges faced by EPPO member countries, including early detection methods for outbreaks and infested consignments, as well as techniques for the inspection of wood packaging material to ensure compliance with ISPM 15. A number of tools for surveillance were also presented. The Workshop included demonstrations and hands-on sessions for remote sensing and the use of unmanned aerial vehicles (UAV) as well as practical demonstrations on LAMP (Genie) tests validated in the framework of the EMPHASIS H2020 EU funded project. During a co-design workshop, participants worked together in small groups to assess a hypothetical outbreak scenario and decide what measures should be taken both before and after the outbreak. For the final session the workshop participants were again divided into small groups for a brain-storming session where the groups moved from table to table (World Café) discussing five questions relating to the needs of inspectors (EPPO Standards relating to phytosanitary inspections, Inspection tools, Training for inspectors, Information gaps and Networking between inspectors).
Special thanks are due to Mr Neil Boonham (FERA Science Limited) and Kelvin Huges (APHA), Defra and their teams for the excellent local organization. The EPPO Secretariat would also like to thank all participants, the Organizing Committee, the session Chairs and the facilitators of the practical sessions for their excellent assistance. Last but not least, we thank all speakers for sharing their research.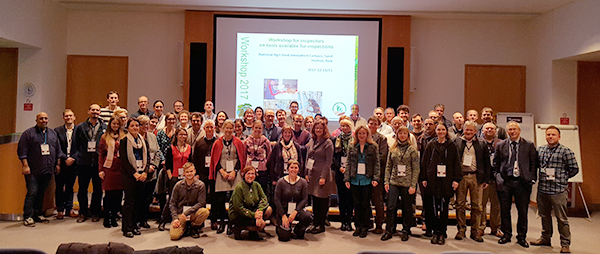 more pictures

Workshop presentations and posters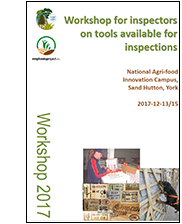 The Workshop was organized as a series of lectures (20 in total). The speakers are listed below with links to the PowerPoint presentations. The Workshop brochure is also available (click on the image) and includes all abstracts.
Welcome and Opening address were made by Kelvin Hughes (DEFRA)
Wood packaging material (Chair: Andreas von Felten, BLW)
Tools for surveillance (including sampling) (Chair: Neil Boonham, FERA)
Early detection methods (Chairs: Françoise Petter EPPO, Dominic Eyre DEFRA and Gianluca Governatori ERSA)
Co-design Workshop based around detection (facilitator: Neil Boonham, FERA)
Breakout and brainstorming sessions on needs of inspectors (facilitators: Andreas von Felten BLW, Kelvin Hughes APHA, Françoise Petter EPPO, Rob Tanner EPPO and Charlotte Trontin MAF).
Posters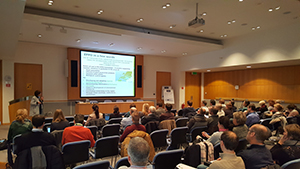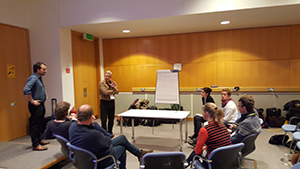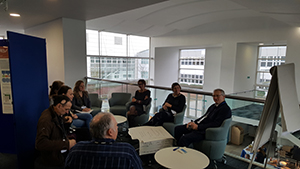 Output of the brainstorming discussion on needs of inspectors
The main suggestions made during the brainstorming sessions are summarized below.
Which Standards relating to phytosanitary inspections would you like to see produced to improve the way you work?
Participants recognized the importance of EPPO PM3 Standards on phytosanitary inspections to support NPPOs in performing inspections on consignments and for pest surveillance. The groups noted that EPPO inspection Standards are freely available on the EPPO Website and in Global Database

and are often implemented in national Standard Operating Procedures. It was noted that the EPPO Website is under reconstruction and it was suggested that topic pages could be created to facilitate access to the information (e.g. a dedicated page on inspection). Subjects suggested that possible future EPPO Standards could include general guidelines for phytosanitary inspections of specific production sites (e.g. greenhouses, nurseries, storage premises etc.) and of the natural environment near facilities. The groups noted the importance of regular updates of Standards and that feedback on their use should be collected. The use of new technologies applied to inspections and new detection tools (e.g. aerial vehicles, Geographical Information Systems or the use of detection dogs) could also be considered. Risk based sampling was emphasized as an appropriate approach to sampling. The groups noted that NAPPO are planning to co-ordinate the development of a Risk Based Sampling training manual (following the NAPPO International Symposium for Risk Based Sampling held in Baltimore (US) in June 2017). It was recommended that EPPO could ensure the involvement of the region in this initiative.
Which inspection tools do you most commonly work with and do you have ideas for new tools to improve your everyday work life?
Participants discussed which inspection tools they use most often and ideas for new tools. They noted that inspection tools vary between EPPO countries. Information tools were particularly emphasized where new technologies offer possibilities to improve communication and information sharing (e.g. through social media groups) and to make data more available (through specific databases e.g. on inspection reports or import information and through Geographical Information Systems). New technologies also include targeted devices for example mobile apps to determine appropriate sample size or to assist with pest/host plant species identification. Inspection and sampling tools were also considered: beside the traditional tools, new techniques are increasingly available (e.g. remote sensing tools for pest and host identification, detection dogs). New diagnostic tools were also emphasized including rapid infield diagnostic technologies such as Lateral Flow Device, LAMP (Genie) and MinION NGS technologies (although unlike other technologies, MinION NGS requires further development and is not ready for use for inspectors at present).
Which areas of training do you consider you would most benefit from to improve your everyday work life?
Participants discussed how practical training can improve inspectors' everyday work. Effective training courses could help support the role of inspectors in the field and be delivered by pest detection specialists and field inspectors. Practical exchange programmes for inspectors from different countries were considered particularly useful. Training programmes could include the analysis of pest outbreak scenarios to increase knowledge on how to gather evidence and apply direct actions and appropriate measures. Additional areas for technical training included: pest and plant/wood species identification both at the inspection point and in laboratories (including focus on new techniques such as LAMP); methodologies for sampling of consignments; information collection on all aspects relevant to plant health; application of phytosanitary measures and contingency plans and management of conflict situations; improving awareness of the general public and key stakeholders (e.g. industry). eLearning was highlighted as an effective method for training and sharing knowledge and could be further developed at an international level.
Where are the main information gaps in phytosanitary inspections, detection and surveillance?
Participants highlighted a number of information gaps for phytosanitary inspections including easy to use inspectors' guides and high-quality photographs of a range of symptoms caused by quarantine pests. Identification guides of some of the lesser known host plants for polyphagous pests were also highlighted as a need. In addition, images of pests taken in situ would be beneficial. Information on the identification of timber products (species) would be advantageous. Easier access to information on risky consignments, interceptions and technical advice on how to inspect certain commodities are needed. Participants highlighted the need for more information on new detection techniques. Practical guidance on phytosanitary measures is also key including ways to measure how useful these are and how easy to implement. Participants highlighted the need to explore ways to facilitate communication between NPPOs, and mentioned the usefulness of key contacts as points of information in different departments. In addition, participants detailed the need for user friendly access to interception data. Finally, participants considered that more information could be made available to allow inspectors to identify risks for priority pests in a region including information on the occurrence of hosts and habitats, pathways and trade routes.
Which activities could be developed to improve networking between inspectors?
Participants identified activities which could be developed to improve networking between inspectors emphasising the need for improved coordination activities and rapid dissemination of information (e.g. intelligence sharing on border activities). Participants recognized the usefulness of existing international networks (both formal and informal) for sharing knowledge and gaining experience. The importance of regular meetings for plant health inspectors was highlighted as important platforms for information exchange and the importance of creating links with other inspectors' groups (e.g. animal health inspectors) was stressed. Social media provide innovative means for effective information exchange between inspectors and need to be further considered.
The suggestions made during the brain storming session will be presented and reviewed at the Panel on Phytosanitary Inspections and at the Working Party on Phytosanitary Regulations where they will be considered for possible activities to be included in the EPPO Work Programme.