4th EPPO Workshop for Heads of Plant Pest Diagnostic Laboratories
2019-09-09/11, Maisons-Alfort (FR)
The fourth Workshop for Heads of Plant Pest Diagnostic Laboratories was organised in Maisons-Alfort (FR), at the kind invitation of ANSES.
Over 50 experts from 24 countries, including Heads of Laboratories and Quality Managers and 5 representatives from Accreditation Bodies participated in the Workshop. Participants were welcomed by the Director of the plant health laboratory (Laboratoire Santé des Végétaux, LSV) of ANSES, Philippe Reignault.
The objectives of the Workshop were:
To discuss the main impacts of the new version of ISO 17025 (version 2017) on accreditation of plant pest diagnostic activities
To present the newly established EU Reference Laboratories,
To discuss: accreditation for plant pest diagnostic laboratories; how scopes of accreditation are defined in the different EPPO Countries and how they offer flexibility to the laboratory.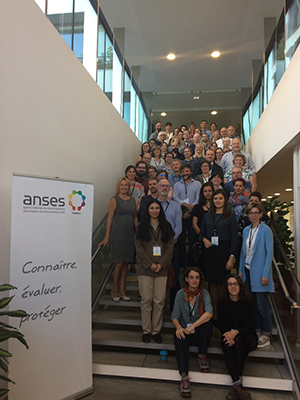 Implementation of ISO 17025 (version 2017) – Chaired by F. Petter
The Workshop started with presentations of the main changes to PM 7/98 (4) Specific requirements for laboratories preparing accreditation for a plant pest diagnostic activity by the EPPO Secretariat. Representatives of national accreditation bodies: the Dutch accreditation body – Raad voor Accreditatie (RvA), the Italian accreditation body – ACCREDIA, and the UK accreditation body UKAS then presented information on the implementation of ISO 17025. Mr Ioannis Sitaras, a representative of the European Co-operation for Accreditation (EA), presented the EA and an overview of the implementation of ISO 17025. This was followed by presentations from Heads of Laboratories from across the EPPO region describing their experience with the implementation of the new version of ISO 17025.
EU Reference Laboratories – Chaired by M. Destefanis
This session was opened by Ms Françoise Munaut from the European Commission, who presented a general introduction to EU reference laboratories (EURLs). Representatives from the EURLs on insects and mites; nematodes; bacteria; fungi and oomycetes; viruses, viroids and phytoplasmas then presented their planned activities. Mr Nico Horn, Director-General of EPPO, also addressed the participants and emphasized the importance of identifying synergies between the different bodies in plant health.
Flexible scopes of accreditation – Chaired by E. de Andrade and G. Anthoine
The Workshop continued with discussions on flexible scopes of accreditation. Accreditation bodies presented their approach to flexible scope and Heads of Laboratories presented the situation in their laboratories. Small discussion groups were also held to exchange experiences between participants.
Accreditation of plant pest diagnostic activities – Chaired by M. Reyniers
Small discussion groups considered the challenges that could be met if it was required that their official plant pest diagnostics should be performed under accreditation. Different points were discussed such as:
Outsourcing of activities to a laboratory from another country
It is useful to have such a possibility. However, this will have consequences on laboratories activities, both in the outsourcing country and the country where the outsourced testing will be carried out. National regulations for official laboratories may differ, as well as conditions for the transport of samples. This may require changes and harmonization of requirements. Procedures for designating an official laboratory to outsource specific testing should be established (including communication between Competent Authorities of both countries, procedures and criteria for the selection and acceptance). Examples of countries currently using outsourcing (Sweden, Malta and Norway) were provided that may be useful models to consider.
Repository of knowledge of accredited methods/tests/laboratories
A repository is considered useful. It was noted that the EPPO Database on diagnostic expertise may provide such platform and that synergies should be explored to avoid duplication.
Flexible scope and accreditation for all official plant pest diagnostic
Flexible scope may help laboratories to perform more tests under accreditation. However, participants agreed that flexible scope cannot provide an answer to the requirement for accreditation of all official tests. Flexible scope allows laboratories to modify the list of tests under accreditation more quickly (some participants with a fixed scope referred to audits from accreditation bodies every 18 months causing important delays in updating their scope of accreditation). Although recognized as a useful approach for accreditation in plant health, it was noted that the requirements for validation data are not substantially decreased with accreditation under flexible scopes. It was highlighted that national rules for granting flexible scope vary significantly (ranging from no possibility to apply for flexible scope, a minimum number of years under a fixed scope before considering an application for flexible scope, direct application to flexible scope).
Feasibility of having accreditation for all plant pest diagnostic activities
Participants highlighted that it will not be possible in their countries that all official plant pest diagnostics could be performed under accreditation. In case the NPPO has such a requirement, laboratories were concerned by the possible consequences. The following points were raised:
If non-accredited tests are performed what is their legal status?

Will NPPOs make management decisions on such tests (e.g. rejection of consignments at import, measures at places of production)?

What will be the effect on trade?
Participants from EU Countries commented that they will be faced with such a situation from 2022 when the requirements of the Official Control Regulation (EU) 2017/625 will be implemented.
Recommendations from the Workshop
Flexible scope is not a complete solution for laboratories who may be required by their NPPO that all official plant pest diagnostic should be performed under accreditation, this is in particular applicable for the laboratories that will have to perform official plant pest diagnostics in the EU that will have to meet the requirements of the Official Control Regulation (EU) 2017/625). It was noted that the requirements for validation data are not substantially decreased with accreditation under flexible scopes compared to accreditation under fixed scopes.
Flexible scope can, however, be very useful to increase the number of tests available under accreditation.
Flexible scope should involve a risk assessment process for use in the laboratories and this risk assessment process is considered very useful.
Synergies need to be explored in Diagnostics activities. These include collaboration between for example the EURLs, EPPO and Euphresco. Existing mandates and tools should be considered for example the EPPO database on diagnostic expertise, EPPO Q-bank database. It was suggested that regular meetings should be held between the different groups.
Sharing of validation data is important and should continue. Suggestions on the EPPO validation database (part of the database on diagnostic expertise) can be made as it is currently being redesigned to make it more user-friendly and in particular more searchable. Participants are encouraged to add their validation data to this database.
For PM 7/98 Specific requirements for laboratories preparing accreditation for a plant pest diagnostic activity it was highlighted that:
Participants would find it very useful to have guidance on the transition from ISO 17025 2005 version to the 2017 version included in the supporting information. The EPPO Secretariat will add some information on this to the supporting information.

In the next revision it should be stressed that risk evaluation is a continuous process.
Other questions or points raised at the Workshop
Participants considered that more clarification was needed concerning the following questions: 'What is an official control?' 'Is diagnostics part of official control, for example in the case of analysis of samples resulting from border inspections?'

Participants noted the challenges concerning the production of material for proficiency tests (PT) and time constraints to produce such material. They commented that the requirements for frequency of PT in different countries varies.
---
Presentations
SESSION 1: implementation of ISO 17025 (version 2017) - Chair: F. Petter
M. McMullen (EPPO)
Main changes to PM 7/98(4) Specific requirements for laboratories preparing accreditation for a plant pest diagnostic activity
I. Sitaras (EA)
Implementation of ISO 17025
S. Robat (RvA, NL)
M. Scognamiglio (ACCREDIA, IT)
Implementation of ISO 17025 in Italy
J. Love (UKAS GB)
M. Ravnikar (NIB, SI)
Implementation of ISO 17025 at National Institute of Biology in Slovenia
G. Anthoine (ANSES - PHL, FR)

Implementation of ISO 17025 feedback from different QA systems in ANSES

K. Petrutis (ARC, EE)
Implementation of ISO 17025 at the Agricultural Research Center Estonia
R. Weekes (Fera, GB)
Implementation of ISO 17025 at Fera in the United Kingdom
G. Bokuma (State Plant Protection Service, LV)

Implementation of ISO 17025 at the Plant Health Laboratory in Latvia

SESSION 2 - EU Reference Laboratories Chair M. Destefanis

F. Munaut (EU Commission)
General introduction to EU Reference Laboratories
Bacteriology - M. Bergsma-Vlami (NRC, NPPO, NVWA, NL)

Work Programme 2019-2020 EU Reference Laboratory on Bacteria in Plants

Entomology - P. Reynaud (ANSES -PHL, Entomology and Invasive Plants Unit, FR) & R. Gottsberger, AGES, AT)

EURL mandate on insects and mites: a mandate for 240 regulated organisms!

Mycology - R. Ioos & A. Puertolas (ANSES-PHL, Mycology Unit, FR)

2019-2020 Work programme for the new EURL for pest on plants: fungi and oomycetes

Nematology - L. Folcher & M. Grossi de Sá (ANSES - PHL, Nematology Unit, FR)

European Union Reference Laboratory for plant pests on nematodes: scope, implementation and objectives

Virology - A. Roenhorst (NRC, NPPO, NVWA, NL)

European Reference Laboratory (EURL) for pests of plants on Viruses, Viroids and Phytoplasmas: Work programme 2019/2020

SESSION 3 Flexible scopes of accreditation Chair: E. de Andrade

I. Sitaras (EA)
EA approach to flexible scope
J. Love (UKAS, GB) TBC
UKAS approach to flexible scope
S. Robat (RvA, NL)
RvA approach to flexible scope
M. Scognamiglio (ACCREDIA, IT)
ACCREDIA approach to flexible scope
S. Bosman (NRC, NPPO, NVWA, NL)

New plant health rules in the EU need a different approach of validating tests for regulated organisms

G. Anthoine (ANSES - PHL, FR)
Flexible scope and accreditation body's requirements: how to answer EU regulation 2017/625 in France