9th Meeting of the Panel on Harmonization of data on plant protection products
Milan (IT), 2019-02-20
The Panel on Harmonization of data on plant protection products met in Milan (IT) on 2019-02-20 to discuss the development of the EPPO Codes to describe the uses of plant protection products (PPP). This meeting was organized back to back with the 19th Meeting of the Panel on General Standards on Efficacy Evaluation

and in conjunction with the EPPO Codes users meeting

. The main reasons to develop EPPO Codes for PPP uses include the need for harmonized definitions of declared uses to facilitate communication among countries. This is of particular relevance to registration authorities in the framework of the mutual recognition and zonal assessment required in EU Regulation 1107/2009 and for the development of the Plant Protection Products Application Management System (PPPAMS, being developed by the European Union). Data exchange and the work related to extrapolation of data for efficacy evaluation of minor uses would also be facilitated by the development of harmonized Codes.
Implementation of non-taxonomic Codes in the EPPO Global Database
The implementation, by the EPPO Secretariat, of non-taxonomic EPPO Codes in the EPPO Global Database was presented to participants. This includes all non-taxonomic Codes proposed so far by the Panel and agreed by the EPPO Working Party on PPP. They are available in the EPPO Global Database

and a new visualisation of the classification

has also now been implemented.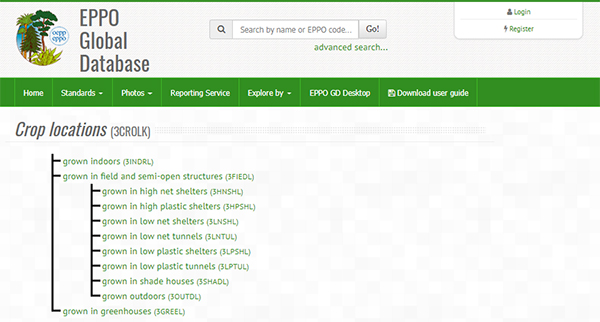 Visualization of the classification in the EPPO Gobal Database (example of the crop locations)
Development of a harmonized classification to describe plant protection products uses
The Panel continued to discuss the classification of non-taxonomic Codes in the context of PPP efficacy evaluation and based on potential usefulness for registration purposes. The Panel refined the existing classification of Codes and discussed a classification for treated methods. The Codes proposed by the Panel will be presented to the Working Party on PPP for approval and integration into the EPPO Global Database.
The Panel recognized the importance of clear communication with PPPAMS users about EPPO Codes to identify priorities for new Codes related to PPP uses that need to be created, to finalize the classification and revise EPPO Standard PP 1/248 Harmonized classification and coding of the uses of PPP

.
The next meeting of the Panel on Harmonization of data on PPP will take place in Paris, at the EPPO headquarters, on 2020-03-03/04.