EPPO Codes users meeting
EPPO headquarters, Paris, 2017-03-06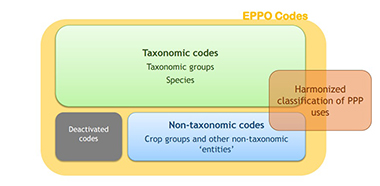 On the 6th of March 2017, an open meeting for the users of the EPPO Codes was organized at the EPPO headquarters. Sixteen participants, including members of the ad hoc Panel on harmonization of data on plant protection products, EPPO members of staff, the staff of the Minor Uses Coordination Facility and the Euphresco network coordinator, were present and 58 participants joined the meeting by teleconference. This was the second time that the EPPO Secretariat organized such a webinar. Participants who joined remotely had the possibility to ask questions which were answered during the webinar.
The objectives of this meeting were to present the EPPO Codes and the latest developments made to the EPPO Global Database

, to listen to the experience of users of the EPPO Codes from different areas of plant protection, and to collect feed-back about possible future improvements of the coding system. The meeting recognized the value of this harmonized set of Codes for pests and plants, and underlined once again the importance of maintaining the stability and integrity of the system. It was acknowledged that users had different needs according to their fields of activities and that the procedure to create new non-taxonomic Codes should be better defined.
The EPPO Secretariat warmly thanks all attendees for their active participation.
Presentations