6th Meeting of the ad hoc Panel on
technical requirements for laboratories
Ghent, BE, 2008-03-17/20
The 6th Meeting of the ad hoc Panel on technical requirements for laboratories was held in Ghent (BE) on 2008-03-17/20. The main objective of the Panel was to review a document produced by an Expert Working Group on validation of methods and performance of internal quality checks. The Panel decided that a new standard supplementary to PM 7/84(1) Basic requirements for quality management in plant pest diagnosis laboratories should be prepared to provide specific guidance for laboratories preparing for accreditation.

The Panel also discussed definitions of "sensitivity" and "specificity" in analytical and diagnostic settings which are important in the context of method validation.
The outcome of the Workshop on Quality Assurance that was held in Holte on 2007-12-04/06 was presented. It was agreed that in the framework of the next conference on plant pest diagnostic (York, GB, 2009-05-11/15) a practical workshop on quality assurance will be organized.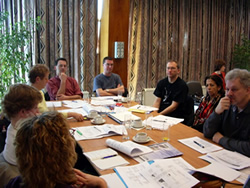 Courtesy Ani Becheva - View more pictures

The Panel had the opportunity to visit the new Diagnostic Laboratory of ILVO, which has recently been accredited in mycology and entomology for three methods (Phytophthora ramorum: morphological identification, Diabrotica virgifera: morphological identification of the adult stage, Thrips palmi: extraction with Berlese funnel and morphological identification of the adult stage). This allowed constructive exchange on how to implement accreditation in a diagnostic laboratory.