EPPO Workshop on Quality Assurance
Holte, Denmark, 2007-12-04/06
EPPO organized a Workshop on Quality Assurance in cooperation with the National Plant Protection Organization of Denmark. This Workshop was attended by 75 participants from 28 countries. Most participants were experts in the field of plant pest diagnosis from National Plant Protection Organizations laboratories. However representatives of the Laboratory Committee of the European network for accreditation (EA), the International Seed Testing Association (ISTA), and of private laboratories were also present.

The Workshop was opened by Mr Ole P. Kristensen Director of the Danish Plant Directorate who stressed the importance of efficient and reliable diagnosis to prevent the spread of quarantine pests. He underlined the importance of quality assurance in this context.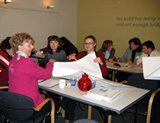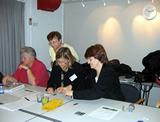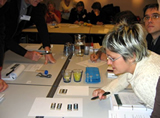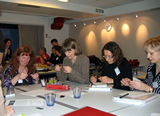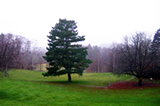 The Workshop included general presentations on the existing standards on quality assurance for laboratories as well as presentations showing experiences with the implementation of quality assurance in plant health laboratories, including a presentation from an expert from New Zealand. An overview of the discussions on the establishment of reference laboratories in the European Union was also presented. The second part of the Workshop consisted of practical sessions on method validation and preparation of reference materials, how to write quality assurance documents, metrology, and how to conduct an internal audit. Posters were also presented by participants.

The Workshop also highlighted the mutual benefit of collaboration between EA and EPPO. ISTA also expressed an interest to collaborate with EPPO on seed diagnostic issues.
An evening session was organized to discuss critical points of Quality Assurance for plant pest diagnostic laboratories. The main issue debated was the difference between an accreditation with a fixed scope and a flexible scope. The concept of flexible scope had been presented during the main session in a Slovenian presentation and in a poster prepared by the Central Science Laboratory. An introduction to the flexible scope was also given by the representative of the Danish accreditation body (DANAK). Experts with experience with accreditation with a flexible scope commented that method validation is of up-most importance for such accreditation and that experience with a fixed scope accreditation is necessary before moving to a flexible scope. Participants were very satisfied with the information provided during the Workshop and took active roles in the practical sessions.
Warm thanks are due to Ms Scheel and Ms Thrane for the very fine organization of the Workshop and a most friendly welcome in Denmark, and also to the organizers of the practical sessions: Ms Anthoine, Ms Monton, Ms van der Bloom, Mr Ingelbrecht, Mr Gottesberger, Mr Hugues, and Mr van Vaerenbergh.
---
Presentations
Main session
General presentation of the ISO Standard 17025.
Arne Kjær Sørensen, Danish Accreditation body (DANAK).
European co-operation for accreditation.
Christina Waddington, Finnish Accreditation body (FINAS) and chairman of the EA Laboratory Committee, Finland.
ISTA accreditation.
Anne Bülow Olsen, Denmark.
EPPO Standards and initiatives on quality assurance.
Françoise Petter, EPPO Secretariat.
Accreditation process in the Plant Health laboratory in Latvia.
Gunita Bokuma and Irena Lielmane National Phytosanitary Laboratory, Latvia.
Danish experience with quality assurance.
Charlotte Thrane, Denmark.
New Zealand perspective on ISO 17025 accreditation of a plant diagnostic laboratory.
Brett Alexander, Plant Health and Environment Laboratory, Investigation & Diagnostic Centre, New Zealand.
Quality assurance in the Slovenian institute of biology and experiences with flexible scope.
Marjana Camloh, National Institute of Biology, Slovenia.
Organization of a proficiency test for Phytophthora ramorum.
Sven Ingelbrecht, ILVO, Belgium.
Objective evidence for competence.
Géraldine Anthoine, French National Laboratory, nematology unit, France.
Development of national reference laboratories in the European Union.
Petra Mueller, BBA, Germany.
Poster session
Department of General and Quarantine Diagnostics, CCTIA, Slovakia and its preparation for accreditation.
Bukvayova Nadezda Central Control and Testing Institute of Agriculture, Slovakia.
Phytopathological laboratory experience with ISO 9001:2000 Quality management systems.
Calvi Marica Plant Protection Service Phytopathological Laboratory, Italy.
Validation of a real time PCR method in a context of accreditation according to the standard EN ISO/17025.
Chandelier Anne Walloon Agricultural Research Centre, Belgium.
Fungal BioBank - Establishing a reference collection of EC quarantine listed fungi.
Lane Charles Central Science Laboratory, York, United Kingdom.
ISO 17025 Quality Assurance of CSL's Plant Health Pest and Disease identification Service.
Lane Charles Central Science Laboratory, York, United Kingdom.
Quality management system in a diagnostic network of the State Plant Health and Seed Inspection Service in Poland.
Baginska Hanna, Kordyla-Bronka Monika and Marciniak Alina Main Inspectorate of Plant Health and Seed Inspection, Poland.
French National Laboratory for Plant health quality new challenge.
Poliakoff Françoise French National Laboratory, bacteriology unit, France.
Nematology and UKAS ISO 17025- Synergy in action.
Prior Tom Central Science Laboratory, York, United Kingdom.
ISO 17025 Flexible scope for real-time PCR.
Weekes Rebecca Central Science Laboratory, York, United Kingdom.
Organisation of proficiency testing for identification of plant pests.
Wilkinson Kate Central Science Laboratory, York, United Kingdom.
Evening Workshop on critical points of Quality Assurance for plant pest diagnostic laboratories: discussion on flexible scope
The Danish Experience with flexible scope.
Erik Oehlenschlaeger Danish Accreditation Body DANAK.
Practical sessions
Method validation and preparation of reference materials – J. van Vaerenbergh and S. Ingelbrecht
Terms and definitions – J. van Vaerenbergh and S. Ingelbrecht
How to write Quality Assurance documents – M. van der Blom, K. Hugues and R. Gottsberger
Metrology – G. Anthoine
Internal audit – C. Thrane and C. Monton