Network of experts working on surveillance, monitoring, and control of Agrilus planipennis (Emerald ash borer)
- Call for participation (April 2023) –
In October 2022, the EPPO Panel on Quarantine Pests for Forestry decided to establish a network of experts working on surveillance, monitoring, and control of Agrilus planipennis (Coleoptera: Buprestidae – Emerald ash borer). This network will be established in association with an EPPO-EU project (Grant agreement SANTE/2020/G1/EPPO/SI2.823766).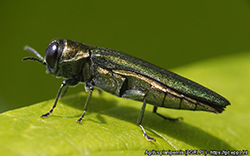 Adult – Courtesy: Eduard Jendek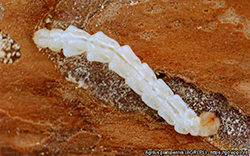 Larva– Courtesy: Eduard Jendek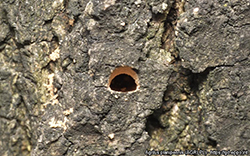 Exit hole – Courtesy: Eduard Jendek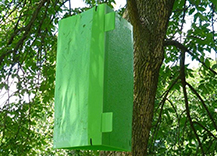 Trap – Courtesy: Dominic Eyre
Objective and scope of the network
The objective of this network is to exchange data on monitoring and to get a better understanding of the current distribution and spread of A. planipennis in the EPPO region. Moreover, information on effective trapping and management options could be shared.
The network will focus on the EPPO region, however members from other regions are also welcome as significant knowledge on the pest biology, as well as experience on monitoring and control have been gathered in other parts of the world.
How the network will function
At the initial stage, the network will function as an email list maintained by the EPPO Secretariat, who will accumulate new information (monitoring, distribution, trapping, and management data), including that sent by the members of the network. The EPPO Secretariat will then regularly (normally once a month) send the accumulated information to the members of the network through the email list. Once a sufficient coverage has been obtained, a teleconference will be organized to discuss the current situation and plan further work. It is also planned to publish on this webpage, the most important news that have been gathered by the network.
How to participate in the network
The EPPO Secretariat invites National Plant Protection Organizations (NPPOs), researchers, and practitioners to subscribe to the email list via the following link (your registered email address will not be disclosed).
Subscribe here: https://forms.office.com/e/7GxvJkS0YT

Contact point
Members of the network are invited to send relevant information on monitoring, distribution, trapping, and management of A. planipennis to Dmitrii Musolin (EPPO Scientific Officer) who will compile and distribute it through the mailing list.
Contact point: Dmitrii MUSOLIN dm@eppo.int

---
EPPO Standards and documents on Agrilus planipennis
EPPO links