What's New in the EPPO Platform on Pest Risk Analysis?
A newsletter is now available. It is sent on the first day of every month and lists all the pest risk analysis and relevant documents that have been published on the EPPO Platform on PRAs in the previous month. Any interested person can subscribe (free of charge) at: https://pra.eppo.int/newsletter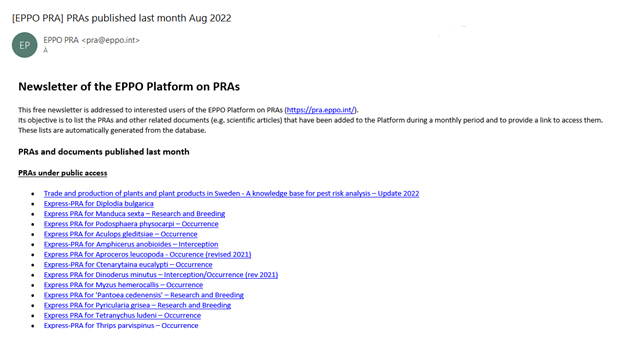 The Platform is now opened to non-EPPO countries that would like to share PRAs. Contact us via https://pra.eppo.int/contact for more details.


The Platform is regularly updated with new documents being posted. As of the 1st of September 2022, more than 1800 documents are available (e.g. pest-specific PRAs, commodity PRAs, quick scans).
« back to 'EPPO Platform on PRAs'