28th Meeting of the Panel on Invasive Alien Plants
Berlin, 2023-05-10/12
The Panel was hosted in Berlin at the Julius Kühn Institute (JKI). The Panel continued its work including reviewing draft Standards and Pest Risk Analyses prioritizing plant species for future pest risk analysis and deciding priorities for future PM 9 Standards (National regulatory control systems). In addition, the Panel discussed the future work programme of the Panel for 2024.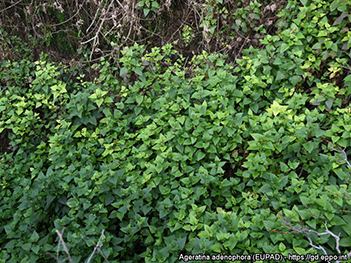 Ageratina adenophora, invaded area near Nice (FR)
Courtesy: Guillaume Fried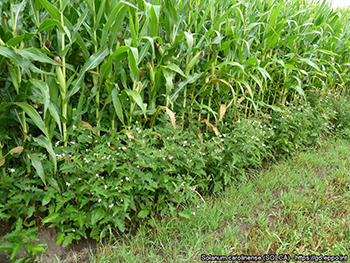 Solanum carolinense, infested maize field
Courtesy: Swen Follak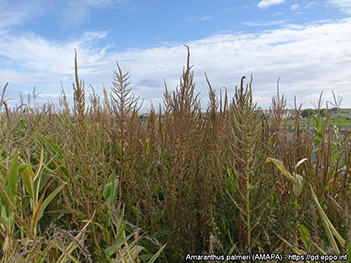 Amaranthus palmeri, infested maize field in Spain
Courtesy: Jordi Recasens
Pest risk analysis (PRA)
The Panel reviewed the PRA on Ageratina adenophora and agreed with the assessment of the Expert Working Group and considered this species was an important species with negative impacts within the EPPO region. The Panel agreed editorial changes to the document.
The next species for PRA in 2023/24 will be Zizania latifolia. Z. latifolia is a perennial rhizomatous species found in damp habitats. In the EPPO region, it shows invasive behaviour in Lithuania, Russia, and Ukraine. It has the potential to invade and degrade riparian habitats and damp pastureland.
Standards
The Panel considered a final draft PM 3 Inspection Standard entitled Inspection of invasive alien plants at borders. This Standard is developed jointly by this Panel and the EPPO Panel on Phytosanitary Inspections. The Standard describes inspection procedures for consignments of plants for planting imported with soil or other growing medium (and aquatic plants with water) to avoid the import of regulated invasive plants. The Panel agreed final edits and it will be presented to the EPPO Panel on Phytosanitary Inspections when it meets in December 2023.
The Panel also reviewed a draft PM 9 Standard on Solanum carolinense and agreed editorial changes to the document. The Standard will be sent for country consultation in 2023.
The Panel discussed new Standards that could be developed. The Panel identified a PM 9 Standard on Amaranthus species (A. palmeri and A. tuberculatus) as a priority and agreed this could be developed in 2023/24. In addition, the Panel will explore the potential of developing Standards on guidance on parasitic non-native plants in the EPPO region and guidance on the use of non-native plant species for short rotation cropping.
Bamboo species in the EPPO region
The Panel agreed to develop a scientific publication for the EPPO Bulletin on bamboo species in the EPPO region and their potential invasiveness. The publication will include an introduction to the issue, processes of the invasion, factors to determine the risk that a species is invasive, pathways (ornamental trade, food, furniture, etc.), species present in individual countries, countries where there is evidence of impact, actions for control and other pest species that can enter the EPPO region with bamboo species.