73rd EPPO Council Session
Paris, 2023-09-27/28
The 73rd Session of EPPO Council took place in Paris on the 27th and 28th of September 2023. It was preceded by meetings of the Accounts Verification Panel and the Executive Committee, and followed by the Euphresco Governing Board. Mr Michael Kurzweil (Chair) welcomed delegates from 31 EPPO member countries and the European Commission (permanent observer).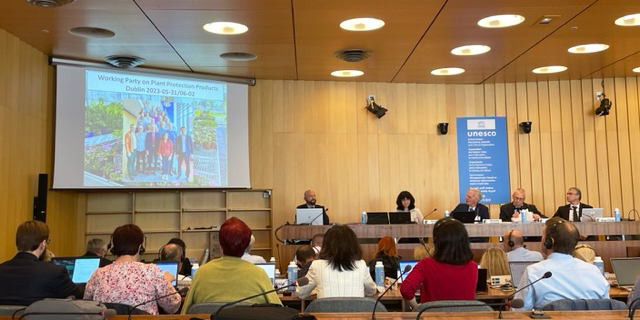 Council members were updated on the technical work being carried out by EPPO Panels under the guidance of the Working Party on Phytosanitary Regulations and the Working Party on Plant Protection Products. They also received reports on a number of current and future activities such as the Minor Uses Co-ordination Facility (MUCF), EPPO-Q-bank database, revision of EPPO datasheets, Euphresco projects, and other projects (BeXyl, Green ERA-Hub, IAS, RNQP II) and project bids.
A number of new and revised EPPO Standards were adopted (see below), and eight pests were added to the EPPO A1 and A2 Lists of pests recommended for regulation as quarantine pests.
Council accepted the Annual Report for 2022, as well as the budget, work programme and calendar of meetings for 2024.
The participation of EPPO in global activities (e.g. IPPC regional workshop, Technical Consultation among RPPOs, CPM, IPPC bodies, SPG) was discussed, as well as the procedure for nomination of European experts in IPPC bodies and expert working groups.
As a result of statutory elections, the EPPO Executive Committee (as of January 2024) will be composed of Cyprus, Ireland, Finland, Georgia, the Netherlands, Slovakia and the United Kingdom. For the Accounts Verification Panel, Germany and Malta will serve as members; Slovenia and Sweden will serve as alternates.
Ms Suzy Pearce (Defra) the first awardee of the EPPO Jens-Georg Unger Plant Heath Fellowship presented the activities she carried out during her secondment to the Canadian Food Inspection Agency (CFIA). She presented the results of a commodity risk assessment on blueberry plants from Canada to the United Kingdom she conducted at CFIA. She also shared her experience and explained the benefits of the fellowship for the employer, the hosting organization and the fellow.
Last but not least, in recognition of outstanding merit in international cooperation in plant protection the 19th EPPO Gold Medal was awarded to Mr Ralf Lopian. He received his gold medal with a standing ovation from the assembly.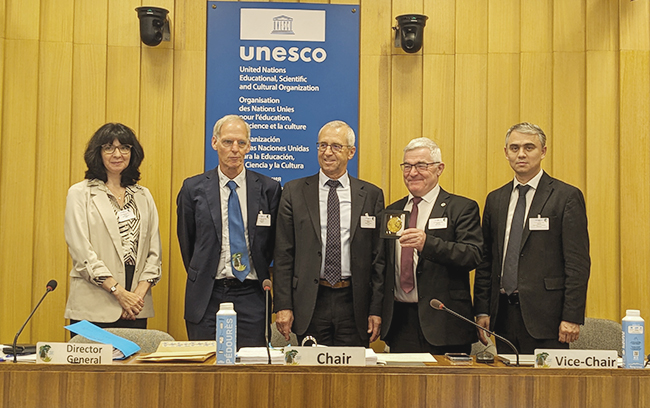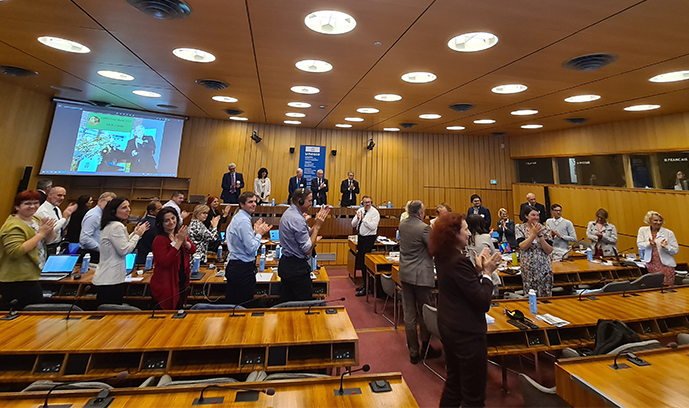 Mr Michael Kurzweil (Chair) closed the meeting and thanked all delegates and observers for their participation, as well as the EPPO Secretariat and the interpreters for their support. The next session of EPPO Council will take place in Azerbaijan on the 24th and 25th of September 2024 .
Standards approved by EPPO Council in 2023-09
Standards will be published in due course in the EPPO Bulletin. They will also be accessible from this website and stored in the EPPO Global Database.
EPPO Standards PM 1 - General Phytosanitary Measures
Additions to the A1 List (pests absent from the EPPO region)
- Meloidogyne ethiopica
- Spodoptera ornithogalli
- Spodoptera praefica
- Tetranychus mexicanus
Additions to the A2 List (pests locally present in the EPPO region)
- Ageratina adenophora
- Crisicoccus pini
- Meloidogyne luci
- Meloidogyne graminicola
Transfer from the A1 to the A2 List
- Scirtothrips citri
EPPO Standards PM 3 - Phytosanitary procedures
Inspection of places of production – Citrus plants for planting – NEW

Production of pathogen-free minitubers of potato (corrigendum to PM 3/63 to revise definition of minitubers of potato)

WITHDRAWAL of PM 3/67(1) Guidelines for the management of invasive alien plants or potentially invasive alien plants which are intended for import or have been intentionally imported
EPPO Standards PM 4 - Production of healthy plants for planting
Certification scheme for seed potatoes (revision of PM 4/28)
EPPO Standards PM 6 - Safe use of biological control
First import of non-indigenous biological control agents for research under confined conditions (revision of PM 6/1)

Host specificity testing of non-indigenous (classical) biological control agents used against invasive alien plants – NEW
EPPO Standards PM 7 - Diagnostic protocols for regulated pests
Generic detection of phytoplasmas (corrigendum to PM 7/133 to delete the reference to PM 7/61)

Guidelines on the main tasks of Reference Laboratories for official plant pest diagnostics (republication of corrected PM 7/131 with reference to EURLs)

WITHDRAWAL PM 7/61(1) 'Candidatus phytoplasma aurantifoliae'
The Council was informed that the following diagnostic protocols have been approved following the fast track procedure since the last Council meeting:
PM 7/new Agrilus planipennis – NEW

PM 7/24 Xylella fastidiosa (revision)

PM 7/new Begomoviruses – NEW

PM 7/031 Citrus tristeza virus (revision)

PM 7/146 Tomato brown rugose fruit virus

PM 7/new Mechanical inoculation of test plants – NEW
PM 7/new Pectobacterium and Dickeya spp. – NEW
PM 7/44 Xanthomonas citri pv. citri and Xanthomonas citri pv. aurantifolii (revision)
PM 7/04 Bursaphelenchus xylophilus (revision)
PM 7/065 Xanthomonas fragariae (revision)
PM 7/43 Pseudomonas syringae pv. persicae (revision)
EPPO Standards PM 9 - National regulatory control systems
Clavibacter sepedonicus (revision of PM 9/2)

Ralstonia solanacearum (revision of PM 9/3)
EPPO Standards PP 1 - Efficacy Evaluation of Plant Protection Products
- Grapevine mealybugs – NEW
- Evaluation of plant defence inducers against grapevine flavescence dorée phytoplasma – NEW
- Revision of PP 1/143 Potato desiccants
- Revision of PP 1/7 Cydia pomonella
- Revision of PP 1/72 Planococcus citri and Delottococcus aberiae
- Revision of PP 1/122 Phytophthora nicotianae var. parasitica and other Phytophthora species causing canker on citrus