15th Meeting of the Panel on Diagnostics in Nematology
Zagreb, 2022-11-08/09
The EPPO Panel on Diagnostics in Nematology was hosted by the Croatian Agency for Agriculture and Food (HAPIH) in Zagreb. 15 Panel members and 1 observer attended the meeting.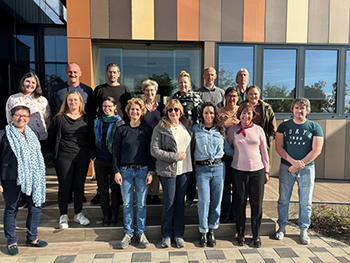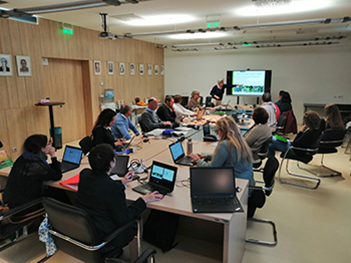 Revised EPPO Diagnostic Protocols
PM 7/004 Bursaphelenchus xylophilus
A draft revision was prepared by an expert from Portugal. A first country consultation took place in 2020 and the Panel agreed on some changes. Some of them were substantial, consequently a second first stage country consultation was performed in 2022. The Panel reviewed the comments made during country consultation. A new version of the draft protocol that takes into account the discussion of the Panel will be prepared by the EPPO Secretariat and the revised document will be sent for the written consultation for formal objection.
New EPPO Diagnostic Protocols
Meloidogyne graminicola
A draft protocol on Meloidogyne graminicola was prepared by experts from Belgium, Italy and the EURL on nematodes with the help of the EPPO Secretariat. The Panel reviewed the main text of the draft and the flow diagram. In particular, the Panel discussed the need to include details on the extraction procedure from water samples and the synonymisation of M. lini with M. graminicola. Validation data gathered by the EURL on several molecular tests were presented. The molecular section and appendices of the protocol still needs to be finalized. A new version of the draft protocol that takes into account the discussion of the Panel will be prepared by the drafting team with the support of the EPPO Secretariat and sent for country consultation in January 2023.
Plans for future new diagnostic protocols
The revision of the Diagnostic protocols PM 7/087 Ditylenchus destructor and D. dipsaci, PM 7/103 Meloidogyne enterolobii and PM 7/041 Meloidogyne chitwoodi and M. fallax was agreed.
Other topics
Euphresco
The four following Euphresco projects were presented and discussed:
Preventing Meloidogyne graminicola spread in European rice paddies
Plant Health status of Fagus spp. [Link]
Possible future project on the influence of incubation of wood samples on detection of pine wood nematode
Detecting virus carrying Xiphinema spp. as an alternative to Xiphinema identification up to species level in trade [Link]
EFSA EPPO Collaboration
A presentation was made on EFSA activities on pest surveillance and the data needed to optimize the design of surveys (in particular data on diagnostic sensitivity). It was agreed that EPPO and EFSA would continue to collaborate on this topic and involve EPPO Panels.
Other presentations
The following topics were presented:
Update on Litylenchus crenatae mccannii and beech leaf disease which was added to the EPPO Alert List in 2019
A new extraction method for nematodes from soil and root samples ('FLOTAC basic technique')
Next Panel meeting
The next meeting of the Panel on Diagnostics in Nematology will be held in 2024.
Participants
The composition of the EPPO Panel on Diagnostics in Nematology can be found on the EPPO website.