71st EPPO Council Session
Paris, 2022-09-27/28
The 71st Session of EPPO Council took place in Paris on the 27th and 28th of September 2022. It was preceded by meetings of the Accounts Verification Panel and the Executive Committee, and followed by the Euphresco Governing Board. Mr Michael Kurzweil (Chair) welcomed delegates from 27 EPPO member countries and the European Commission (permanent observer).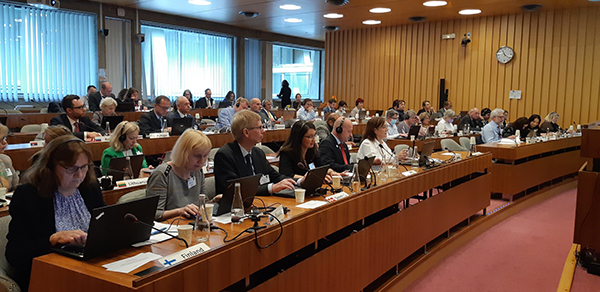 Council members were updated on the technical work being carried out by EPPO Panels under the guidance of the Working Party on Phytosanitary Regulations and the Working Party on Plant Protection Products. They also received reports on a number of current and future projects such as the Minor Uses Co-ordination Facility (MUCF), EPPO-Q-bank database, revision of EPPO datasheets, EPPO Codes, and other projects (BeXyl, EU project on instruction material for operators). The new EPPO Platform on communication material was also presented to the delegates, and NPPOs were encouraged to share their communication material on this new collaborative tool.
A number of new and revised EPPO Standards were adopted (see below), and five pests were added to the EPPO A1 and A2 Lists of pests recommended for regulation as quarantine pests.
Council accepted the Annual Report for 2021, as well as the budget, work programme and calendar of meetings for 2023.
The participation of EPPO in global activities (e.g. ISPMs, IPPC regional workshop and Technical Consultation among RPPOs) was discussed and feed-back was also given on the successful International Plant Health Conference which took place in London the week before Council (2022-09-21/23).
As a result of statutory elections, the EPPO Executive Committee will be composed of Belgium, Cyprus, Ireland, Finland, Georgia, Slovakia and the United Kingdom (as of January 2023). For the Accounts Verification Panel, Sweden, Switzerland, and the Netherlands will serve as members, and Malta and Slovenia will serve as alternates.
Considering that the Assistant Director of EPPO (Ms Françoise Petter) will leave the Organization in 2023, Council agreed to reappoint the Director General of EPPO (Mr Nico Horn) for another year to ensure the continuity of the work. It was also the opportunity for the delegates to warmly thank Ms Françoise Petter for her very active and valuable contribution to EPPO's work.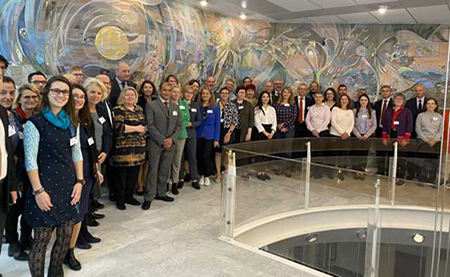 Council also agreed to award the 19th EPPO Gold Medal to Mr Ralf Lopian for his outstanding contribution to the work of EPPO, and more generally to international cooperation in plant health.
Mr Michael Kurzweil (Chair) closed the meeting and thanked all delegates and observers for their participation. The next session of EPPO Council will take place on the 26th and 27th of September 2023 in Paris.
Standards approved by EPPO Council in 2022-09
Standards will be published in due course in the EPPO Bulletin. They will also be accessible from this website and stored in the EPPO Global Database.
EPPO Standards PM 1 - General Phytosanitary Measures
Additions to the A1 List (pests absent from the EPPO region)
- Chionaspis pinifoliae
- Dendroctonus valens
- Grapevine red blotch virus
Additions to the A2 List (pests locally present in the EPPO region)
- Solanum carolinense
- Tomato leaf curl New Delhi virus
EPPO Standards PM 3 - Phytosanitary procedures
Guidelines for the management of plant health risks of biowaste of plant origin (revision of PM 3/66)

Vegetable plants for planting under protected conditions - Inspection of places of production (revision of PM 3/77)

Phytosanitary Procedures: Inspection of consignments for Xylella fastidiosa (revision of PM 3/81)
Phytosanitary Procedures: Inspection of places of production for Xylella fastidiosa (revision of PM 3/82)
Raising professional operators' awareness of regulated and emerging plant pests – NEW
EPPO Standards PM 4 - Production of healthy plants for planting
Certification scheme for olive trees and rootstocks (revision of PM 4/17)
EPPO Standards PM 7 - Diagnostic protocols for regulated pests
Use of EPPO diagnostic protocols (revision of PM 7/76: addendum)
Guidelines for the organization of interlaboratory comparisons by plant pest diagnostic laboratories (revision of PM 7/122)

Considerations for the use of High Throughput Sequencing in plant health diagnostics – NEW
The Council was informed that the following diagnostic protocols have been approved following the fast track procedure since the last Council meeting:
PM 7/007 Aleurocanthus citriperdus, Aleurocanthus spiniferus and Aleurocanthus woglumi (PM 7/007 and PM 7/008 revised and combined into a single Standard)
PM 7/021 Ralstonia solanacearum, R. pseudosolanacearum and R. syzygii (Ralstonia solanacearum species complex) (revision)
PM 7/030 Beet necrotic yellow vein virus (revision)
PM 7/040 Globodera rostochiensis and Globodera pallida (revision)
PM 7/053 Liriomyza spp. (revision)
PM 7/094 Hirschmanniella spp. (revision)
PM 7/099 Clavibacter insidiosus (revision)
PM 7/116 Tetranychus evansi (revision)
PM 7/120 Pseudomonas syringae pv. actinidiae (revision)
PM 7/150 'Ca. Phytoplasma phoenicium' – NEW
EPPO Standards PP 1 - Efficacy Evaluation of Plant Protection Products
- Ceratitis capitata and other tropical fruit flies on tropical fruit trees – bait application – NEW
- Ceratitis capitata and other tropical fruit flies on tropical fruit trees – foliar application – NEW
- Anthracnose in tropical fruits – NEW
- Xanthomonas arboricola pv. juglandis on walnut – NEW
- Revision of PP 1/56 Phytophthora spp. causing fruit rot on citrus
- Revision of PP 1/228 Aphids on beet, including aphid vectors of viruses
- Revision of PP 1/254 Eriosoma lanigerum in apple
- Revision of PP 1/299 Aphids on citrus
- Revision of PP 1/258 Aphids on stone and pome fruit