77th Meeting of the Panel on Global Phytosanitary Affairs
Teleconference, 2021-01-26/28
The EPPO Panel on Global Phytosanitary Affairs met by videoconference on 2021-01-26/28. During the Panel meeting, representatives of the European region in IPPC subsidiary bodies reported the key issues discussed during recent Committee meetings, Workshops, Expert Working Groups and other relevant IPPC meetings.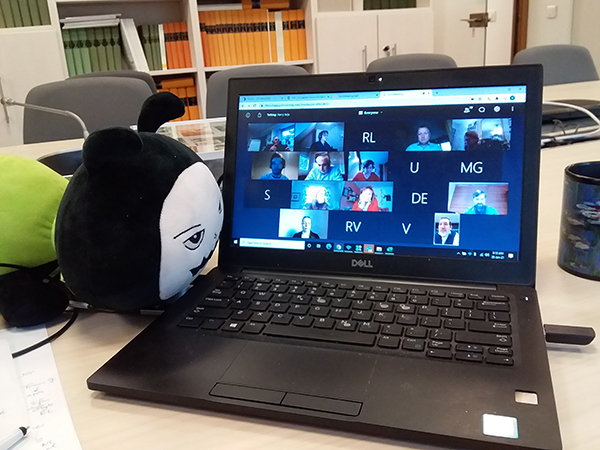 Beastie the Bug kept an eye on progress made at the Panel on Global Affairs
The Panel discussed the arrangements for the EPPO coordination meetings that will be organized around the next session of the Commission on Phytosanitary Measures (CPM-15) taking place virtually on 2021-03-16, 2021-03-18 and 2021-04-01. The Panel discussed the progress and challenges for the following topics for ISPMs or implementation:
Authorization of entities to perform phytosanitary actions

Commodity-based standards for phytosanitary measures

e-Commerce

the revision of ISPM 4 Requirements for the establishment of pest free areas: the European representative in the dedicated Expert Working Group joined the videoconference to update Panel members;
Specific use of import authorizations as an annex ISPM 20 Guidelines for a phytosanitary import regulatory system;

Sea containers
The Panel considered how to coordinate the 2021 IPPC Call for topics for Standards and Implementation among EPPO countries.
A number of strategic IPPC issues were also considered by the Panel, this included:
The International Year of Plant Health in 2020 (now extended to June 2021)

Pest Outbreak Alert and Response System (a topic previously known as 'emerging pests')

ePhyto: the new European representative in the IPPC ePhyto Steering Group joined the videoconference to update Panel members on recent discussions

the activities of the IPPC Fall Armyworm Technical Working Group (within the FAO Global Action on Fall Armyworm control)
The updated IPPC list of topics for IPPC Standards were considered and EPPO stewards were assigned. Extension of terms of European representatives in CPM bodies and vacancies were discussed, experts were assigned, and a call will be launched.
The EPPO NAPPO coordination meeting took place on 2021-01-26. Strategic issues of relevance for both RPPOs were discussed and ideas exchanged.