24th Meeting of the Panel on Invasive Alien Plants
Paris, 2019-06-05/07
The Panel was hosted in Paris at the EPPO Headquarters. The Panel continued its tasks including reviewing draft Standards and Pest Risk Analyses (Ambrosia trifida and Koenigia polystachya) prioritizing plant species for future pest risk analysis and deciding priorities for future PM 9 Standards (National regulatory control systems). In addition, the Panel discussed the potential of developing an inspection Standard for invasive alien plants at borders (PM 3, Phytosanitary procedures) and discussed the future work programme of the Panel for 2020.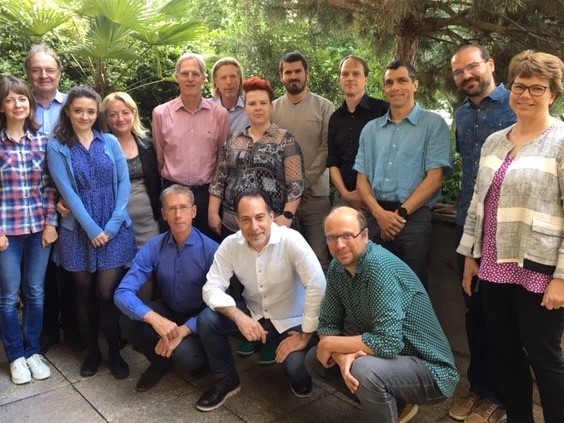 Pest risk analysis (PRA)
The Panel reviewed the PRA on Ambrosia trifida and agreed with the assessment of the Expert Working Group and considered this species was an important agricultural problem within the EPPO region. The Panel also reviewed the PRA on Koenigia polystachya and highlighted that there was little information on the impacts of this species anywhere in its non-native range. The Panel provided suggestions on additional sources of information and agreed to review the PRA again in 2020.
The Panel agreed that a priority for a future PRA was Amaranthus palmeri. The species is native to North America and has been recorded as established in Cyprus, Israel, Portugal (Madeira) and Spain. The species can invade agricultural areas and it has been reported as a major weed in the USA reducing crop yields in cotton, soybean, peanut, corn and sweet potato.
PM 9 Standards (National regulatory control systems)
The Panel discussed updates to the Standard PM 9/9 Heracleum mantegazzianum, H. sosnowskyi and H. persicum which had been prepared in the framework of the EMPHASIS project. The Panel highlighted additional sources of information that can be included in the Standard. The Standard will be further developed by a sub-set of the Panel with the view of sending it to country consultation in 2020.
The Panel also reviewed the comments received during country consultation on the PM9 Standard on Ailanthus altissima and agreed the editorial changes to the document. The Standard will be considered for adoption in 2019. The Panel also reviewed a first draft of a PM 9 Standard on Ambrosia confertiflora and agreed it could be sent for country consultation.
General discussions
EPPO prioritization process
A sub-set of Panel members met the day before the Panel meeting to assess the EPPO prioritization process and the potential of incorporating questions on climate change and economic impacts into the process. The outcome of the assessment was that the EPPO prioritization process was 'fit for purpose' and adequately addresses climate change and economic impacts.
Candidates for the Alert List
The Panel discussed the inclusion of species in the Alert List and agreed that each Panel Member would identify and propose one or two candidates for the Alert List at each future Panel meeting. This can act to ensure that some of the more localised species, which have the potential of being problematic in other countries, are identified and considered.