72nd Meeting of the Panel on Global Phytosanitary Affairs
Rome, 2019-04-05 (1st session) and Paris, 2019-04-09/11 (2nd session)
The EPPO Panel on Global Phytosanitary Affairs met in Rome on 2019-04-05 (1st session) and in Paris on 2019-04-09/11 (2nd session). The 1st session on the Panel meeting was held in the same week as the 14th session of the IPPC Commission on Phytosanitary Measures (CPM-14)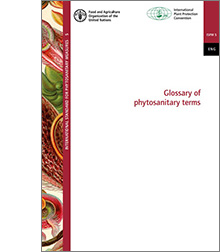 During the 1st session, Panel members discussed a number of issues which were also in the Agenda of CPM-14, namely:
The IPPC Strategic Framework 2020-2030 which is expected to be adopted by CPM in 2020;

Commodity and Pathways Standards;

The International Year of Plant Health (IYPH) proclaimed by the UN for 2020.
During the 2nd session, the Panel members were updated by the representatives for Europe in IPPC meetings on the outcomes of recent discussions. The Panel discussed the ISPMs which are under preparation by the IPPC Standard Committee, namely:
The 2019 Amendments to ISPM 5 Glossary of Phytosanitary terms;

Guidance on pest risk management.
The Panel continued the discussions started in the 1st session on CPM strategic issues. They decided that an EPPO Expert Working Group on electronic phytosanitary certificates (ePhyto) should be created to support the Panel and the European representative in the IPPC ePhyto Steering Group on this topic. The Panel reviewed the EPPO nominations for CPM bodies for the European region and updated the list of topics for ISPMs with nominated EPPO stewards.
The next meeting of the EPPO Panel on Global Phytosanitary Affairs will take place in Chisinau (Republic of Moldova) on 2019-09-4/6 in conjunction with the IPPC/FAO Regional Workshop for Europe and Central Asia to be held in the same location on 2019-09-02/06.