56th meeting of the Working Party on Phytosanitary Regulations
Bergen (NO), 2018-06-19/22
The 56th meeting of the Working Party on Phytosanitary Regulations took place in Bergen, Norway, on 2018-06-19/22 at the kind invitation of the NPPO of Norway. There were 20 participants from 16 EPPO countries and 2 observers from the European Commission and USDA-APHIS. This EPPO Working Party directs and supervises the technical work of many EPPO Panels related to plant health. A summary of the different Panel meetings and Workshops which took place since the last meeting was presented to the Working Party (short summaries of these meetings are posted on this website). The Working Party also discussed the work programme for 2019 and made several recommendations that will be presented to the EPPO Council.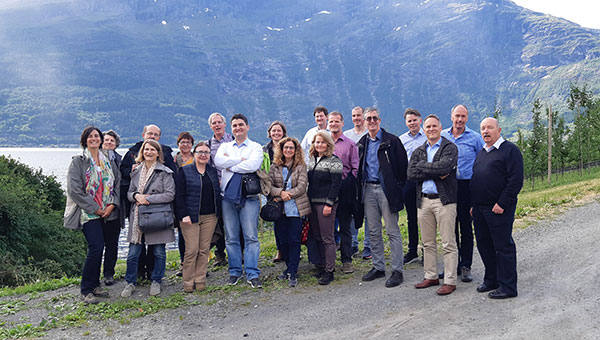 Participants – more pictures

New and revised EPPO recommendations and Standards
The Working Party recommended that 16 new pests (including 10 invasive alien plants) should be added to the EPPO Lists of pests recommended for regulation as quarantine pests. For each pest, recommended phytosanitary measures are described in a Pest Risk Analysis.
A1 List of pests absent from the region: Rose rosette virus and its vector Phyllocoptes fructiphilus, Massicus raddei, Pomacea canaliculata, Cortaderia jubata, Lespedeza cuneata, Lygodium japonicum, Triadica sebifera.
A2 List of pests present in the region: Pomacea maculata, Hakea sericea, Ehrharta calycina, Andropogon virginicus, Humulus scandens, Ambrosia confertiflora, Prosopis juliflora, Xanthomonas phaseoli pv. dieffenbachiae
Following a revision of the taxonomy of Xanthomonas axonopodis, it was agreed to replace Xanthomonas axonopodis pv. dieffenbachiae by Xanthomonas phaseoli pv. dieffenbachiae in the A2 List.
15 new Standards were considered ready to be presented for approval at Council:
Phytosanitary Procedures (series PM3)
Inspection of places of production for 'Candidatus Phytoplasma pyri' (new)
Inspection of places of production – Vitis plants for planting (new)
EPPO Standards PM 3/47 and PM 3/50 have been transferred to series PM 10 Phytosanitary treatments and the schedule with methyl bromide removed.
Safe use of biological control (series PM6)
Decision-support scheme for import and release of biological control agents of plant pests (new)
Andean potato latent virus and Andean potato mild mosaic virus (new)
Generic detection of phytoplasmas (new)
Dacus ciliatus (new)
Zeugodacus cucurbitae (new)
Meloidogyne mali (new)
Thrips palmi (revision PM 7/13)
Use of EPPO diagnostic protocols (revision PM 7/76)
Basic requirements for quality management in plant pest diagnosis laboratories (revision PM 7/84)
Specific requirements for laboratories preparing accreditation for a plant pest diagnostic activity (revision PM 7/98)
Commodity-specific Phytosanitary Measures (series PM8)
Fagus (new)
Coniferae (revision PM 8/2)
National Regulatory Control Systems (series PM9)
Bursaphelenchus xylophilus and its vectors: procedures for official control (revision PM 9/1)
Globodera pallida and G. rostochiensis (new)*
* in this case the Working Party gave provisional endorsement, subject to the Panel on Phytosanitary Measures for Potato having no objections to some final changes to address country comments.
The Working Party also noted the revisions of the following Standards approved since its last meeting according to a specific procedure:
PM 7/21 (2) Ralstonia solanacearum, R pseudosolanacearum and R. syzygii
PM 7/24 (2) Xylella fastidiosa
PM 7/28 (2) Synchytrium endobioticum
PM 7/29 (2) Tilletia indica
PM 7/89 (2) Heterodera glycines
The Working Party endorsed the Recommendations of the RNQP project.
Information services and EPPO codes
The draft Standard Raising public awareness to encourage pest reporting was discussed.
Work carries on EPPO Codes in relation to ePhyto, and non-taxonomic codes.
Diagnostics
The Working Party was briefed on the main achievements of the four Panels and the three workshops on Diagnostics held since the last meeting. The revision of the scope of the fast track procedure was agreed.
PRA activities
The EPPO review led within the Secretariat on EPPO's approach to PRA was presented and discussed. The Working Party agreed that the EPPO PRA process and EPPO Standard PM 5/5 Decision-Support Scheme for an Express Pest Risk Analysis were fit for purpose.
The beta version of the EPPO platform for exchange of information on PRAs was presented and it was agreed that this Platform should be launched publicly after the EPPO Council session.
The Working Party agreed that the next Expert Working Groups for PRA to be organized should deal with Agrilus fleischeri, Naupactus xanthographus and viruses on grapevine breeding material. The Working Party was also updated on the development of the EPPO Study on bark and ambrosia beetles to support horizontal measures on non-coniferous wood.
Biological Control Agents
In addition to the new Standard Decision-support scheme for import and release of biological control agents of plant pests, the Working Party approved the Procedure for proposing BCA additions to the lists in EPPO Standard PM 6/3.
Projects
The Working Party was informed on the progress of projects in which EPPO is involved:
The Working Party was informed that discussions continue on the possibility for EPPO to host the Q-bank database.
Plant Health Links in the EPPO Region
The following issues were discussed:
ePhytos
International Year of Plant Health 2020
EPPO input on IPPC work on Commodity Standards
Progress in the implementation oft he EU Regulation 2016/2031 "On protective measures against pests of plants"
Collaboration between EFSA and EPPO
Euphresco
It was agreed to further develop the draft document on Links between phytosanitary regulations and plant protection products policy at national and regional levels.
Review and improvement of EPPO processes
The final document describing the EPPO Standard setting process was endorsed and will be presented to Council for approval. A brainstorming session in the form of a 'world café' was held to have a preliminary discussion on the involvement of stakeholders in EPPO activities.
The next Working Party on Phytosanitary Regulations is due to convene in Georgia, on 2019-06-18/21.