Workshops on DNA barcoding
EPPO Headquarters, Paris, 2018-10-09/12
NVWA Wageningen, NL, 2018-12-11/14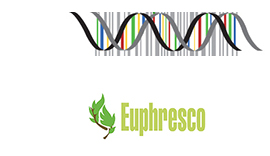 Two identical workshops 'Use of DNA barcoding, from theory to practice', organised in the framework of the Euphresco project PRACTIBAR, will be held on:
2018-10-09/12 at the EPPO Headquarters, in Paris, France.
2018-12-11/14 at NVWA, in Wageningen (NL).
The workshops will start at 13h00 on Tuesday (October 9th or December 11th) and finish at 16h00 on Friday (October 12th or December 14th).
Background
DNA barcoding is increasingly used as a diagnostic tool in phytosanitary laboratories. The EPPO Standard PM7/129 DNA barcoding as an identification tool for a number of regulated pests was published on 2016-11-28 and provides guidance on the use of the DNA barcoding protocols in support of the identification of a number of regulated pests and invasive plant species comparing DNA barcode regions with those deposited in public sequence databases.
These workshops build on the recommendations of the EU and Euphresco projects 'Quarantine organisms Barcoding of Life (QBOL)' and 'DNA Barcoding - Optimizing and validating DNA barcoding protocols for plant pests' and will provide information on the most recent advancements on the method and will allow potential users of DNA barcoding to be trained on tools for data analysis, that can critically influence the outcomes of DNA barcoding for pest identification.
Videos showing some extracts of one of the previous Workshops are available on YouTube

Registration
Registration should be made using the following links:
Workshop in Paris (FR), 2018-10-09/12 – Registration is now closed
Workshop in Wageningen (NL), 2018-12-11/14 – Registration is now closed
Registration will be confirmed by the 2018-07-15. Please note that participation is limited to 16 participants to optimize the training and the follow-up proficiency test. A registration fee to cover lunches will be requested. The amount will be announced closer to the date of the meeting.
Venue and accommodation
The Workshops will take place at:
EPPO Headquarters: 21 Bd Richard Lenoir, 75011 Paris, France.
NVWA, Geertjesweg 15, 6706 EA, Wageningen (NL).
Please note that participants should make their own hotel booking. A list of recommended hotels will be provided soon.