Workshop on Comparative Assessment of Plant Protection Products
Lisbon, 2018-10-24/25

The EPPO Workshop on Comparative Assessment of Plant Protection Products will be held on 2018-10-24/25 in Lisbon and it is organized in collaboration with the Directorate-General for Food and Veterinary of Portugal. The Workshop will start on Wednesday 24th of October at 09:00 and finish on Thursday 25th at 12:30, with an optional technical visit in the afternoon.
Background
The Workshop is organized upon request from EPPO Member Countries concerned with the comparative assessment of plant protection products which contain an active substance that has been identified as a candidate for substitution according to Regulation EC 1107/2009 on the placing of plant protection products on the market.
This Workshop is a follow up of the EPPO Workshop on comparative assessment held in 2009 (view 2009 Workshop conclusions

) which looked at the efficacy related aspects and that recommended the preparation of an EPPO Standard on this issue. PP 1/271 Guidance on comparative assessment was then first approved in 2011 and revised in 2015.
The Workshop will provide an excellent opportunity to share experiences of applicants and EPPO countries on the implementation of EPPO Standard PP 1/271 as different approaches may have been developed at national level. The event will also reconsider the conclusions and recommendations from the previous Workshop and identify whether there are areas for further work or guidance in relation to the EPPO Standard.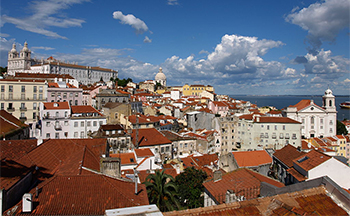 Lisboa – Wikimedia commons by Aubry Françon (own work)
Format
The Workshop will be divided into a plenary session comprising introductory lectures from applicants and national authorities followed by breakout sessions divided into different groups.
The audience is expected to be composed of officials from national regulatory authorities, delegates from crop protection companies (including ECPA), consultant firms applying GEP trials and other stakeholders involved in the application or evaluation of comparative assessment. The number of participants will be limited to 100 and the organizers will try to ensure participation of all interested parties.
Further information and the Workshop programme will be posted at a later stage.
To better identify the current approaches on Comparative Assessment, a questionnaire has been sent to all EPPO Countries. The analysis of the result of the questionnaire will be presented at the Workshop.
Registration
A registration fee will be requested, to be paid online by credit card, although the possibility to pay by bank transfer still exists. The registration fee will cover meeting rooms, coffee breaks, lunch, and all other meeting facilities, as well as an optional technical visit in the afternoon to a farm (Companhia das Lezirias).
A registration fee which will cover meeting rooms, coffee breaks, lunch and all other meeting facilities will be requested. It will be payable online by credit card, although the possibility to pay by bank transfer will still be available. All explanations of the payment procedure, receipts etc. are given in the online meeting registration system.
Registration fee for the NPPOs of the EPPO member countries: 100 EUR
Registration fee for other interested parties (industry, consultancies, etc.): 200 EUR
The payment should be made by 2018-09-27. You will receive a reminder e-mail if that is not the case.
Please note your participation is confirmed once you have paid the registration fee.
Registration is now closed
Venue and accommodation
The Workshop will take place at:
HOTEL TRYP LISBOA AEROPORTO
Aeroporto Internacional de Lisboa,
Rua C Nº2 1749-125,
1749-125 Lisbon, Portugal

Phone: 00351 21 842 5000
Website: www.tryplisboaaeroporto.com
Please note that participants should make their own hotel booking. Please find a list of recommended hotels close to the workshop venue by clicking on this link.
Please find two links for hotel booking form here :
Organizing Committee
Elena Gutierrez (INIA, ES)
Beth Hall (ECPA, Syngenta UK)
Claudia Jilesen (NVWA, NL)
Stefanie Knauer (BLW, CH)
Per Kudsk (Aarhus University, DK)
Valerio Lucchesi (EPPO)
Sue Mattock (CRD, UK)
Barbara Oliveira (DGAV, PT)
Martin Ward (EPPO)