55th meeting of the Working Party on Phytosanitary Regulations
Gdansk (PL), 2017-06-20/23
The 55th meeting of the Working Party on Phytosanitary Regulations took place in Gdansk, Poland on 2017-06-20/23 at the kind invitation of the NPPO of Poland. There were 20 participants from 15 EPPO countries and 2 observers from the European Commission and USDA-APHIS. This EPPO Working Party directs and supervises the technical work of many EPPO Panels related to plant health. A summary of the different Panel meetings and Workshops which took place since the last meeting was presented to the Working Party (short summaries of these meetings are posted on this website). The Working Party also discussed the work programme for 2018 and made several recommendations that will be presented to the EPPO Council.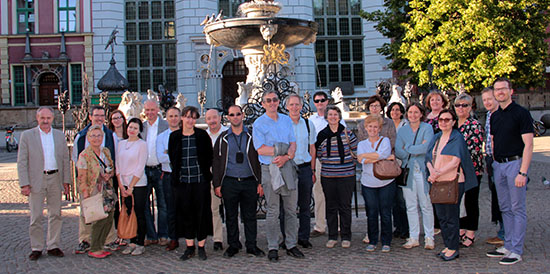 Participants – more pictures

New and revised EPPO recommendations and Standards
EPPO A1 and A2 Lists
The Working Party recommended that 13 new pests (including 4 invasive alien plants) should be added to the EPPO Lists of pests recommended for regulation as quarantine pests:
A1 List of pests absent from the region: Bactrocera latifrons,'Candidatus Phytoplasma phoenicium', Ceratothripoides brunneus, Ceratothripoides claratris, Prodiplosis longifila.
A2 List of pests present in the region: Meloidogyne mali, Citrus bark cracking viroid, Platynota stultana, Thekopsora minima, Salvinia molesta, Pistia stratiotes, Gymnocoronis spilanthoides, Cardiospermum grandiflorum.
For each pest, phytosanitary measures are described in a Pest Risk Analysis. Risk management options for Euwallacea fornicatus sensu lato and Fusarium euwallaceae were also agreed.
Following a revision of the taxonomy of Ralstonia solanacearum, it was agreed to add Ralstonia syzygii to the A1 List and Ralstonia pseudosolanacearum to the A2 List.
Transfer of pest from the A1 to the A2 List: Xylella fastidiosa.
New and revised Standards
15 new Standards were considered ready to be presented for approval at Council:
Phytosanitary Procedures (series PM3)
Fragaria plants for planting - Inspection of places of production
Synchytrium endobioticum: descheduling of previously infested plots (revision PM 3/59)
Pest Risk Analysis (series PM5)
Preparation of pest lists in the framework of commodity PRAs –

NEW
Diagnostics (series PM7)
Dacus ciliatus –

NEW

*
Zeugodacus cucurbitae –

NEW

*
Guideline on the main tasks of Reference Laboratories for official plant pest diagnostics –

NEW
Commodity-specific Phytosanitary Measures (series PM8)
Castanea (revision PM8/3)
Quercus (revision PM8/3)
Betula–

NEW

Populus –

NEW

Salix –

NEW

Potato (revision PM8/1)
National Regulatory Control Systems (series PM9)
Microstegium vimineum –

NEW

Synchytrium endobioticum (revision of PM 9/5)
Bactericera cockerelli and 'Candidatus Liberibacter solanacearum' –

NEW

*
* in these cases the Working Party gave provisional endorsement, subject to the relevant Panels (Diagnostics and Phytosanitary Measures for Potato respectively) having no objections to some final changes to address country comments.
The Working Party also noted the revisions of the following Standards approved since its last meeting according to a specific procedure:
PM 7/2 (2) Tobacco ringspot virus
PM 7/24 (2) Xylella fastidiosa
PM 7/36 (2) Diabrotica virgifera virgifera
PM 7/39 (2) Aphelenchoides besseyi
PM 7/40 (3) Globodera rostochiensis and Globodera pallida
PM 7/62 (2) 'Candidatus Phytoplasma mali', 'Ca. P. pyri', 'Ca. P. prunorum'
PM 7/87 (2) Ditylenchus dipsaci and D. destructor
PM 7/95 (2) Xiphinema americanum sensu lato
PM 7/109 (2) Epitrix cucumeris, E. papa, E. subcrinita and E. tuberis
PM 6/3 List of biological control agents widely used in the EPPO region (version October 2016)
EPPO codes
Work carries on EPPO Codes in relation to ePhyto, and non-taxonomic codes.
Information Services
The Working Party was informed that the Secretariat will revise all datasheets for EPPO listed pests in the framework of a dedicated project in the next 2 years. The progress on Standard PM3 Standard Raising public awareness to encourage plant pest reporting was presented as well as the new communication kits.
Diagnostics
The work of the 6 Panel on Diagnostics was presented. The process established for the preparation of regional comments on the IPPC Diagnostic Protocols was endorsed. It was agreed to revise the horizontal Standard PM7/76 Use of EPPO diagnostic protocols to include a specific section on communication between diagnosticians and risk managers. A working group composed of risk managers and diagnosticians will be organized in 2018 to discuss this revision.
PRA activities
The specification to develop a platform for exchange of information on PRAs was agreed. A review of EPPO PRA processes will be conducted over the next 12 months by the Secretariat. Lists of pests likely to be associated with import of fruits elaborated in the framework of the DROPSA project

were presented. The need for data on import of plants and plant products to better asses risks was noted. The Working Party agreed that the next Expert Working Groups (EWG) for PRA to be organized should deal with Rose rosette virus. In 2018, EWGs will also be organized on Massicus raddei, bark beetles to study horizontal measures for non-coniferous wood. The PRA on Grapevine red blotch-associated virus was considered a lower priority. Concerning the management measures for growing media attache to plants to sustain their vitality, the Working Party agreed that soil and growing media with plants were high risk for plant health but that evaluating the specific risks was not a priority. However, the first steps could be that import is restricted and that the industry could provide information for the approval of priority specific growing media which are not in the Annex to ISPM 40.
Biological Control Agents
The Working Party approved the Terms of reference for the joint EPPO/IOBC Panel on Biological Control Agents and decision-making responsibilities for Standard PM 6/3

. It was agreed that the new Standard Decision-support scheme for import and release of biological control agents of plant pests should be sent for country consultation.
Project on Regulated non-Quarantine Pests
The Working Party endorsed the methodology to assess RNQPs. The work is continuing with dedicated sector working groups.
Other projects
The Working Party was informed on the progress of projects in which EPPO is involved: LIFE IAP RISK project

, EMPHASIS

, Cost Action DIVAS

, XF-ACTORS

. The Working Party was informed that discussions continue on the possibility for EPPO to host the Q-bank database.
Plant Health Links in the EPPO Region
The following issues were discussed:
ePhytos
EU Regulation 2016/2031 'On protective measures against pests of plants'
Collaboration between EFSA and EPPO
Euphresco
Links between phytosanitary regulations and plant protection products policy at national and regional levels were discussed and whether and how these might be improved. A document will be further developed and presented to both Working Parties in 2018.
The next Working Party on Phytosanitary Regulations is due to convene in Norway, on 2018-06-19/22.