11th Meeting of the Resistance Panel on Plant Protection Products
Lyon (France), 2016-09-14/16
The Resistance Panel on Plant Protection Products met at the kind invitation of the French Agency for Food, Environmental and Occupational Health and Safety (ANSES) in Lyon (FR) on 2016-09-14/16 . Special thanks are due to Mr Barrès for arranging the meeting.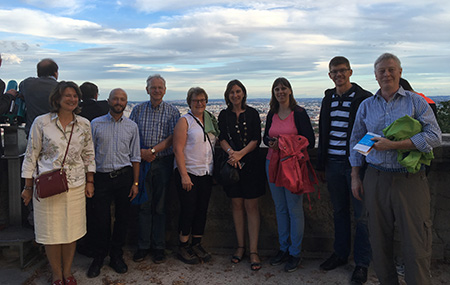 Participants - View more pictures >
A regular topic on the agenda is the update from Panel members on the current and new resistance cases and management strategies in their countries. Ms Jorgensen took this opportunity to present the results of the EuroWheat project, a research-industry initiative to check azoles field performances and monitor for azole resistance in the population of S. tritici in several European countries and to propose resistance strategies. Mr Heimbach updated the Panel on research on pyrethroid resistance cases in oilseed rape in Germany.
This was followed by information from the Resistance Action Committees (RACs): Mr Slater gave a summary of the recent IRAC activities to improve communication (www.irac-online.org). He also gave a presentation to stimulate discussion on how to maximize the benefits for applicants and registration authorities whilst reducing the workload for insecticide resistance monitoring for the (re)registration dossier. Mr Genet and Ms Salas informed the Panel about the new developments for the Fungicide RAC (FRAC) and for the European Herbicide RAC (EHRAC) respectively.
The Panel studied a draft Standard on 'General principles for the development and registration of co-formulated mixtures of Plant Protection Products' which provides guidance for the efficacy justification for using co-formulated mixtures including an examination of the appropriateness of such mixture products in terms of resistance management. The draft Standard will be finalized by the EPPO Panel on General Standards.
The Panel continued the discussion for a possible EPPO database on resistance cases. The format and the process for adding new cases to the database was clarified and the Panel agreed on an outline for a specification for the database. Ms Walker presented the French alert list of cases of resistance constructed from data collected by INRA and ANSES. This list aims to present an overview of the resistance issues identified in France, it includes lists of pest/crop combinations where resistant cases are detected.
A Workshop on systems for monitoring resistance to pesticides in Europe was organized, by ANSES, for the members of the Panel representing regulatory authorities, and met directly after the Panel meeting. The Workshop provided an excellent opportunity to discuss the organization of the monitoring in the different European countries and to exchange experiences on this topic.
The EPPO Panel on Resistance will next meet on 2017-09-20/22, in Paris at the EPPO Headquarters.