Meeting of the Panel on General Standards on Efficacy Evaluation
EPPO Headquarters, Paris 2016-03-09/11

The EPPO Panel on General Standards on Efficacy Evaluation (list of participants ) met at the EPPO Headquarters in Paris, on 2016-03-09/11. The Panel continued its work on the preparation of General Standards on efficacy evaluation.
New Standards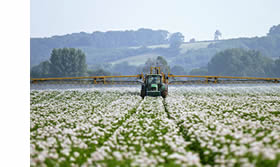 The meeting focussed on four proposals for new General Standards.Two of them were recommended for country consultation after some modifications are made taking into consideration the comments made at the meeting:
Evaluation of the influence of tank mix adjuvants on the efficacy of Plant Protection Products
Cleaning Application Equipment – Efficacy Aspects
Further work needs to be done on two other General Standards which were studied at the meeting:
General principles for the development and registration of co-formulated mixtures of PPP
Efficacy considerations and data generation when making changes to the chemical composition of Plant Protection Products
Survey on dose expression for seed treatment
One of the conclusions of the EPPO Workshop on Experiences with implementation of zonal evaluation of plant protection products (Sofia, 2013-10-22/24) was that dose expression for seed treatment and the use of units of seeds could be further harmonized beyond the current recommendations in EPPO Standard PP 1/239 Dose expression for plant protection product. A survey to clarify the understanding of dose expression of seed treatment for the different crops in the different countries of the EPPO region was organized in 2015 and the first results were presented at the meeting. A document presenting the results will be prepared and made available to all EPPO countries

Leaf Wall Area dose expression
The Panel discussed the programme and the preparation of the Workshop on harmonized dose expression for the zonal evaluation of plant protection products in high growing crops which is being organized in collaboration with AGES (Vienna, 2016-10-18/20).
The Panel on General Standards on Efficacy Evaluation will next meet in Wageningen (NL) on 2017-02-20/22