21st meeting of the Panel on Phytosanitary Measures for Potato
Kleinmachnow (DE), 2015-05-19/21
The Panel on Phytosanitary Measures for Potato held its 21st meeting in Kleinmachnow (DE) on 2015-05-19/21. The Panel discussed recent results obtained from the Euphresco project PHYLIB which focused on 'Candidatus Liberibacter solanacearum' and its vectors in Europe. It was also presented with new methods for disinfestation of soil against potato cyst nematodes and Epitrix species.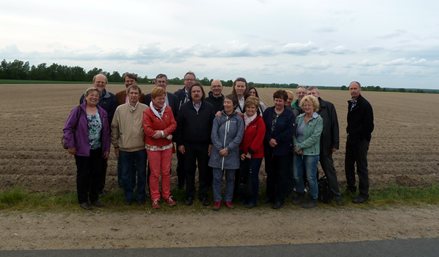 Participants - view more pictures >
The Panel carried on the development 3 draft regulatory control system Standards (in series PM9) on:
Epitrix species damaging potato tubers.
'Candidatus Liberibacter solanacearum' and its vector Bactericera cockerelli
Globodera rostochiensis and G. pallida.
The Panel also started the revision of PM 8/1(1) Commodity-specific phytosanitary measures for potato. The Panel defined the scope of a Standard on "Management of the phytosanitary risks of soil associated with soil attached to potato tubers and potato waste". Specification will be presented for approval to the Working Party on Phytosanitary Regulations. If agreed, the draft standard will be developed for the next meeting.