EPPO Workshop on Experiences with implementation
of zonal evaluation of plant protection products
Sofia, 2013-10-22/24

The EPPO Workshop on Experiences with implementation of zonal evaluation of plant protection products took place in Sofia (Bulgaria) from 22 to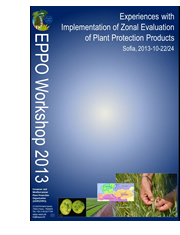 24 October 2013 and was organized in collaboration with the Bulgarian Food Safety Agency to which thanks are due for the kind invitation. In particular, Ms Krusteva is thanked for the excellent organization of the meeting.
The EPPO Secretariat would also like to thank the organizing committee and working group chairs who helped in structuring this workshop and assisted with finalizing the conclusions: Per Kudsk (Aarhus University, DK) and Miglė Stončienė (Ministry of Agriculture, LT) for the Northern Zone; Claudia Jilesen (Netherlands Food and Consumer Product Safety Authority, NL), Peter Zwerger and Udo Heimbach (Julius Kühn-Institut, DE) and Sue Mattock, Ingrid den Hoed and Paul Ashby (CRD, UK) for the Central Zone; Laurent Thibault (ANSES, FR), Jean-Claude Malet (French Direction of Quality and Plant Protection FR) and Elena Seris and Iray Gell (National Institute for Agricultural and Food Research and Technology, ES) for Southern Zone and finally the ECPA representatives Beth Hall, Barry McKeown, Marisa Salas (DuPont), Bernardo Pollmann (Makteshim Agan) and Andy Leadbeater (Syngenta).
Thanks are also due to the speakers, and rapporteurs of the working groups for their valuable input and guidance. This includes, in particular, Mr Wolfgang Reinert from DG Health & Consumer Protection, European Commission (EC).
General background
Mutual recognition and zonal evaluation are becoming of an increasingly important as they are core principles of dossier submission for the authorization of plant protection products in the framework of the EC Regulation 1107/2009 (replacing 91/414/EEC). The Workshop was organized upon request from EPPO Member Countries concerned with the zonal efficacy evaluation under the above Regulation and as a follow up to two previous EPPO Workshops organized in 2011 and 2012 on zonal assessment. More information on EPPO activities on Zonal Efficacy Assessments can be found on this website.
The subject of the Workshop proved to be appropriate and well-timed as the event attracted an unexpectedly high number of participants. A total of 110 participants including 48 officials from the national regulatory authorities from 22 EPPO countries, one representative of the European Commission, 37 delegates from crop protection companies and 22 from the consultancy firms met to address many of the technical details for conducting zonal evaluations and to agree and harmonize processes among EPPO member countries.
The Workshop was an ideal opportunity to clarify what needs to be done, what has been done by the European Commission so far, by regulators and evaluators in the three zones and what the role for EPPO could be. Although the outcomes are directly relevant to EU Member States, it was acknowledged that the principles defined for zonal evaluation may be used by other EPPO countries wishing to adopt the zonal concept for the authorization of plant protection products.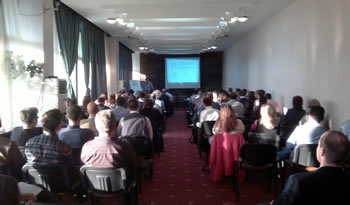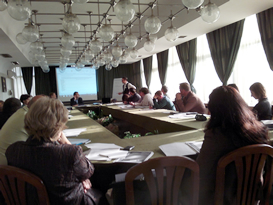 Plenary session and working group – view more pictures

Presentations
The workshop started with the following introductory lectures illustrating the state of the art and understanding of issues related to zonal assessment of plant protection products according to different perspectives:
First experiences with the implementation of the zonal concept under Regulation (EC) No 1107/2009 by Wolfgang Reinert, DG Health & Consumer Protection, European Commission
EPPO's achievements since the Zonal Workshop 2011 by Vlasta Zlof (EPPO)
Guidance Document on the efficacy composition of Core Dossier and National Addenda by Sue Mattock Chemicals Regulation Directorate (CRD) of UK
Draft Registration Report (dRR) – Efficacy by Véronique Mironet (ANSES)
Seeking biology solutions to the zonal challenge by Patrice Duvert (ECPA)
During the afternoon plenary session, chaired by Mr Reinert (EC - DG SANCO), the following series of presentations briefly illustrated the experiences with implementation of zonal evaluation of plant protection products from the countries' perspective both as Zonal Rapporteur Member States (zRMS) and/or concerned Member States (cMS).
For the Northern Zone:
First experiences with zonal registration in the Northern Zone by Per Kudsk (Aarhus University, DK) on behalf of DK, EE, FI, LT , LV, NO, SE
For the Central Zone:
Austria, Gabriele Kovacs, AGES
Belgium (pdf), Pierre Hucorne & Bernard Weickmans, CRA-W
Czech Republic, Dana Bednarikova, State Phytosanitary Administration
Germany, Gregor Kral, BVL
Hungary, Tamas Hochbaum, National Food Chain Safety Office
Netherlands, Miriam Visser, Ctgb
Poland, Przemyslaw Kielek, Ministry of Agriculture and Rural Development
Slovenia, Mateja Blazic, Agriculture and Forestry Institute
United Kingdom, Deborah Liddell, CRD
For the Southern Zone:
Bulgaria, Toma Horozov BFSA (oral presentation)
Croatia, Dario Ivic HCPHS (oral presentation)
France, Véronique Mironet, ANSES
Greece, Evangelos Karanasios, Benaki Phytopathological Institute
Italy, Alessia Gualla, Institute of Agricultural and Environmental Chemistry
Country experiences' presentations and discussion were followed by three additional insights:
Minor crops/minor uses in biological dossier: tools developed by EPPO by Jean-Claude Malet (DGAL/SDQPV)
Experiences of zonal efficacy evaluations from the perspective of the applicant by Bernardo Pollmann, (Makhteshim Agan Industries)
Examples of zonal independent efficacy evaluations (Protected crops, Seed treatments) by Claudia Jilesen of NVWA
Working group sessions in which the Workshop participants split up into four groups allowed for more detailed discussions. Chairs rotated among groups in order to take the participants through the following specific topics related to zonal assessment:
Theme 1. Efficacy considerations when making changes to the chemical composition of plant protection products: criteria for significant changes, and generating appropriate supporting data - Chairs: S. Mattock, M. Salas, M. Stončienė
Theme 2. Registration of co-formulated products (those containing more than one active substance) - Chairs: P. Ashby, P. Kudsk, B. McKeown
Theme 3. dRR and BAD: How to develop the dRR using the BAD as a basis in the zonal evaluation process - Chairs: B. Hall, J.C. Malet, L.Thibault, P. Zwerger
Theme 4. Evaluation of plant protection products covering all EU zones (protected crops, seed treatments, stored products) - Chairs: U. Heimbach, C. Jilesen, B. Pollmann
Conclusions and recommendations
In the final plenary session moderated by Mr Kudsk (DK), the rapporteurs of each group reported on the conclusions of their respective groups. General conclusions were also elaborated. Click on the link below to access the conclusions and recommendations made based on the Plenary Session. Discussion points, technical issues, questions and recommendations are described.
Download Workshop conclusions and recommendations