EPPO Training course on the EPPO prioritization process
for invasive alien plants
Belgrade, 2013-07-09/11
EPPO organized a training course on the EPPO prioritization process for invasive alien plants attended by 30 participants from Balkan countries (Bosnia and Herzegovina, Bulgaria, Croatia, Macedonia, Serbia, Slovakia, Slovenia).
This training course was organized along the same lines as the one held in Paris on 2013-03-12/14. General presentations on Pest Risk Analysis, definitions and concepts related to biological invasions, the EPPO Standard on the prioritization process on invasive alien plants and its application in EPPO countries as well as insights on uncertainties when performing such assessments were made for the participants. In addition to testing the process with case species and using the CAPRA software and the Global Biodiversity Information Facility (GBIF) Niche Model, the participants presented the outcomes of assessments they performed during the training course on invasive alien plants of relevance for their country.
This training workshop was preceded by an international seminar on 'Lists of invasive alien plant species in the Balkans' organized by IZBIS, the Institute for Plant Protection and Environment. Presentations from this international seminar and pictures are available on the IZBIS website.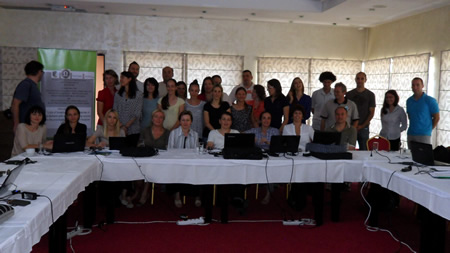 Presentations prepared by the trainees during the course
Prioritization process assessment for Opuntia humifusa for Bulgaria
Vladimir Vladimirov, Institute of Biodiversity and Ecosystem Research (BU) & Zvonko Pacanoski, Faculty for Agricultural Sciences and Food (MK)
EPPO Prioritisation Process for Acer negundo L. for North Part of Serbia (Vojvodina)
Vera Batanjski, Institute of Botany and Botanical Garden "Jevremovac" (RS), Bojana Bokić, Faculty of Sciences, University of Novi Sad (RS), Vesna Hlavati Širka, Faculty of Biology, University of Belgrade (RS) & Milica Radanović, Faculty of Sciences, University of Novi Sad (RS)
Results of prioritisation analysis for Ambrosia trifida for the territory of Republic of Slovenia
Mario Lešnik, Faculty of Agriculture and Life Science (SI) & Jan Tancik, Slovak University of Agriculture in Nitra (SK)
The EPPO prioritization process for Asclepias syriaca L. for Vojvodina, autonomous province of Serbia
Ljiljana Nikolic, Milena Popov, University of Novi Sad, Faculty of Agriculture (RS)
Prioritization process assessment for Aster lanceolatus Willd. for Serbia
Dragica Obratov Petković, Faculty of Forestry, Univeristy of Belgrade (RS), Verica Stojanović, Institute for Nature Conservation of Serbia (RS), Marija Nešić, Faculty of Forestry, University of Belgrade (RS)
Buddleja davidii prioritization process assessment for Croatia
Milan Brankov, Maize Institut "Zemun Polje" (RS), Nenad Novak, Croatian Centre For Agriculture, Food and Rural affairs – Plant Protection Institute (HR) & Maja Kravarščan, Croatian Centre For Agriculture, Food and Rural affairs – Plant Protection Institute (HR)
Carpobrotus spp. – Prioritization process asessment for Croatia
Igor Boršić, State Institute for Nature Protection (HR), Božena Mitić, Department of Botany and the Botanical Garden, Division of Biology, Faculty of Science, University of Zagreb, (HR) & Nina Vuković, Department of Botany and the Botanical Garden, Division of Biology, Faculty of Science, University of Zagreb, (HR)
Prioritization process assessment for Cuscuta campestris for Serbia
Ljiljana Radivojevic, Institute of Pesticides and Environmental Protection (RS), Marija Saric-Krsmanovic, Institute of Pesticides and Environmental Protection, Jelena Gajic-Umiljendic, Institute of Pesticides and Environmental Protection (RS) & Biljana Vuckovic, Faculty of Agriculture, University of Banja Luka (BA)
EPPO prioritization process for Fallopia japonica for Serbia
Ana Andjelković, Institute for Plant Protection and Environment (RS) & Filip Vranješ, Galenika Fitofarmacija (RS)
Prioritization process for Iva xanthifolia Nutt for Serbia
Sava Vrbničanin, Faculty of Agriculture, University of Belgrade (RS), Dragana Božić, Faculty of Agriculture, University of Belgrade (RS) & Katarina Jovanović-Radovanov, Faculty of Agriculture, University of Belgrade (RS)
Prioritization process assessment for Solanum elaeagnifolium Cav. (silver-leaf nightshade) in Macedonia
Zvonko Pacanoski, Faculty for Agricultural Sciences and Food (MK) & Vladimir Vladimirov, Institute of Biodiversity and Ecosystem Research (BU)
EPPO prioritization process for invasive alien plants, Assessment for Xanthium spinosum in Serbia
Danijela Pavlović, Institute for Plant Protection and Environment (HR) & Irena Krga, Institute for Plant Protection and Environment (RS)