53rd Meeting of the Panel on CPM Affairs
Limassol, CY, 2013-01-28/31
The EPPO Panel on CPM Affairs met in Limassol, Cyprus on 2013-01-28/31. This meeting was combined with the EPPO/NAPPO annual meeting that was held on 2013-01-29/30.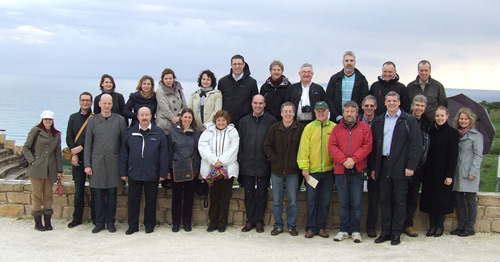 Participants - view more pictures

Members of the Panel prepared the coming Commission on Phytosanitary Measures (CPM) that will take place in Rome (IT) in 2013-04. Panel experts were able to give their views on the draft ISPMs, and on conceptual questions on the international movement of grain and on the inspection and cleaning of sea containers.
Reports on different IPPC Expert Working Groups like the Technical Panel on the Glossary, the APPPC Symposium on phytosanitary pest surveillance (Seoul, 2012-10-29/11-02) and the Capacity Development Committee were made by participating members.
The 30 participants also exchanged information on forward-looking topics like electronic certification (ePhyto) with a presentation of NAPPO considerations on commodity codes and security, as well as a presentation by FERA (GB) of the means deployed to communicate with the public on plant pests (e.g. Anoplophora glabripennis, Chalara fraxinea), including smartphone applications and a Youtube channel.
In an open brainstorming session, participants also reflected upon the joint needs of EPPO and NAPPO that future bilateral meetings would have to respond to. Essentials like the need for a forward-thinking ability regarding CPM topics were voiced, along with the need to regularly update on the scientific and technical approaches of major subjects of interest in international pest management strategy (emerging pests, control of changing pathways like those linked with Internet sales, and evolving trade patterns).

An expert for the IPPC Panel on phytosanitary control of the movement of seeds was selected, and Terms of Reference for the EPPO CPM panel were also debated and defined.
The host NPPO organized a tour for participants, both in a citrus packing house and to two historical sites, the fort of Kolloseos (12th-15th centuries) and Greek ruins (3rd century A.D.) Citrus fruits are one of the main export of Cyprus, and the control of pests associated with citrus plants, a major concern of the local NPPO, was detailed to the participants.