QBOL-EPPO Conference on DNA barcoding
and diagnostic methods for plant pests
Haarlem, NL, 2012-05-21/25
EPPO, the QBOL partners, and the Dutch Plant Protection service, organized a joint Conference on DNA Barcoding and diagnostic methods for plant pests.
This Conference followed in the sequence of EPPO Conferences on new methods of diagnosis in plant protection, previously held in the Netherlands, in 1985, 1994, 2000 and 2004 and in the United Kingdom in 2009. This Conference was attended by more than 180 participants from 29 countries (including non EPPO countries: Brazil, Canada, China, New Zealand, Pakistan, Peru, Puerto Rico, Saudi Arabia and USA). Most participants were experts in the field of diagnosis of plant pests, but representatives of EU organizations and private companies were also present.
The Conference was opened by Mr Wim van Eck, Dutch Food and Consumer Product Safety Authority (NVWA) who welcomed the participants to the Netherlands. During the opening session the history and progress made within the QBOL project (www.qbol.org) were presented as well as the EPPO's activities to better serve the needs of plant pest diagnostic laboratories.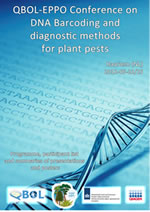 Mr Lévesque (Agriculture and Agri-Food Canada) and Mr Crous (CBS-KNAW Fungal Biodiversity Center, NL) were invited to give introductory lectures. Mr Lévesque presented a Canadian perspective of using DNA Barcoding for diagnostics and monitoring of plant pathogens and pests. He stressed that molecular identification and detection in a regulatory framework would only be stable if based on the following four pillars:
Building up the reference barcode data (such as QBOL)
Keep studying the taxonomy where challenges arise
Maintain reference collections
Have diagnosticians who have a good understanding of barcode technology and who can also interpret results properly
Mr Crous explained how DNA barcoding and morphological characterization are complementary for species identification. He highlighted the importance of collections and the need for database including DNA sequences for identification.
Each session of the Conference started with a presentation of a work package of the EU project QBOL, followed by presentations on promising technologies which are being developed such as next generation sequencing, array technology and other relevant diagnostic methods.
In the last Diagnostic Conference in 2009, presentations were made on the principles of validation of tests in the framework of accreditation. During the present conference, a remarkable number of laboratories presented their experience in performing validation of tests following the EPPO Standard PM 7/98 Specific requirements for laboratories preparing accreditation for a plant pest diagnostic activity in different disciplines.
On the last day of the conference, several stakeholders were invited to present their needs regarding diagnostics. The importance of diagnostics in the phytosanitary regulatory framework was highlighted. It was noted that accurate diagnostic is essential for the phytosanitary safety of plants and plant products moving in trade and that tests should be rapid, affordable, capable of testing for several pests at the same time, and preferably non-destructive. The need for international harmonization and the importance of validation of tests were highlighted.
The last part of the conference was a discussion led by EUPHRESCO representative Eric Regouin on recommendations from this conference.
QBOL-EPPO Conference Recommendations
Download recommendations

To all those who are concerned about phytosanitary security in particular NPPOs, policy makers, research funders and providers etc.
The rate of introduction of plant pests has increased steadily during recent decades mainly as a result of the globalization of the trade in agricultural and horticultural plants and products. These introductions threaten food security and some pests have resulted in huge economic, environmental or social impacts in the EPPO countries.
The capability to quickly and reliably detect and identify these organisms is critical for effective phytosanitary measures to be taken and for ensure safe movement of plants and plant products in the context of increasing trade and travel. Laboratories are increasingly working under quality assurance systems (including accreditation) and need to have access to validated tests.
In order to ensure proper development, validation and effective and reliable use of tests, the Conference considered it is essential that the infrastructure in Plant Health is strengthened in particular that:
Expertise in taxonomy and phytosanitary science is secured.
Maintenance of reference collections is ensured and accessibility and links are developed further.
Easy accessible databases containing reliable data are maintained and developed further.
Phytosanitary research (including research on taxonomy) continues in particular for diagnostic test development.
The Conference highlighted that sampling methodology prior to testing was also critical and recommended that this should be given more attention.
The Conference considered that it is essential that the development of harmonized diagnostic protocols continues.
The Conference welcomed the achievements of the EU project QBOL and recommended that further validation should be organized to ensure that an EPPO protocol on barcoding can be adopted as soon as possible. The consequences of continuing evolution in diagnostic techniques and taxonomy on phytosanitary regulations should be considered further.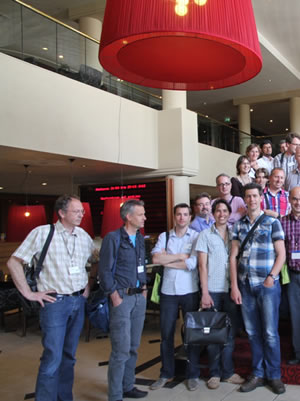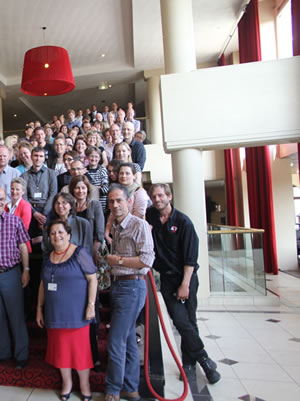 Participants after the Virology Session (thanks to Ming-Fu Li for the photo).
Warm thanks are due to the local organizers in particular to Ms Kox, and Mr Bonants for the organization of the Conference, and also to the session leaders: Assunta Bertaccini (Univ. Bologna, Italy), Maja Ravnikar (NIB, Slovenia), Neil Boonham (FERA, United Kingdom), Ellis Meekes (Naktuinbouw, the Netherlands), Alain Roques (INRA, France), Antoon Loomans (NRC-NPPO, the Netherlands), Juerg Frey (ACW, Switzerland), Géraldine Anthoine (Anses, France), Johannes Hallmann (JKI, Germany), Ana Maria Pérez Sierra (Univ. Valencia, Spain), Hans de Gruyter (NRC-NPPO, the Netherlands), Peter Bonants (PRI, the Netherlands), Françoise Petter (EPPO), Eric Regouin (EUPHRESCO) and Alan Inman (EUPHRESCO).
Presentations
Introduction
Welcome address by Wim van Eck, VWA (NL)
QBOL, development of a new diagnostic tool using DNA barcoding to identify quarantine organisms in support of plant health
Peter Bonants, PRI (NL)
EPPO Diagnostic activities: serving the needs of plant pest diagnostic laboratories
Francoise Petter, EPPO
Using DNA Barcoding for diagnostics and monitoring of plant pathogens and pests, a Canadian perspective (pdf)
André Lévesque, Agriculture and Agri-Food Canada (CA)
Culture Collections in relation to DNA Barcoding
Pedro Crous, CBS-KNAW (NL)
Invasive plants & Phytoplasmas
Interactive image-driven identification keys for invasive plants
Johan van Valkenburg, NRC-NPPO (NL)
QBOL-WP 7: DNA Barcoding of phytoplasmas
Mogens Nicolaisen, Univ Aarhus (DK)
Data on temporary and spatial distribution of microbes in plants helps to improve on-site detection
Maja Ravnikar, NIB (SI)
Phytoplasma detection and identification: from 16S ribosomal gene to multiple gene identification
Assunta Bertaccini, Univ Bologna (IT)
A panel of LAMP assays for detection of flavescence dorée phytoplasma
Jennifer Hodgetts, Fera (GB)
Deep amplicon sequencing for detection of mixed phytoplasma infections in plants (pdf)
Nicoletta Contaldo, Univ Bologna (IT)
Viruses
QBOL-WP 6: Next Generation Sequencing for Plant Virus Discovery and Diagnosis
Ian Adams, Fera (GB)
Detection of Potato spindle tuber viroid and Tomato chlorotic dwarf viroid in seeds of tomato
Ellis Meekes, Naktuinbouw (NL)
Small RNA sequencing and assembly as a DNA barcoding method from plant viruses
Jan Kreuze, CIP (PE)
Multiplex pathogen detection using microarrays
Neil Boonham, Fera (GB)
Microarray-based methods for a multiple and simultaneous detection of viruses highlighting the need for a collection database
Antonio Tiberini, Agricultural Research Council (IT)
RT-LAMP for detection of plant pathogenic viruses including Cassava brown streak virus
Jenny Tomlinson, Fera (GB)
A sensitive real-time RT-PCR assay for generic detection of pospiviroids
Ellis Meekes and Marleen Botermans, NRC-NPPO (NL)
Comparison of methods for detection of pospiviroids infecting Solanaceae
Pascal Gentit, Anses (FR)
State of the art multiplex Luminex xMAP and xTAG -detection of plant viruses
René van der Vlugt, PRI (NL)
Plant viruses and viroids in an aqueous environment: survival, water mediated transmission and detection
Natasa Mehle, NIB (SI)
LAMP as a tool for On-Site Confirmation and Monitoring of plant pathogens
Cor Schoen, PRI (NL)
Quality control in bioassays for broad screening for plant viruses
Annelien Roenhorst, NRC-NPPO (NL)
Insects & Mites
QBOL-WP 3: Barcoding Quarantine Arthropods
Jean-Yves Rasplus, INRA (FR)
Morphological and molecular identification of EU quarantine species of Spodoptera (Lepidoptera, Noctuidae)
Marja van der Straten, NRC-NPPO (NL)
Combining DNA barcoding and morphological analysis for the diagnosis of alien pests. The case study of Epitrix potato flea beetles (Coleoptera: Chrysomelidae)
Astrid Cruaud, CBGP (FR) presented on behalf of Jean-François Germain, Anses (FR)
Morphological identification of Thrips palmi in the frame of ISO/IEC 17025
Antoon Loomans, NRC-NPPO (NL)
Molecular characterization of Leptomastidea spp. (Encyrtidae, Hymenoptera) populations from Puerto Rico, Barbados and Florida
Jose Carlos Rodrigues, Univ Puerto Rico (PR)
Characterization of two haplotypes of Haplaxius (Myndus) crudus, vector of different phytoplasmas associated with palm diseases, using cytochrome oxidase I gene
Michel Dollet, CIRAD (FR)
Nematodes
QBOL-WP 5: Barcoding as a new tool for identification of quarantine nematodes and their close relatives
Sebastian Kiewnick, ACW (CH)
Use of a phylum-wide SSU rDNA-based molecular framework for the detection of plant parasitic nematode species in complex DNA backgrounds
Hans Helder, Wageningen University (NL)
Validation of morphological identification method - the example of a morphological key for Bursaphelenchus xylophilus species
Géraldine Anthoine, Anses (FR)
Evaluation of barcoding and phylogenetic potential of four genes in the genus Meloidogyne
Martijn Holterman, ACW (CH)
Diagnostic kits for the detection of plant parasitic nematodes (pdf)
Renske Landeweert, Clear Detections (NL)
Direct detection of plant parasitic nematodes by real time PCR : experience gained from development and validation of different tests
Sylvie Gamel, Anses (FR)
Bacteria
QBOL-WP 4: Barcode identification of quarantine bacteria, the QBOL strategy and results
Bart Cottyn, ILVO (BE)
PCR-based assays for detecting Xanthomonas axonopodis pv. allii in onion seed
Isabelle Robène, CIRAD (FR)
Invasion of Xanthomonas arboricola pv. pruni (XAP) in the ornamental Prunus lauroceracus (cherry laurel) in the Netherlands (pdf)
Maria Bergsma-Vlami, NRC-NPPO (NL)
Validation of real-time PCR for detection and identification of Xanthomonas fragariae
Marcel Westenberg, NRC-NPPO (NL)
Phenotypic and genotypic characteristics of Dickeya strains isolated from potato in Poland
Ewa Lojkowska, Univ Gdansk (PL)
Clavibacter michiganensis strains characterized as non-pathogenic by phylogenetic and polyphasic analyses are transmitted by tomato seeds and interfere with C. michiganensis subsp. michiganensis detection
René Mathis, Variety and seed study and control group (FR)
Is identification by bar-coding of Q-clavibacters in conflict with the existing bacterial taxonomy of this group of bacteria?
Paul de Vos, Univ. Gent (BE)
Detection of Clavibacter michiganensis subsp. michiganensis in seeds of tomato
Harry Koenraadt, Naktuinbouw (NL)
Emergence of strains of Pseudomonas syringae pv. actinidiae (Takikawa, 1989) in France: methods of characterisation
Francoise Poliakoff, Anses (FR)
An array based technology designed to detect the complex plant pathogen Ralstonia solanacearum
Gilles Cellier, Anses (FR)
Graft-transmission of 'Candidatus Liberibacter solanacearum', the causal agent of potato zebra chip disease, from greenhouse-grown latently-infected tomato
Xiang Li, Canadian Food Inspection Agency (CA)
Fungi
WP2 of QBOL: Barcoding fungi of Q importance
Ewald Groenewald, CBS-KNAW (NL)
DNA barcoding of the fungal genus Phoma from New Zealand
Welcome Ho, Ministry of Agriculture and Forestry (NZ)
Barcoding Mycosphaerella species of quarantine importance to Europe
William Quaedvlieg, CBS-KNAW (NL)
New SNP markers for the genetic characterization of the quarantine pathogen Puccinia horiana and their application in pathogen migration analysis
Mathias de Backer, ILVO (BE)
Molecular phylogeny of Phoma: tool for a validated real-time (TaqMan) PCR for detection of Stagonosporopsis andigena and S. crystalliniformis in infected leaves of tomato and potato
Hans de Gruyter, NRC-NPPO (NL)
Real-time PCR detection of the quarantine pathogen Melampsora medusae f. sp. deltoidae
Anne-Laure Boutigny, Anses (FR)
A DNA-based macroarray for multiplex detection of soil-borne fungi
Anita Rose Haegi, Agricultural Research Council (IT)
Using real-time PCR to detect plant pathogens in soil
James Woodhall, Fera (GB)
Validation & Databases and other Diagnostic Tools
QBOL-WP 10: DNA barcoding as identification tool for regulated plant pests: an international collaborative test performance study among 14 laboratories
Bart van de Vossenberg, NRC-NPPO (NL)
QBOL and Q-bank data management and analysis system
Vincent Robert, CBS-KNAW (NL)
Reference plant pathogenic bacteria in support of the European plant health policy: the Q-Bacco-net initiative
Martine Maes, ILVO (BE)
Q-bank Plant Virus database and collections
Annelien Roenhorst, NRC-NPPO (NL)
Biodiversity sequencing - next generation DNA barcoding
Rachel Glover, Fera (GB)
Research on and applications of DNA Barcodes for species identification
Ming-Fu Li, Chinese Academy of Inspection and Quarantine (CN)
How to prioritize the development of diagnostic tests for plant pests based on a risk ranking tool?
Benedicte Moignot, Anses (FR)
qPCR, low level detection and validation data
Tanja Dreo, NIB (SI)
Validation as a project: 2 laboratories, 24 organisms, 3 years
Mariette Edema, NRC-NPPO (NL)
Stakeholders views and needs
Results of all Work Packages of QBOL, from DNA barcodes to Database and Validation
Peter Bonants, coordinator QBOL, PRI (NL)
Barcoding, Multilateral Initiatives for Biosecurity Outcomes
Welcome Ho, QUAD (NZ)
Role of diagnostics in the EU plant health management
Harry Arijs, EU commission DG Sanco
IPPC diagnostic protocols: underpinning global phytosanitary systems
Brent Larson, IPPC Secretariat
Diagnostic tools in perspective; Netherlands policy and the need for robust phytosanitary chains
Hans Smolders, Ministry EL&I (NL)
Q-bank: more than a database
Wim van Eck, Q-bank steering committee (NL)
International trade of high graded plant material : the need for harmonized and validated detection techniques
John van Ruiten, Inspection Service Naktuinbouw (NL)
The view of horticultural producers on diagnostic tools
Jorge Franke, AIPH (NL)
TESTA - Seed health: development of seed treatment methods, evidence for seed transmission and assessment of seed health
Christine Henry, coordinator TESTA, Fera (GB)
Posters
Emergence in France Pseudomonas syringae pv. actinidiae (Takikawa et al., 1989)
Carène Rivoal , Corinne Andusseau, Sandrine Paillard, Chirstelle François, Françoise Poliakoff (Anses, FR)