EPPO/NEPPO Workshop on surveillance
Alger, DZ, 2012-09-18/20

A workshop was jointly organized in Algiers by EPPO and NEPPO, aiming to foster information exchange between plant health experts. 19 experts from 7 countries and the European Food Safety Authority (EFSA) participated. After an official opening by Ms Hadjeres (Head of the Algerian NPPO), general presentations were given on ISPMs relevant for surveillance, their objectives and how countries could best use them. ISPM 4, 8, 17 and 26 were presented.
The EFSA representative highlighted the importance of surveillance data collection for risk assessment, and the EPPO Secretariat underlined the importance of pest reporting. The main elements of the EFSA-PERSEUS Project on plant health monitoring programs throughout the EU as well as of the FP7 Q-Detect project were presented.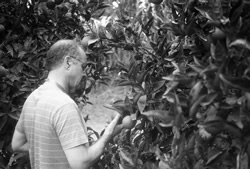 Courtesy: Jean Perchet (FR)
View more pictures

In total eight presentations related to surveillance were made. Some presentations focused on surveillance activities for different crops and pests, i.e. surveillance of Fusarium oxysporum f. sp. albedinis (Bayoud disease) on date palms in Algeria, Erwinia amylovora (fireblight) in Morocco, potato seed inspection in Scotland, surveillance of potato pests in England and Wales, and surveillance of fruit flies in citrus orchards in Spain. Other presentations gave an overview of the general organization of pest surveillance (surveillance in the Czech Republic or the French biological surveillance network) or of a pest surveillance programme for export (Specific surveys for Ceratitis capitata in the framework of the Spanish citrus export programme).
Field visits of fruit orchards around Algiers allowed participants to view the implementation of pest surveillance techniques in Algeria.
In addition to the plenary presentations, the participants were invited to participate in two parallel discussion groups where two case studies were presented. For the first case study, participants had to come up with a survey plan for Ralstonia solanacearum (potato brown rot) for a country where R. solanacearum is not present but where seed potatoes are imported from a country where the pest is present. For the second one, they had to describe the surveillance that would be required following the finding of an isolated outbreak of Bactrocera zonata (peach fruit fly) in a country. Both exercises allowed the participants to reflect on scenarios for operations and cost effectiveness in cases where surveillance would be needed to determine the exact phytosanitary situation in a country. Emphasis was put on the organization needed for efficient surveillance, as outlined in the ISPM presented earlier.

The workshop highlighted the importance of surveillance for facilitating international trade, for the protection of a country (early detection) and also to justify phytosanitary measures (e.g. providing data for pest risk analysis).
Main conclusions and recommendations
Everyone has a role to play in surveillance and not only official services;
Good networking is essential;
Raising awareness both to professionals and the general public is vital for optimal surveillance (especially in a context of reduced resources);
Good pest reporting practices are essential to ensure confidence between trading partners;
Sharing information on surveillance of pests of common interest between EPPO and NEPPO countries should be encouraged;
Development of specific guidelines for the surveillance of important pests would be valuable (as well as of contingency plans).
Presentations
International and regional standards related to surveillance - Session leader: Mr Giltrap (GB)
ISPM 6 on Surveillance
Mr Mekki Chouibani (NEPPO)
ISPM 4 on Pest-free areas (PFA) and pest specific standards on PFA (fruit flies)
Ms Françoise Petter (EPPO)
Guidance on surveillance in EPPO Standards
Ms Françoise Petter (EPPO)
ISPM 8 on Pest Status and ISPM 17 on Pest Reporting
Mr Mekki Chouibani (NEPPO)
Importance of pest reporting: the EPPO experience
Ms Muriel Suffert (EPPO)
Importance of pest reporting: the EFSA experience
Mr Sybren Vos (EFSA)
EFSA-PERSEUS a Project on plant health monitoring programs throughout the EU
Ms Claudia Wendt (DE)
Development of new tools for detection: progress made in the Q-Detect project
Ms Françoise Petter (EPPO)
Countries' experiences with surveillance - Session leaders: Mr Mekki Chouibani (NEPPO) and Ms Françoise Petter (EPPO)
Surveillance for pests and pathogens in seed and ware potatoes in the UK and the European Union
Ms Lynne Bradley & Mr Neil Giltrap (GB)
Surveying for Potato Quarantine Pests & Diseases (QPD) in England & Wales
Lynne Bradley
Pest surveillance in Algeria
Ms Nadia Hadjeres (DZ)
The French epidemiological surveillance network
Mr Jean Perchet (FR)
Citrus orchard surveillance program
Mr José María Guitian Castrillón (ES)
Surveillance and pest reporting in the Czech Republic
Mr Petr Kapitola (CZ)
Implementation of ISPM 6 in Morocco: the example of Erwinia amylovora
Mr Abderrahmane Fatni (MA)
A combined certification and phytosanitary inspection service: a robust model for safeguarding plant health. A case study of Scottish potatoes
Ms Triona Davey (GB)
Specific surveys for Ceratitis capitata in the framework of the Spanish citrus export programme
Mr José María Guitian Castrillón (ES)