11th Workshop on EPPO Diagnostic Protocols for fungi held jointly with the 15th Annual Meeting of the European Mycological Network
Torun, Poland, 2012-05-07/09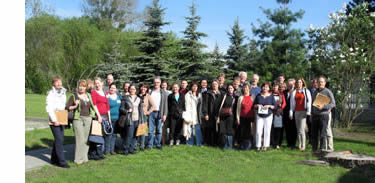 The 11th Workshop on EPPO Diagnostic Protocols for fungi took place in Torun, Poland at the kind invitation of the Main Inspectorate for Plant Health.
The EMN reviewed the comments received during country consultation on the draft Diagnostic Protocols for Fusarium foetens and Phytophthora kernoviae. These revisions will be presented to the Working Party on Phytosanitary Regulations for a recommendation for final approval of these protocols in 2012.
A first draft of a diagnostic protocol for Hymenoscyphus pseudoalbidus (anamorph Chalara fraxinea) was reviewed and Ms Chandelier (CRAW, BE) will prepare a revised version to be presented at the Panel on Diagnostics and Quality Assurance in October 2012.
Since 2010, a system has been established to allow a more systematic review of the need for revision of EPPO diagnostic protocols. Several EMN members were asked to volunteer to survey the literature for different protocols to identify any new test that would be appropriate for inclusion in a revision. Several protocols were identified as potential candidates for revision including: Phytophthora ramorum, Mycosphaerella dearnessii & Mycosphaerella pini, Monilinia fructicola, Plasmopara halstedii.
The EMN was informed of the latest developments concerning the EPPO Panel on Diagnostics and Quality Assurance, in particular on progress on the horizontal standard on test-performance studies and proficiency testing, on the collection of validation data and on the planned revision of the EPPO standard PM 7/98 on Specific requirements for laboratories preparing for accreditation for a plant pest diagnostic activity.
The EMN made several suggestions regarding the instructions to authors of EPPO Diagnostic Protocols to be considered by the Panel on Diagnostics and Quality Assurance.

A presentation of the latest version of the EPPO database PQR and the future EPPO Global database as well as the EPPO database on Diagnostic Expertise was given to the EMN.
Warm thanks are due to Ms Janina Butrymowicz, Ms Gratzyna Skuta and Ms Anna Wisniewska for the excellent organization of the meeting, the visits and their generous hospitality.