18th Meeting of the Panel on Phytosanitary Measures for Potato
Bykovo, RU, 2012-02-14/16
The Panel on Phytosanitary Measures for Potato held its 18th meeting in Bykovo in the All-Russian Plant Quarantine Center (VNIIKR) near Moscow, on 2012-02-14/16.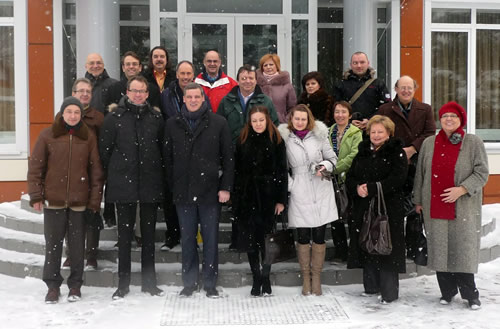 Participants - View more pictures

A one-day workshop on potato wart disease was organized back to back with the Panel meeting and allowed discussion between experts of the different parts of the EPPO region. The participants discussed recent progress on the harmonization of tests to assess the resistance of potato cultivars to the different pathotypes of Synchytrium endobioticum. The participants recommended that the EPPO Diagnostic protocol for Synchytrium endobioticum (PM 7/28) should be revised.
As agreed after the one-day workshop on Meloidogyne chitwoodi and M. fallax in 2011, a regulatory control system Standard (in series PM9) was drafted for these species. The Panel reviewed the draft in detail.
The Panel considered PM 8/1(1) Commodity-specific phytosanitary measures for potato and agreed that it needed revision, in particular to take into account new pests regulated on potato, as well as to cover farm-saved seed.
The Panel also discussed further work to be done relating to Globodera rostochiensis and G. pallida. The Panel saw a need to discuss practical problems and new obligations resulting from the implementation of the EU Directive 2007/33/EC. A one-day workshop held back to back with the Panel meeting will be organized in 2013 for this purpose.
Emerging pests: the Panel was presented with the outcome of the PRAs for 'Candidatus Liberibacter solanacearum' in Solanaceae, and its vector Bactericera cockerelli.
Special thanks are due to Ms Iakovleva, Ms Harshkova and their colleagues for all the arrangements made to ensure a successful and enjoyable meeting, in particular the simultaneous translation between English and Russian.