2nd Meeting of the ad hoc Panel on Plant Protection Information
Riga, 2012-11-06/07
The second meeting of the ad hoc Panel on Plant Protection Information took place in Riga to explore new communication tools which could be used to widen the EPPO audience and help NPPOs to better communicate on plant health issues.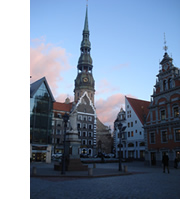 One of the main tasks of this meeting was to finalize a poster to be displayed in airports/seaports to inform travellers about the risks of introducing pests and diseases when transporting plant material from abroad. Among the various draft posters presented, one was retained by the Panel with some additional modifications both on the illustration and the main message. The Panel also agreed that an accompanying leaflet should be prepared to provide more detailed information to travellers. As soon as these documents are finalized, the EPPO Secretariat will circulate them to all its member countries so that they can be translated into national languages and brought to the attention of travellers.
The Panel discussed the new EPPO Facebook page and Twitter account. It considered that the Organization should be present on these social media with a minimal profile because both Facebook and Twitter were not widely used within NPPOs at the moment. The e-magazines created with Scoop.it were very well received and the Panel strongly encouraged the EPPO Secretariat to continue publishing them.
The Panel reviewed the existing EPPO information services and databases (EPPT, diagnostic expertise, PP1, PQR,) and was generally satisfied with them. The Panel was also asked to test the new interface (EPPO Extranet) developed by the Secretariat to allow Panel members to access all documents when preparing EPPO meetings. Useful comments were made on how to further improve PQR and Extranet.
The Panel was presented with the latest available versions of two new computerized systems that are currently being developed by the Secretariat:
- EPPO global database which will include all pest-specific information available within EPPO (e.g. EPPT, PQR, pest-specific EPPO Standards, EPPO Reporting Service articles);
- Pest Reporting which will provide EPPO member countries with a web-based interface to report their pest outbreaks to the Secretariat.
It is hoped that both systems will be released in 2013.
Finally, Mr Hobbs presented the CABI activities concerning the Crop Protection Compendium and the new Plantwise knowledge bank which has recently been launched. One of the main aims of Plantwise is to strengthen plant health systems in developing countries. This free-access database (www.plantwise.org) contains datasheets in different languages, diagnostic aids and dynamic distribution maps.
Warm thanks are due to Ms Aizpuriete for the excellent organization of the meeting in Riga. The next meeting of the Panel will take place at the EPPO headquarters on 2013-11-05/06.