Expert Working Group for performing a PRA on Oemona hirta
Paris, 2012-05-29/06-01
Oemona hirta (Coleoptera: Cerambycidae) is an extremely polyphagous longhorn beetle that occurs only in New Zealand. Its original hosts were endemic New Zealand plants, but it expanded its host range to a large number of species exotic to New Zealand, in particular fruit and plantation trees. Citrus spp. are the hosts that are more frequently reported as being attacked in New Zealand (hence its common name 'lemon tree borer'), but the pest attacks over 250 host species or genera from many families. The host range of O. hirta includes many major fruit, nut and forest trees and shrubs of the EPPO region, a large number of plants used as ornamentals, as well as species growing in the wild.
The interception of larvae of O. hirta on Wisteria plants in the UK in 2010 led to the preparation of a rapid assessment to determine the need for a detailed pest risk analysis. This assessment concluded that O. hirta presents a risk to forestry and amenity trees, commercial fruit crops and ornamentals shrubs in the UK, and possibly to citrus-growing countries. It was also concluded that a detailed PRA was needed. In 2011, the Working Party on Phytosanitary Measures decided that an EPPO PRA should be prepared.
Oemona hirta
Courtesy: Prof. Qiao Wang
Massey University (NZ)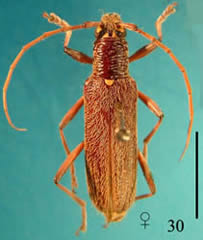 An Expert Working Group met in Paris on 2012-05-29/06-01 to develop the PRA. The overall conclusion of the PRA was that if this pest enters in the PRA area, it may establish, spread and result in economic and environmental damage in the whole PRA area. The probability of entry was rated as moderate, and the probability of establishment as high. The probability of introduction is therefore considered as moderate. The most likely pathway for entry is plants for planting of host species from New Zealand. Entry through import of wood was considered very unlikely because the pest is mainly found in branches (and not in trunk) and the export of wood from New Zealand is minimal.

The overall rate of spread was considered moderate. Long distance spread will mainly occur with trade of plants for planting.

The EWG noted that host plants occur throughout the PRA area and climate will generally not be a limiting factor for establishment of O. hirta. Therefore it was considered that the area of potential establishment covers at least part of each country in the EPPO region, except regions where the hosts plants do not occur, e.g. mountain areas.

The EWG considered that the southern part of the EPPO region where Citrus spp. are grown is most endangered, because O. hirta is likely to have moderate economic impact on Citrus spp. On other crop species, O. hirta is expected to have minor economic impact, although major impact cannot be excluded in the case of local outbreaks on crops such as grapevine. In addition, potential environmental impact was considered moderate throughout the EPPO region, because it is highly polyphagous and known to attack numerous native trees and shrubs. However, it is not expected to kill plants on a large scale.

The EWG recommended phytosanitary measures to be applied to all woody dicotyledons (these are the main plants attacked in New Zealand), but the current host list is likely to be incomplete.
The conclusions of the EWG (in particular the recommended phytosanitary measures) will be reviewed by the relevant bodies in the EPPO system in 2011-2012. A recommendation for regulation will be considered by the EPPO Working Party in June 2013.