49th Meeting of the Working Party on Phytosanitary Regulations
Baku, 2011-06-21/24


The 49th meeting of the Working Party on Phytosanitary Regulations took place in Baku, on 2011-06-21/24 at the kind invitation of the NPPO of Azerbaijan. The meeting was opened by Mr Ismat Abasov, Minister of Agriculture.
This EPPO Working Party directs and supervises the technical work of many EPPO Panels related to plant health. The report of the meeting prepared for the EPPO Council and Executive Committee presents in greater detail the discussions, decisions and recommendations which were made by the Working Party; some of the major points are summarized here.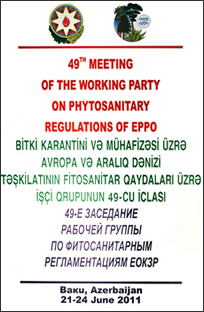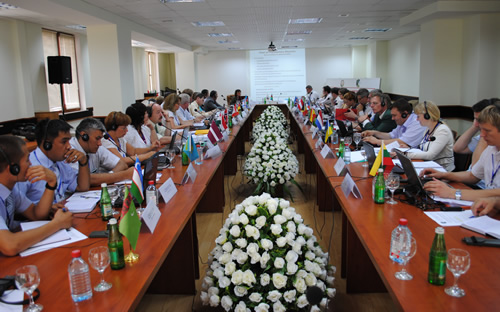 View more pictures

EPPO Standards
The following EPPO Standards were considered ready to be submitted for approval by Executive Committee and Council in September 2011:
General Phytosanitary Measures (series PM1)
Revision of PM 1/2, by addition of the following pests to the List of pests recommended for regulation:
- Pests absent from the region (A1): Agrilus anxius
- Pests present in the region (A2): Drosophila suzukii, Ludwigia peploides & Ludwigia grandiflora
- Transfer from the A1 to the A2 List: Aleurocanthus spiniferus, Epitrix cucumeris, Phytophthora lateralis, Squash leaf curl virus
Format for pest reports (PM 1/5)
Pest Risk Analysis (PM5)
EPPO decision-support scheme for Pest Risk Analysis for quarantine pests PM 5/3(5)
Diagnostics (series PM7)
Curtobacterium flaccumfaciens pv. flaccumfaciens,
Paysandisia archon,
Sternochetus mangiferae,
Ceratitis capitata,
Ceratitis cosyra,
Rhagoletis completa,
Meloidogyne enterolobii.
A fast track procedure was agreed for approval of the Diagnostic Protocol on Epitrix species (it may be adopted in 2011 if no blocking comments are received).
National regulatory control systems (series PM9)
Bursaphelenchus xylophilus and its vectors: procedures for official control PM 9/1 (4)
Clavibacter michiganensis subsp. sepedonicus (revision PM 9/2)
Ralstonia solanacearum (revision PM 9/3)
Potato spindle tuber viroid on potato (new)
Phytosanitary treatments (series PM10)
Treatment of plants for planting (cuttings) of Euphorbia pulcherrima for eradication of Bemisia tabaci
In addition the Working Party agreed with the withdrawal of the following EPPO Standards:
PM 7/3 Diagnostic Protocol for Thrips palmi (as an IPPC Protocol has been approved in March 2011)
PM 7/25 Diagnostic Protocol for Glomerella acutata (as the taxonomy has changed and this pest is no longer regulated)
PM 3/49 Irradiation of cut flowers to control insects and mites (as this method is too damaging for flowers in practice)
And the 6 following standards because EPPO diagnostic protocols are available for the pests concerned:
PM 3/30 Globodera pallida and G. rostochiensis: soil sampling methods
PM 3/25 Clavibacter michiganensis subsp. sepedonicus: inspection and test methods
PM 3/26 Ralstonia solanacearum: inspection and test methods
PM 3/55 Curtobacterium flaccumfaciens pv. flaccumfaciens: field inspection and seed-testing methods
PM 3/56 Clavibacter michiganensis subsp. insidiosus: field inspection and seed-testing methods
PM 3/58 Xanthomonas fragariae: detection methods in strawberry plants
CPM issues
The Working Party was informed about subjects discussed by the Commission for Phytosanitary Measures, the Standards Committee, and the CPM Bureau. It discussed in particular the outcomes of an IPPC Open-Ended Working Group on electronic certification.
Risk associated with plants for planting
Following the EPPO Council Colloquium (Angers, FR, 2009-09-24) an EPPO Study on risks presented by plants for planting was launched. The Working Party was very satisfied with the first outcomes of the study (a study of examples of recent outbreaks to identify criteria that seem to be consistently associated with outbreaks related to imports of plant for planting, which resulted in a draft pre-screening process). This pre-screening process will be further elaborated over the next months.
PRA
PM 5/3(5) EPPO decision-support scheme for Pest Risk Analysis for quarantine pests was revised, as a result of the EU project PRATIQUE. It was agreed that the development of the scheme should be put on hold for some years in order to gain experience with this new version.

A PRA scheme for rapid decision making was developed to address situations when a new outbreak is found in a country, or when repeated interceptions are made on imported consignments. The Working Party welcomed this new scheme and was in support of it being tested further before being adopted as an EPPO standard.

The Working Party reviewed in detail the system established to perform PRAs in the EPPO region and made suggestions for improving the procedure.

It also noted a need to discuss the future role of the Panel on PRA Development.

The Working Party established a list of pests for which PRA should be performed or evaluated in 2011-2012. Expert Working Groups for PRA should be organized for Thaumatotibia leucotreta, Keiferia lycopersicella, Apriona species (A. japonica, A. germari, and A. cinerea), Pseudomonas syringae pv. actinidiae (to deal with a certification scheme), Baccharis halimifolia.
EPPO Information services
The Working Party was presented with the new version of PQR which should be launched in the next weeks, and the EPPO Global Database, a major reorganization of EPPO data, which will be available in 2012.

The Working Party discussed the collaboration between EPPO and CABI, as well as between EPPO and other EU projects producing data of interest for EPPO countries.

The impact of diminishing resources in NPPOs on the attendance of national experts to EPPO meeting was also discussed.

Finally the Working Party stressed the need for EPPO and NPPOs to better communicate with a wider public to raise awareness on the impact of plant pests on crops and the environment. It was noted that the NPPO of Azerbaijan was very efficient in this respect.
Other topics
A survey was organized to consult EPPO countries on pests that may be deleted from the EPPO List of pests recommended for regulation. The result is that at least 9 countries supported the list of all the 14 pests identified as possible candidates. A similar survey will be organized in 5 years.

The Working Party approved the Terms of reference of Panel on Diagnostics for Viruses/Phytoplasmas and decided that the ad hoc Panel on Nematodes should become a permanent Panel (Panel on Diagnostics for Nematology).

The Working Party was informed of all standards being developed by the Organization. It recognized the difficulties with the development of regional standards on phytosanitary treatments and wished that this issue is further discussed at the Council. The Working Party also decided that the future programme of the Panel on Phytosanitary Procedures should be discussed before this Panel is reactivated.