EPPO/IOBC/FAO/NEPPO Joint International Symposium on management of Tuta absoluta
Agadir, Morocco, 2011-11-16/18

Introduction and background
Tuta absoluta (tomato borer, South American tomato moth, tomato leafminer) was first introduced from South America into Spain in 2006. In the past few years T. absoluta has spread rapidly through countries in the Mediterranean Basin and Near East (more information about pest taxonomy, distribution including map, host plants and host commodities, as well as photos could be found in the new version of EPPO PQR). It has also threatened glasshouse production in Northern Europe. With its high reproductive capacity, T. absoluta is considered to be one of the most important lepidopterous pests on tomato. It also occurs on other plants of the Solanaceous family (aubergine, potato, weed species e.g. Solanum nigrum). The damage symptoms on potato may be misidentified as those caused by another gelechiciid species, the Potato moth (Phthorimaea operculella). The capability to use alternative plants as secondary hosts allows the continuous presence of T. absoluta in many habitats, in the absence of tomato crops. Infestation of the plants occurs throughout the entire crop cycle. It can cause total yield loss and its presence may have serious consequences for trade (export). T. absoluta is a very challenging pest to control. In addition, control may be complicated by the appearance of resistance to insecticides.
Tuta absoluta (adult)
All pictures: Marja van der Straten,
PD Wageningen (NL)
Due to the significance of the problem, the Joint International Symposium on management of Tuta absoluta (tomato borer) was held on 2011-11-16/18 in Agadir, Morocco. The Symposium was organized jointly by IOBC, FAO, NEPPO and EPPO and in collaboration with IRAC and IBMA. There were more than 240 participants from 40 countries, agrochemical companies and international organizations.
The Symposium was organized as a series of lectures and on the final day a technical visit was organized. Thanks are due to the local organizing committee for making the arrangements. The participants had the opportunity to visit a vegetable nursery, insect production unit for biological control and a packing station and to learn more about local tomato production and IPM control strategies.

A selection of articles will be published in Bulletin OEPP/EPPO Bulletin Vol. 42(2), August 2012.
At the symposium it was noted that a remarkable effort from the National Plant Protection Organizations has been put into early detection of Tuta absoluta, research and development of IPM control strategies and raising awareness about the significance of this pest. In some countries subsidies were offered to the growers to monitor the pest (e.g. distribution of pheromone traps) and to prevent the infestation in greenhouses via the use of insect-proof screens and nets, double doors and insect-free planting material. In general, management of the pest during the first phase, following introduction, was extremely problematic in many countries despite an increase in insecticide use. Following this initial phase, the severity of the pest appears to have declined somewhat in many countries, partly through the implementation of effective integrated pest management (IPM) schemes, and possibly also through adaptation of native biological control agents to the invader. A number of researchers presented papers on biological control agents: augmenting native predators (e.g. Macrolophus caliginosus, M. pygmaeus, Nesidiocorus tenuis) and parasitoids (e.g. Necremnus artynes, Eulophidae); and searching for more effective egg parasites worldwide.
The situation between Northern and Southern European countries and between Northern African and Middle East countries is however, very different. Pest pressure is highest, immediately following invasion by T. absoluta, so currently (2011), countries in the Eastern Mediterranean and Near East are experiencing high pest pressure; whilst in the Western Mediterranean it has declined to medium levels.

In Northern European glasshouses, unless there is carry-over from one growing season to the next, the pest threat will be in terms of re-introduction, so effective crop hygiene and waste control is very important, as well as keeping imported fruit separate from production areas.

In the countries of NEPPO region which have been recently infested and have a high pest pressure and where tomatoes can be planted 4 to 5 times per year, growers have been spraying intensively, with up to 25 sprays per season, and there is an urgent need to develop effective IPM programmes.
Tuta absoluta (larva)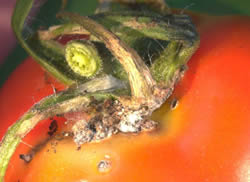 Tuta absoluta (damage)
Pheromones, to attract male insects, are being used for both monitoring/surveillance and for pest control (e.g. mating disruption, mass trapping, 'lure and kill' method) to control populations of T. absoluta under protected conditions and in the fields. Both mating disruption and mass trapping are unlikely to be fully effective by themselves, but show promise if timing of their uses is optimized in combination with other 'soft' pest management techniques, such as the release of biological control agents and the use of low impact insecticides (e.g. azadirachtin, Bacillus thuringiensis (Bt) and spinosad).
From the presentations it was evident that it is crucial to combine all pest control tactics in an IPM strategy, particularly to conserve natural enemies (native or introduced) in order to be able to produce tomatoes in a sustainable way.

Cases of insecticide resistance have been observed in South America. It is therefore important to keep a diversity of products on the market (with different modes of action) to prevent the appearance of resistance. Advice on avoiding insecticide resistance, by rotating products with different modes of action, is available in the form of a brochure for T. absoluta, produced by the Insecticide Resistance Action Committee (IRAC).
The conduct of trials for the efficacy evaluation of insecticides against T. absoluta is described in EPPO Standard PP1/275; published in Bulletin OEPP/EPPO Bulletin Vol. 41(3) December 2011 and in the EPPO Standards database on the efficacy evaluation of plant protection products.
This symposium showed that in many countries there were efficient IPM programmes already put in place. Sharing knowledge and experience is particularly useful for the countries which still need to develop local management strategies. It is hoped that this symposium provided such the opportunity and that many useful cooperations will result.
At the end of symposium the EPPO Secretariat raised awareness of the participants to the risk associated with another three tomato pests which could potentially enter and establish in many EPPO/NEPPO countries in a similar way as T. absoluta: Keiferia lycopersicella (tomato pinworm), Bactericera cockerelli (tomato/potato psyllid), and Neoleucinodes elegantalis (to be soon added to the Alert List).
For the three tomato pests, the main risk of entry is due to the import of tomato fruit, handling and packing of this fruit in places close to places of production. Therefore, it is crucial to separate import and production flow of tomato fruit to avoid introduction of these pests.
Other sources of information on management of Tuta absoluta
Luigi Sannino & Bruno Espinosa: Tuta absoluta, Guida alla conoscenza e recentí acquisizioni per una corretta difesa
Monserrat Delgado: La polilla del tomate Tuta absoluta en la región de Murcia: bases para su control
ONSSA Gestion phytosanitaire de la mineuse de tomate (Tuta absoluta) au Maroc
Insecticide Resistance Action Committee (IRAC)
MENA region Jordan Symposium on Tuta absoluta
ENDURE® Training in IPM – No. 5: Controlling Tuta absoluta, a new invasive pest in Europe
Tuta absoluta information network (site maintained by Russell IPM)
FAO Regional IPM Programme in the Near East
Presentations
Session 1: distribution, bio-ecology and damage of Tuta absoluta
Giovanna Tropea Garzia (Italy) , Biology, distribution and damage of Tuta absoluta, an exotic invasive pest from South America
Hassina Benmessaoud-Boukhalfa (Algeria) , Distribution spatiotemporelle de Tuta absoluta sous serre de tomates sur le littoral algérois
Ray Cannon (UK) , Population development of Tuta absoluta in UK glasshouses
Raul Guedes (FAO consultant, Brazil) , Tuta absoluta in South America: pest status, management & insecticide resistance
Session 2: Current status of the tomato borer in EPPO/NEPPO countries
Fatiha Benddine , IPM Strategy: A case of Tuta absoluta in Algeria
Sobhy Temerak , The status of Tuta absoluta in Egypt
Yannie Trottin-Caudal , The current status of Tuta absoluta in France
Emmanouil Roditakis & Nicos Seraphides ,The current status of Tuta absoluta in Greece and Cyprus
Valiollah Baniameri & Ahmad Cheraghian, First report of Tuta absoluta in Iran and initial control strategies
Stephano Speranza & L. Sannino , The current status of Tuta absoluta in Italy
Liora Shaltiel Harpaz , The current status of Tuta absoluta in Israel
Khadija Ouardi , La stratégie nationale de lutte contre Tuta absoluta in Maroc
Rosa Gabarra , The current status of Tuta absoluta in Spain
Bouzid Nasraoui , Tuta absoluta in Tunisia: three years later?
Sakine Ugurlu , The current status of Tuta absoluta in Turkey and toxicity of some insecticides
Kevin Gorman , Incidence of tomato borer, Tuta absoluta, in the UK
Session 3: Control strategies: chemical control and mating disruption
Sybille Lamprecht (IRAC), Global introduction to the Insecticide Resistance Action Committee
Emmanouil Roditakis (Greece), Determination of baseline toxicity of insecticides to Tuta absoluta
Khalid Haddi (UK), Mutations in the para-type sodium channel gene confer resistance to pyrethroids in Tuta absoluta
Giancarlo Chiot (Italy), First results from South Europe for Tuta absoluta control using diflubenzuron with adjuvant and with/without Bt kurstaki
Eitán Martín (Spain), Influence of Thunder® treatments on Tuta absoluta development
Mounir Hassani (Switzerland), AA L&K: New alternative to control the population of Tuta absoluta
Arturo Cocco (Italy), Evaluation of the mating disruption method against Tuta absoluta in greenhouse tomato crops in Sardinia
Paolo Sambado (Spain), Early studies on the control of Tuta absoluta with mating disruption technique in Murcia region
Session 4: Control strategies: biological control
Rosa Gabarra (Spain), Prospects for the biological control of Tuta absoluta in tomato crops of the Mediterranean basin
Jose E. Belda (Spain), Success and extension of biological control strategies for managing Tuta absoluta populations in the Mediterranean area
Hong Do (France), Improvement of integrated management against Tuta absoluta by using new egg parasitoids
Lucia Zappalà (Italy), Adaptation of indigenous parasitoids to the invasive tomato pest Tuta absoluta in Italy: biology and behaviour of the braconid wasp Bracon nigricans (pdf)
Yamina Guenaoui (Algeria), Importance of native polyphagous predators able to prey on Tuta absoluta on tomato crops (pdf)
Guido Sterk (Belgium), Side-effects of lepidoptericides, used against Tuta absoluta, on different biological agents and pollinators
Session 5: Control strategies: integrated pest management (IPM)
Khaled Alrouechdi (FAO), Efforts of the FAO on the management of the tomato borer Tuta absoluta in the Near East region
Shakir Al-Zaidi (UK), History and current IPM strategies for the management of Tuta absoluta in the Mediterranean region
Liora Shaltiel-Harpaz (Israel), IPM of Tuta absoluta in Israel
Brahim Chermiti (Tunisia), Conception of an IPM programme to control Tuta absoluta in industrial tomato crops in Tunisia
Rachid Elaini (Maroc), Les aspects pratiques de la lutte contre Tuta absoluta dans la région du Souss, Maroc
Rob Jacobson (UK), Tuta absoluta: A season-long IPM strategy based on predatory bugs
Mario Balzan (Italy), Biological and chemical pest management strategies for the control of Tuta absoluta and their effectiveness (pdf)
Neil Morrison (UK), Investigating the potential of genetic control as part of an IPM approach for Tuta absoluta
Cristina Castañé (Spain), Integrated control of Tuta absoluta in the Mediterranean area, what can we learn for future pest invasions?
Mohammed AlQasim (Jordan), Report on Tuta absoluta on tomato at MENA region (Middle East and North Africa)
Posters
Delvare G, Lacordaire A-I, Ramel J-M (France) , Necremnus artynes (Walker, 1839) (Eulophidae), a potential beneficial for the biological control of Tuta absoluta