17th Meeting of the Panel on Phytosanitary Measures for Potato
Paris, EPPO headquarters, 2011-03-08/10
The Panel on Phytosanitary Measures for Potato held its 17th meeting in Paris, in the new EPPO Headquarters on 2011-03-08/10. As agreed at the previous panel meeting a one-day workshop on Meloidogyne species (M. chitwoodi and fallax) was organized before the Panel meeting. Several nematologists and experts involved in the pest assessment or management kindly joined the meeting to share their knowledge and discuss current issues on these nematodes.

The objectives of the workshop were to:
Assess importance of Meloidogyne and current measures to prevent spread
Review experience of outbreak management
Identify gaps in current knowledge
Consider what, if any, further work should be undertaken by EPPO on these Meloidogyne species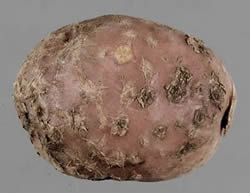 Symptoms of Meloidogyne fallax on potato
Fera, York (GB) - British Crown
The Panel found the exchange of experience very useful, in particular in relation with outbreak management in different countries. A summary of the workshop as well as an article describing eradication and containment measures will be prepared for publication in the EPPO Bulletin. The Panel will also elaborate a draft regulatory control system based on these experiences. Finally, the Panel agreed that the datasheets on M. chitwoodi and M. fallax should be updated on the basis on the work done within the EFSA project Prima Phacie.
The Panel reviewed the comments received after country consultation on the following standards:
National regulatory control system for Clavibacter michiganensis subsp. sepedonicus (revision PM 9/2)
National regulatory control system for Ralstonia solanacearum (revision PM 9/3)
National regulatory control system for PSTVd on potato (new)
The Panel amended the draft standards to take into account the comments. The amended versions will be presented to the Working Party for phytosanitary regulations for approval.
The Panel discussed the recent progress on the harmonization of tests to assess the resistance of potato cultivars to the different pathotypes of Synchytrium endobioticum. The Panel considered that it was still needed to harmonize the scoring system, in particular for borderline reactions. It agreed that a one-day workshop on potato wart disease, similar to the one organized on Meloidogyne species would be useful. A programme will be elaborated for next year.
The Panel also discussed further work to be done in link with Globodera rostochiensis and G. pallida. The Panel saw a need to discuss practical problems and new obligations resulting from the implementation of the EU Directive 2007/33/EC, and considered drafting a national regulatory control system for G. rostochiensis and G. pallida.
Emerging pests: the Panel was presented with the outcome of the draft PRA for 'Candidatus Liberibacter solanacearum', and its vector Bactericera cockerelli.