EWG for testing the screening process in the framework of the
EPPO study on the risk of imports of plants for planting
Paris, 2011-12-13/14
An expert working group composed of members from the EPPO Panel on Phytosanitary Measures and the EPPO Panel on PRA Development met in Paris on 2011-12-13/14 in the framework of the EPPO Study on the risk of imports of plants for planting.
The study demonstrated that the "open" phytosanitary systems in many EPPO countries have shown their limits and that there was a need to shift progressively to a more close system in particular for plants for planting. The EWG discussed in detail the criteria proposed in the study to develop a screening process to identify higher risk commodities and proposed a decision-support scheme to help deciding if a commodity should be submitted to a commodity PRA before a new trade may occur.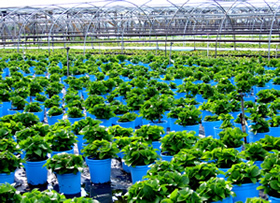 Plant nursery. Wikimedia commons
The EWG considered that the screening process should be further elaborated as an EPPO Standard to increase awareness of NPPOs and transparency with trading partners. A draft was prepared during the meeting. The draft standard will be presented to the Panel on Phytosanitary Measures on 2012-03-13/15. It will decide if it can be sent for country consultation.