47th Meeting of the Panel on CPM Affairs
11th Joint EPPO/NAPPO Meeting
Dresden, DE, 2011-01-31/02-03
The 47th meeting of the Panel on CPM Affairs took place in Dresden (DE) at the kind invitation of the Saxon State Ministry of Environment and Agriculture. The 11th joint EPPO/NAPPO meeting was also held during the same week.
The Panel on CPM Affairs discussed in detail the International Standards for Phytosanitary Measures (ISPMs) which will be presented for adoption during the 6th Commission on Phytosanitary Measures (CPM-6), which will meet on 2011-03-14/18 in Rome. Most time and deliberation was spent on ISPM 12 Phytosanitary certificates: the Panel agreed on several recommendations (which are sent to NPPOs) to amend these ISPMs. However, the Panel did not anticipate major difficulties with the adoption of these standards for the EPPO region. The Panel also discussed two specifications for new ISPMs which are currently in country consultation.

During the joint EPPO/NAPPO meeting the participant's views regarding the draft ISPMs and other main items on the agenda of CPM-6 were generally quite consistent. The joint meeting discussed issues including the IPPC Strategy; future standards on 'international movement of grain' and 'E-certification'; the review of the EU Plant Health System; and future opportunities for EPPO-NAPPO collaboration.
The delegates had also had the opportunity to visit the 'JKI Institute for breeding research on horticultural and fruit crops' and the 'Saxonian regional office for environment, agriculture and geology'.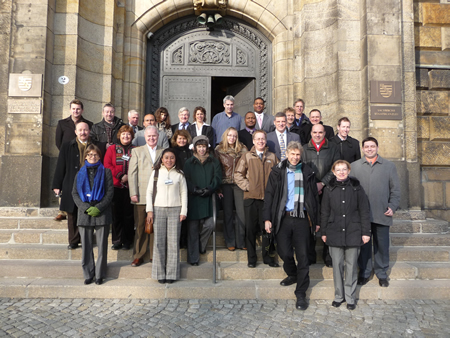 Participants - View more pictures