EPPO Workshop on Azole fungicides and Septoria leaf blotch control
Harpenden (GB), 2010-12-07/09
Introduction and Background
Septoria leaf blotch (Mycosphaerella graminicola (anamorph Septoria tritici)) is one of the most important foliar diseases of wheat in many EPPO countries. It has built up resistance to different triazoles and other DeMethylation-Inhibitors (DMIs) which have been widely used in cereals since the early 1980s. Despite intensive use for more than 30 years, azoles (triazoles and imidazoles) still provide broad effective control in many areas. However, a clear reduction in field efficacy has been seen in several cases and recent developments, particularly in the area of molecular techniques, have shown a significant complexity in the triazoles resistance mechanisms. The implication of these findings could have a major impact on future recommendations and due to the significance of the problem an EPPO Workshop on azole fungicides and Septoria leaf blotch control, was held on 2010-12-07/09 at Rothamsted Research (Harpenden, GB).
The aim of the workshop was to bring together the latest scientific knowledge, agronomic practices and regulatory information to enable the development of best practice advice for management of Septoria resistance across the EPPO region. Because of the importance of triazoles in disease management, it provided a forum for obtaining a comprehensive overview of the triazoles resistance situation and for discussing the consequences for recommendations given by national authorities and the labelling of the products.
There were 70 participants from 12 EPPO countries (including delegates from research institutions, universities, national regulatory bodies, agricultural advisory organizations) and 9 agrochemical companies.
The Workshop was organized as a series of lectures with plenty of time for discussion. An overview of the workshop including all the workshop materials is presented below.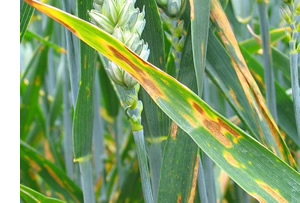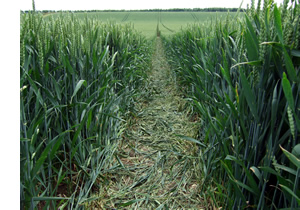 Presentations and posters
Aims and objectives of the workshop, Fiona Burnett, Scottish Agricultural College, Edinburgh, GB
Lecture Session I 'Introduction to Septoria leaf blotch control' [Chair: Bernd Rodemann]
Septoria management across the EPPO region - feedback from the questionnaire, Paul Ashby, Chemicals Regulation Directorate, York, GB - Thanks to the following countries for responding to the questionnaire: AT, BE, CH, DK, GB, FI, FR, HU, IE, LV, MT, NL, RO, RU, SE, TN

Target Mycosphaerella graminicola; genetic variation and potential for change, Gerrit Kema, Plant Research International, Wageningen, NL

The contribution of plant breeding to controlling Septoria tritici, James Brown, John Innes Centre, Norwich, GB

Chemical control of Septoria leaf blotch: history, biological performance and molecular mode of action of DMI fungicides (pdf), Klaus Stenzel, Bayer CropScience, Monheim, DE (presented by Andreas Mehl)

Impact of the new EU regulations on the management of Septoria leaf blotch and rust diseases in cereals, Paul Leonard, BASF, Brussels, BE

Introduction of new fungicides for Septoria leaf blotch control (pdf), Andy Leadbeater, Syngenta Crop Protection, Basel, CH
Lecture Session II 'Azole sensitivity monitoring of Septoria populations' [Chair: Anne-Sophie Walker]
DMI sensitivity in European populations of Mycosphaerella graminicola, Helge Sierotzki, Syngenta Crop Protection, Stein, CH

Sensitivity of Mycosphaerella graminicola to DMI fungicides across Europe and impact on field performance, Gerd Stammler and Martin Semar, BASF, Limburgerhof, DE

Outliers or shifts? Sensitivity of the Irish Mycosphaerella graminicola population to triazole fungicides, Steven Kildea, Teagasc Crop Research Centre, Carlow, IE

Monitoring Mycosphaerella graminicola: relevance of in vitro testing and CYP51 mutations (pdf), Andreas Mehl, Bayer CropScience, Monheim, DE
Lecture Session III 'Scientific basis of azole resistance development' [Chair: John Lucas]
Overview. Azole resistance mechanisms in agriculture (pdf), John Lucas, Rothamsted Research, Harpenden, GB

Selection of CYP51 variants in UK field populations of Mycosphaerella graminicola: a historic perspective, Bart Fraaije, Rothamsted Research, Harpenden, GB

Evolution of resistance to fungicides in populations of Mycosphaerella graminicola: emergence of new phenotypes highly resistant to DMIs, Anne-Sophie Walker, INRA BIOGER-CPP, Thiverval-Grignon, FR

Functional characterization of Mycosphaerella graminicola sterol 14α-demethylase (CYP51) variants resistant to azole fungicides, Hans Cools, Rothamsted Research, Harpenden, GB
Lecture Session IV 'Fungicide resistance management strategies and practical use of azoles in European agriculture' [Chair: Andy Leadbeater]
Fungicide resistance risk (pdf), Neil Paveley, ADAS High Mowthorpe, GB

The evaluation of fungicide resistance management strategies using a modelling approach (pdf), Peter Hobbelen, Rothamsted Research, Harpenden, GB

DMI use in France: efficacy and future recommendations, Claude Maumene, Arvalis Institut du Végétal, Boigneville, FR

Spray programmes and advice to farmers in the UK, Bill Clark, Broom's Barn Research Centre, Bury St. Edmunds, GB

Recent experiences with triazole fungicide use for Septoria leaf blotch control on winter wheat in Ireland (pdf), Tom McCabe, School of Agriculture, University College Dublin, IE

Optimizing fungicide use in Denmark for control of Mycosphaerella graminicola, Lise Nistrup Jørgensen, Faculty of Agriculture, Aarhus University, Slagelse, DK

Current and future regulatory considerations for azole use, Bernd Rodemann, Julius Kühn Institute, Braunschweig, DE
The following posters were presented:
Efficacy of triazoles against Mycosphaerella graminicola in Denmark
Nistrup Jørgensen L & K Thygesen (Aarhus University, Slagelse, DK)

Mycosphaerella graminicola, wheat pathogen of increased interest in Finland
Jalli M & P Laine (MTT Agrifood Finland, Plant Production Research, Jokioinen, FI)

Septoria leaf blotch control in Sweden
Berg G, Gustafsson G & C Lerenius (Swedish Board of Agriculture, Plant Protection Centre Alnarp)

Evolution of resistance to triazoles in Belgian populations of Mycosphaerella graminicola
Clinckemaillie A, Colart AS, Renard ME, Carrola dos Santos S, Moreau JM & A Legrève

Assays of mutations of Septoria tritici and effects of different active ingredients (triazoles, imidazoles) on these mutations: an overview of Germany
Kiesner F, Klink H, Verreet J-A, Thurau T & D Cai (Christian-Albrechts-University Kiel, DE)

Characterization of emergent Mycosphaerella graminicola isolates highly resistant to DMIs: efficiency of fungicide strategies and future insights
Omrane S, Walker A-S, Confais J, Martinho D, P Leroux (INRA BIOGER-CPP, Thiverval-Grignon, FR), Couleaud G & C Maumene (ARVALIS Institut du végétal, Boigneville, FR)

Azoxystrobin and epoximazole sensitivity profiles of Mycosphaerella graminicola populations from the Grand-Duchy of Luxemburg in 2007 and 2008
Vrancken C*, Dubos T*, El Jarroudi M (Université de Liège, BE), Giraud F*, Delfosse P*, Beyer M* & L Hoffmann* (*Centre de Recherche Public Gabriel Lippmann, Belvaux, LU)

Distribution of CYP51 haplotypes in Europe

Stammler G, Strobel D, Koch A & M Semar (BASF, Agricultural Center Limburgerhof, DE)

CYP51 paralogues and azole sensitivity in Rhynchosporium secalis
Hawkins N*, Cools H*, Shaw M (University of Reading), Sierotzki H (Syngenta Crop Protection, Stein) Kelly S*, Kelly D* & B Fraaije* (*Rothamsted Research, Harpenden)

The derivation and validation of a fungicide resistance model
Hobbelen PHF*, Fraaije B*, Lucas JA*, Paveley ND (ADAS) & F van den Bosch* (*Rothamsted Research, Harpenden, GB)

Fungicide sensitivity of Phaeosphaeria nodorum
Blixt E, Djurle A, Yuen J & A Olson (Swedish University of Agricultural Sciences, Uppsala)

Fungicide resistance towards triazoles of the wheat pathogen Pyrenophora tritici-repentis
Thygesen K (*Aarhus University, Faculty of Agricultural Sciences Slagelse, DK), Cools H, Fraaije B, Lucas J (Rothamsted Research, Harpenden, GB), Mehl A (Bayer Cropscience Monheim, DE) & L Nistrup Jorgensen*
A number of posters came from the ENDURE project:
Eurowheat - Information on Mycosphaerella graminicola in an European perspective

Integrated Pest Management in Europe, Wheat disease management- possibilities for IPM (ENDURE project)

Integrated Pest Management in Europe, EuroWheat.org – A support to integrated disease management in wheat (ENDURE project)

Integrated Pest Management in Europe The Virtual Laboratory – a resource beyond ENDURE (see also ENDURE website)

Also displayed was a poster of the UK Fungicide Resistance Action Group (FRAG-UK)
Following two days of presentations, the workshop was divided into two Working Groups with the aim of consolidating the information and inputs into some general recommendations regarding the use of triazoles for Septoria control in the future.
Working Group I. Understanding and assessing changes in sensitivity [Chair: John Lucas; Rapporteur: Gerrit Kema]
This topic included e.g. genetic resistance, monitoring methodologies, standard tests and nomenclature of isolates, efflux pumps, etc., risk for evolution of resistance to new chemistry (SDHI).
Working Group II. Strategies for management and communication of risk [Chair: Lise Nistrup Jørgensen; Rapporteur: David Richardson]
This topic included e.g. triazole mixtures, dose rates, inclusion of IPM and contribution from plant breeding, mixing with new chemistry, dissemination of information to farmers and advisors.
Acknowledgements
The EPPO Secretariat wishes to thank all participants and particularly the following for their contribution and assistance with this workshop.
Rothamsted Research as local organizer
FRAC for supporting a welcome buffet
The Organizing Committee
All chairs, rapporteurs, speakers and poster presenters.