EPPO Workshop on Eradication, Containment and
Contingency planning
Treviso (IT), 2010-10-26/28
Several EPPO members are developing contingency plans for pests which may cause a major economic and/or environmental impact. NPPOs face the challenge of how to rapidly and effectively respond to pest outbreaks. They may be successful and able to eradicate the pest. However, it may take more time and resources than first anticipated and in certain cases the original objectives of the eradication campaign may need to be reviewed. The Working Party on Phytosanitary Regulations recommended that the EPPO Secretariat should assist NPPOs in addressing contingency, eradication and containment planning. The EU project Pratique is also addressing these issues and is developing a decision support scheme for the eradication and containment of pest outbreaks under Workpackage 5.
The first workshop in February 2009 addressed what should be in a contingency plan and identified critical success and failure factors for eradication.
The key objectives for this workshop were to: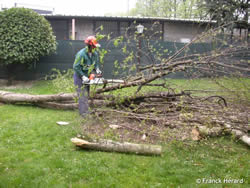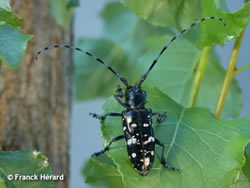 train participants in drafting a contingency plan;
test PRATIQUE tools in managing an eradication campaign;
gain experience in using a cost-benefit analysis for an eradication campaign;
train participants using simulated outbreak situation.
The Workshop was attended by 33 delegates from 21 countries. Two eradication campaign management tools produced by the EU Framework 7 Research Project, PRATIQUE (Work Package 5) were used as part of Workshop breakout tasks. This included a Decision Support System (DSS) for action at outbreaks. This was presented and then tested by delegates using several interesting and relevant outbreak scenarios. The Workshop focused on the Asian Longhorn Borer (Anoplophora glabripennis) (ALB), which had been first reported, in June 2009, in the local town of Cornuda (Veneto Region). The highlight of the Workshop was a field visit to the infested area which is the largest ALB outbreak in Europe (see below). Other pests used for scenarios in the groups exercises included Drosophila suzukii and Agrilus planipennis.
Another, recently developed PRATIQUE tool was presented and discussed: 'A protocol for the cost: benefit analysis of eradication and containment measures during outbreaks' (CBA) which has been developed to offer risk managers and decision makers, guidelines for conducting a cost benefit analysis.
Valuable feedback, both detailed and general was obtained from the delegate's experience of using both the Pratique DSS and CBA tools. A number of talks were provided by local participants on their experiences of dealing with the ALB infestations in NE Italy.
Presentations
Introduction to the Workshop - Nico van Opstal (EPPO)
Cost Benefit Analysis (CBA) tool (PRATIQUE Work Package 5.2) - Ray Cannon (Fera, York, GB)
PRATIQUE tools for assisting planning and action for oubreak situations - Rob Sunley (EPPO)
Eradication plan of the Asian longhorn beetle (Anoplophora glabripennis) in Northeastern Italy - Massimo Faccoli (University of Padova, IT)
Field excursion to Cornuda - An overview by Ray Cannon
Site visit to Cornuda (outbreak location of Anoplophora glabripennis)
The Workshop witnessed the cutting down and removal of an ALB infested tree in the garden of a member of the public (MoP) in the town of Cornuda (Veneto Region). There is very good co-operation with MoPs, and this is reportedly as a result of good communication of the risks and the fact that the felling is paid for and undertaken by the official Forestry Service. MoPs are offered new, replacement trees which are 1-1.5 m tall. This is apparently appreciated, but no other compensation is provided for the loss of the tree, i.e. no financial compensation. A letter is sent to the house-holders initially informing them of the need to remove the tree; the owner can then indicate what species of tree they would like to have as a replacement – by returning the letter. They can select from a list of non-ALB hosts (such as Liquidambar). This policy prevents the MoP planting another susceptible tree. The Forestry Service carries out the cutting, and they are well known and appreciated by the public. The tree is then removed (free of charge, and can be studied to investigate the degree of infestation). Roots are not usually removed. The trees are monitored and data are obtained for the database.
Anoplophora glabripennis in the Regione del Veneto
The field excursion was hosted by Messrs Faccoli and Battisti, University of Padova; Mr Zanini, Servizio Fitosanitario Regione del Veneto; and Mr Coppe, Servizio Forestale di Treviso. The Workshop participants were given an extremely interesting and detailed overview of the outbreak in the region.
ALB was first found in June 2009 in the Regione del Veneto. The eradication plan in the Treviso area consists of cooperative arrangements between the Regional Forest Servise of Treviso with the Regional Phytosanitary Service (and University of Padova). The programme involves the cutting down and replacement of infested trees.
Surveying began in late June 2009 – including all suspected tree hosts mentioned in the literature. The location of all susceptible trees was mapped using GPS and a specially designed survey form was completed. Locations are classified according to different situations: wood, railway, garden etc. The owner of the plot of land is also recorded, as well as additional information related to the species, genera and condition of the particular trees. Data for the demarcated area are collected and entered in a special database which is regularly updated.
On 25 Aug 2009, the initial demarcation of the area was completed; this was later expanded to include 721 ha (plus 2 km surrounding buffer zone). A specific Ordinance (Notice) was drafted to allow the cutting of all specific trees; and forbidding the movement of susceptible species outside of the demarcated area (including the cut branches and logs of felled infested trees). After June 2009, all tree growing nurseries were required to carry out four preventative pesticide applications to their stocks of trees. However, no authorised systemic insecticide product is available or has been used in this outbreak. By September 2009, a total of 368 trees had been found to be infested.
A new outbreak in the municipality of Moser was discovered in 2010 (1,520 ha southern outbreak area). Mostly maple trees (Acer spp.) are infested. Surveys are on-going to investigate this new outbreak. A total of 192 infested trees have been found this year (including 63 plants in the new outbreak area). The total infested area is now 5,625 ha, with 768 infested trees.
Tree climbers are employed to inspect and to cut infested trees, particularly in restricted areas. A total of 576 infested trees (before May 2010) have been cut down and the infested material stored in a restricted area where they were chipped (and sent for use in a power plant). During felling of the infested trees detected by ground surveys, surrounding plants are checked by tree climbers.
Raising public awareness is carried out via include stakeholder consultation (at meetings) and promulgation of information, e.g. on official websites. Relevant information is also emailed to municipalities in the region. Local newspapers and websites have been used to disseminate information about the pest. This information material raises the issue but also states what is required under notice.
A total of € 290,000 has been made available to implement the eradication programme, support research and aid risk communication. This also allowed rapid action to be carried out.