15th Meeting of the ad hoc Panel on Invasive Alien Species
Tel Aviv (IL), 2010-05-03/06
The 15th meeting of the Panel on Invasive Alien Species took place in Tel Aviv (IL) on 2010-05-03/06 at the kind invitation of NPPO of Israel. The Panel finalized the EPPO prioritization process on invasive alien plants, which is now published in the EPPO Bulletin. The Panel considered that the prioritization of invasive alien species listed in the EPPO framework should be undertaken during a dedicated meeting to be organized in February 2011 at the EPPO Secretariat headquarters.
As the Executive Committee had requested EPPO to consider how the profile of Invasive Alien Plants could be strengthened, the issue was discussed with the Panel members. The Panel considered that although there is a lot of very relevant information on invasive alien plants on the EPPO website, it is complicated to access through the website, and should be made more easily available. In addition, as the IPPC concepts are not familiar to people working in the environmental field (e.g. why widely distributed species are not the object of attention), an effort should be made to explain them. Each Panel Member presented the situation on the use of biofuel crops in their countries, as well as the follow up of the implementation of the Code of conduct on horticulture and invasive alien plants.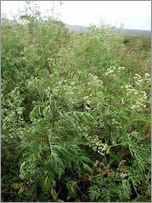 Parthenium hysterophorus
Wikimedia Commons
The Panel agreed on the National Official Control Measures for Sicyos angulatus and on the Pest Risk Analysis for this species which concludes that it does not qualify as a quarantine pest as it is widespread in the EPPO region, and as management measures are efficient in preventing its entry and spread. The Panel also discussed the national PRA on Myriophyllum heterophyllum proposed by Germany which should be adapted to the EPPO region and carefully reviewed during the next Panel on Invasive Alien Species.
The Panel had the opportunity to make a field trip and to observe Parthenium hysterophorus originating from Central and South America and which heavily invades irrigated date production areas in Israel. The next Panel meeting will be held in Olbia (IT) on 2011-05-03/06.