14th Meeting of the Panel on Quarantine Pests for Forestry
(Cardiff, UK, 2010-03-17/19)
The Panel discussed the EPPO standard PM 9/1(2) "Bursaphelenchus xylophilus and its vectors: procedures for official control" in view of the EPPO Council comments, and made some amendments. The corrected text will be presented to the EPPO Working Party for Phytosanitary Regulations for their approval. The Panel also discussed guidance for extending this standard to the situations where the infestation of trees by B. xylophilus does not cause wilt symptoms. The Panel considered the need of further work in regard to official control of B. xylophilus. It decided that the most important element was to fill the gaps in knowledge on the pest and its vectors: tree resistance to B. xylophilus, its natural enemies, flight capacities of European Monochamus species, their monitoring e.g. using attractants, new measures to control B. xylophilus and its vectors, etc. New research is underway and the relevance of the results for this standard will be closely followed.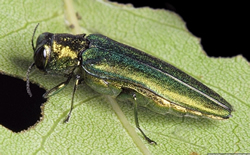 Agrilus planipennis
David Cappaert (USDA) – Wikimedia commons
The Panel discussed a new EPPO standard PM 9/X (1) "National Regulatory Control System for Official control of Agrilus planipennis". The Panel stressed the need for European research on early detection techniques, on the use of European Cerceris hunting wasps for "biosurvey", on the use of biological control agents, on acoustic detection of A. planipennis in the trunk, flight capacities of the pest, etc. The corrected text will be discussed again at the next Panel meeting.
The Panel discussed the preparation for the Workshop on Chalara fraxinea to be held at the end of June 2010 in Oslo. It stressed the need to concentrate on taxonomy, distribution and possible measures.