Expert Working Group for performing PRA on 'Candidatus Liberibacter solanacearum'
Paris, 2010-11-30/12-03
In 2008, a new bacterial species belonging to the genus 'Candidatus Liberibacter' was found associated with diseases of potato, tomato and other solanaceous crops in the Americas (USA, Mexico, Guatemala, Honduras), and was also discovered in New Zealand. In particular, it was found associated with a potato disease called 'zebra chip' which has caused significant economic losses, by reducing both yield and quality of potato crops. The pathogen is a phloematic bacterium. It is transmitted by a vector, the leaf psyllid Bactericera cockerelli (Hemiptera, Triozidae), which lives on plants including those of the Solanaceae family, especially tomato and potato. The pest (and its vector) had never been detected in the EPPO region and the EPPO Working Party on Phytosanitary Regulations decided in June 2010 that a PRA should be performed. In the meantime, the bacterium was found on carrots in Finland, transmitted by the carrot psyllid Trioza apicalis (Hemiptera, Triozidae).
An Expert Working Group met in Paris in 2010-11-30/12-03 to develop a PRA. It agreed to focus on the risk for Solanaceous crops as they are the crops which appear to be most at risk. In addition, to date there does not seem to be a pathway between carrot and solanaceous hosts (the vector on carrot is T. apicalis, which does not feed on Solanaceae, and in addition there are no psyllids known to feed on both carrot and Solanaceae in Finland).
The PRA covers the bacterium itself and the complex bacterium/B. cockerelli. B. cockerelli is also a pest on its own right, and a separate draft PRA has also been prepared. As 'Ca. L. solanacearum' is new to science and outbreaks appeared quite recently, research is still going on. At the moment, uncertainties remain in particular on the bacterium host range, on its possible other vectors and on its epidemiology in general.
The overall conclusion of the PRA was that, if 'Ca. L. solanacearum' enters in the PRA area and a vector is present, it would be likely to establish, spread and result in economic damage. Damage is expected to be massive at least in the short term on solanaceous crops, similar to that is currently observed in the USA and New Zealand, both because of losses of crops and export markets, as well as increase of control costs. It is important that pest risk management options are considered both for 'Ca. L. solanacearum' and for B. cockerelli in order to prevent introduction of both onto Solanaceae hosts in the EPPO region. Phytosanitary measures were recommended by the EWG.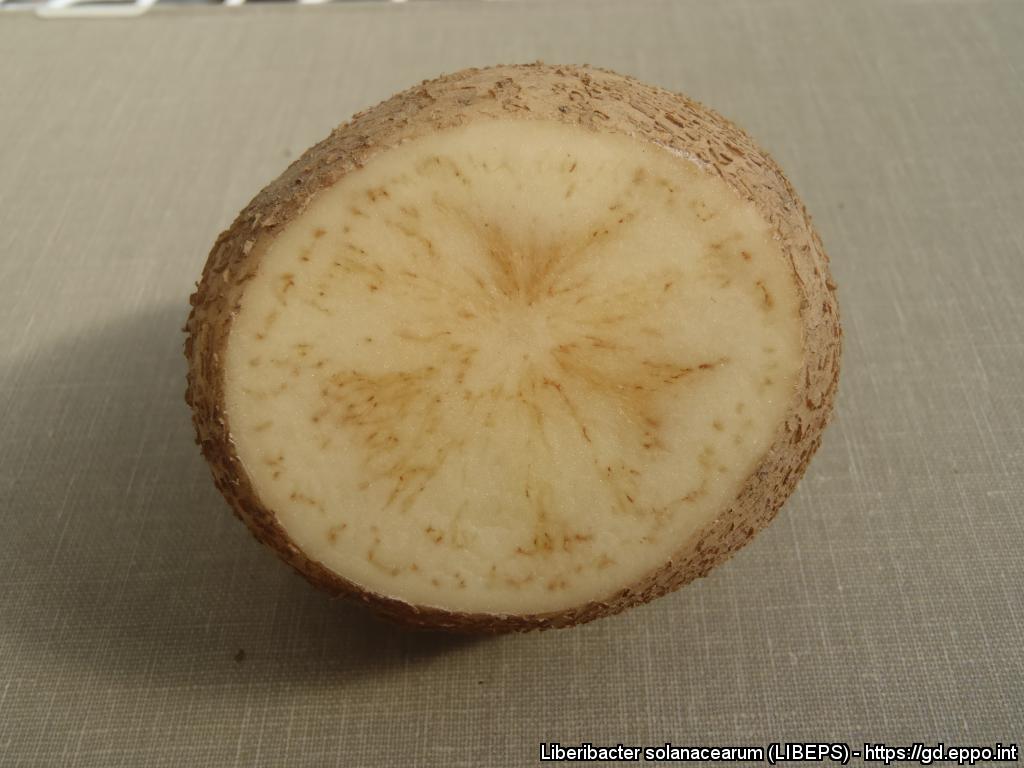 Zebra chip infected potato tuber.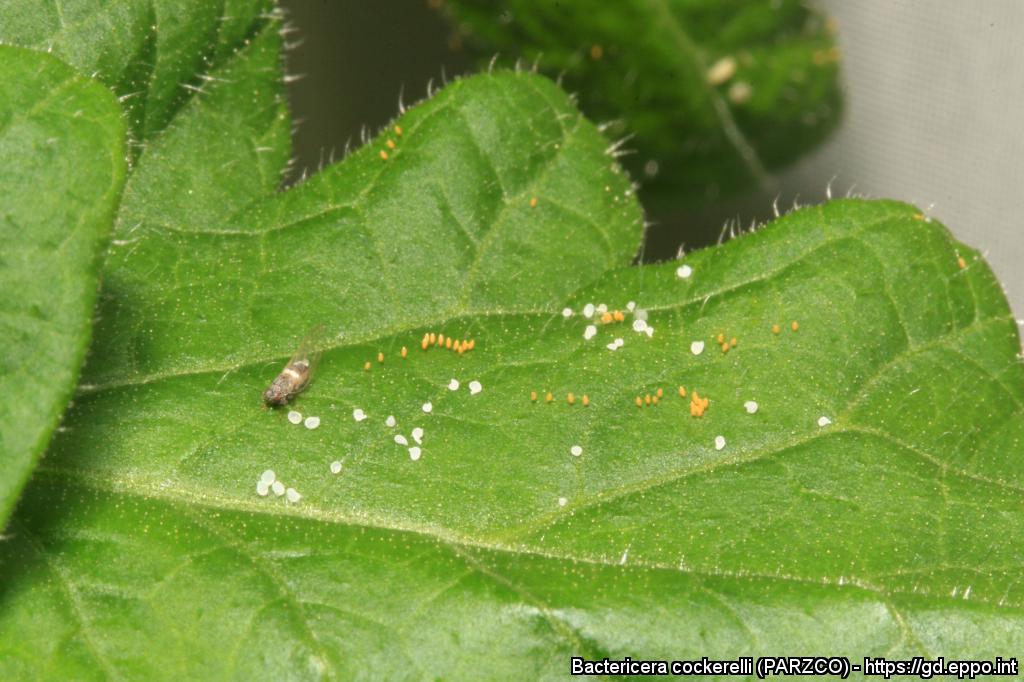 B. cockerelli adults with eggs and white granule excrements
Courtesy: J.E. Munyaneza, USDA-ARS, Konnowac Pass (US).
The most important pathways identified for entry of 'Ca. L. solanacearum' in the EPPO region are:
Plants for planting of Solanaceae (except seeds) from countries where 'Ca. L. solanacearum occurs', infested by B. cockerelli or not
Fruit of solanaceous plants (e.g. tomato, Capsicum spp., eggplant, tamarillo, Cape gooseberry) from countries where 'Ca. L. solanacearum' occurs, infested by B. cockerelli or not
Seed potatoes and ware potatoes from countries where 'Ca. L. solanacearum' occurs
The risk of entry was considered low with a medium uncertainty, in particular because a large proportion of countries in the EPPO region prohibit the import of both Solanaceous plants for planting and seed potatoes. If the bacterium is associated with B. cockerelli in a consignment or if another vector is present in the PRA area, the risk of entry will be moderate. However the host range of B. cockerelli is large and other species ofplants for planting (e.g. Micromeria chamissonis, Mentha spp., Nepeta spp.) can also be a pathway. This pathway was not considered in detail due to lack of information on trade. However in contrast to Solanaceae plants for planting, there are no restrictions on the movement of this material in any countries of the region.

In the presence of a vector in the PRA area or if B. cockerelli was introduced at the same time, the probabilities of establishment and spread would be high to very high. B. cockerelli and 'Ca. L. solanacearum' have already established in areas with very different climatic conditions, as well as in glasshouses. So it is considered that they could establish in most of the EPPO region, except maybe outdoors in the Northern and Eastern areas.

The conclusions of the EWG will be reviewed by different bodies in the EPPO system in 2011. This may then enable a recommendation for regulation to be considered by the EPPO Working Party in June 2011.

The Expert Working Group was composed of:
Dr Neil GILTRAP - Food and Environment Research Agency, York (United Kingdom)
Dr Joseph MUNYANEZA - USDA-ARS Yakima Agricultural Research Lab- Wapato (USA)
Dr Anne NISSINEN - MTT Agrifood Research Finland -Jokioinen (Finland)
Dr Tarek SOLIMAN - Business Economic Group - Wageningen University - Wageningen (Netherlands)
Dr Emilio STEFANI - Dept.Universita degli Studi UNIMORE - Reggio Emilia (Italy)
Dr Leon TJOU-TAM-SIN - National Reference Laboratory - Wageningen (Netherlands)

Core members
Dr Dirk Jan VAN DER GAAG - Plant Protection Service - Wageningen (Netherlands)
Dr Leif SUNDHEIM - Norwegian Institute for Agricultural and Environment Research - Aas (Norway)

Secretariat
Ms Muriel Suffert – EPPO Secretariat
Ms Fabienne Grousset – Consultant for EPPO who has prepared the draft PRA.