Expert Working Group for performing PRA on Epitrix similaris,
E. cucumeris and E. tuberis
Paris, 2010-01-11/14 and Paris, 2010-03-31/04-01
In Portugal, unusual damage to potato crops (superficial lesions on the tubers) started to be observed in 2004 in the north of the country (near Porto). In the following years, damage continued to spread towards the south but the causal agent remained unknown. Two North American flea beetles, Epitrix cucumerisand Epitrix similaris were later identified in fields where tuber damage was observed. The second species seems to be responsible for the characteristic type of tuber injury observed. However it still cannot be excluded that other species of Epitrix might also be involved because of the difficulties encountered in identification (members of the Alticinae genus are small insects with similar morphology). E. tuberis is the species usually associated with such tuber damage in North America. The EPPO Working Party on Phytosanitary Regulations decided in 2009 that a PRA for these 3 species should be performed.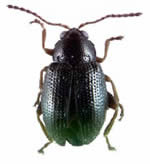 Courtesy: JF Germain, LNPV Monpellier (FR)
View more pictures >
The Expert Working Group for performing PRA met in Paris in 2010-01-11/14 to develop a PRA. Considering the difficulties of identification in the field and the uncertainty about the distribution of the different species, the Expert Working Group decided that this PRA should address all Epitrix species damaging potato tubers (e.g. E. tuberis, E. cucumeris, E. similaris and E. subcrinita). The EWG lacked time to finalize the PRA and a second meeting was organized from 31 March - 1 April 2010 to address more specifically the management options.

The overall conclusion of the PRA was that there is a risk of establishment for at least one of these species in some parts of the PRA area. The potential economic impact is considered to be high because the pests can cause damage to potato tubers, as well as feed on other Solanaceous crops (tomato, aubergine).
The two most important pathways identified for spreading Epitrix are: 1) soil attached with seed potatoes, and 2) soil attached with ware potatoes. This is because adult beetles, pupae and possibly larvae could be present in the soil attached to the tubers. The Working Group considered that the trade in ware and seed potatoes with soil attached from areas where the pest is present clearly poses a significant risk to importing countries. The risk is reduced when potatoes are washed so as to remove all soil prior to export.
The conclusions of the EWG will be reviewed by different bodies in the EPPO system in 2010. This may then enable a recommendation for regulation to be considered by the EPPO Working Party in June 2010.
The Expert Working Group was composed of:

First meeting (2010-01-11/14)
- Ms Boavida Conceiçao (Instituto Nacional de Recursos Biologicos, PT)
- Ms Chatot-Balandras Catherine (GERMICOPA, FR)
- Ms Erdogan Pervin (Plant Protection Central Research Institute, TR)
- Ms Fransen Joanne J. (Plant Protection Service, NL)
- Mr Germain Jean-François (Laboratoire National de la Protection des Végétaux, FR)
- Mr Giltrap Neil (Food and Environment Research Agency, GB)
- MsSchrader Gritta (Julius Kühn Institut, DE)
- Mr Vernon Robert S. (Agriculture and Agri-Food Canada, CA)

Second meeting (2010-03-31/04-01)
- Ms Boavida Conceiçao (Instituto Nacional de Recursos Biologicos, PT)
- Ms Chatot-Balandras Catherine (GERMICOPA, FR)
- Mr Giltrap Neil (Food and Environment Research Agency, GB)
- Mr Pfeilstetter Ernst (Julius Kühn Institut, DE)
- Mr Potting Roel (Plant Protection Service, NL)
- Mr Vernon Robert S. (Agriculture and Agri-Food Canada, CA)

EPPO Secretariat:
- Ms Petter Françoise
- Ms Suffert Muriel