Expert Working Group for performing PRA on Drosophila suzukii
Paris, 2010-07-05/08
In the EPPO region, there have been an increasing number of D. suzukii detections in recent years: in November 2009, Italy notified its occurrence in the Autonomous Province of Trento; in El Perelló, Spain (150 km from Barcelona, Catalonia) the insect has been detected in traps since October 2008 and later verified; in France Drosophila suzuki was collected in traps and identified in both Montpellier and Minière de Vallauria in 2009. It was subsequently officially identified in June 2010 on cherry, peach and apricot in Corsica, and on strawberry in the Alpes Maritimes. In January 2010, the Panel on Phytosanitary Measures considered that a PRA should be conducted on this pest.
An Expert Working Group was convened and performed the PRA. The main conclusions of which are presented below.
Key biological characteristics and major hosts
D. suzukii is a vinegar fly native to Asia. It infests thin-skinned fruit and poses a significant risk to soft fruit and stone fruit. Most species of vinegar fly are not pests because they infest overripe, fallen, rotting fruit. However, D. suzukii females lay eggs in ripening fruit. Larvae develop in the fruit and cause it to become soft and unmarketable. D. suzukii infests both cultivated and wild hosts.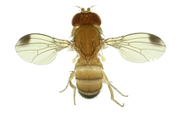 Male Drosophila suzukii
Courtesy: Dr G. Steck, FDACS (US)

Damage on cherry
Courtesy: Dr M Hauser, CDFA (US)
Crops on which significant economic damage has been reported:
Prunus spp. (mainly sweet cherries, but also on peaches and plums), Vaccinium spp. (blueberries), Rubus spp. (e.g. raspberries and blackberries), Fragaria ananassa (strawberries).
Entry
The Expert Working Group (EWG) considered that the risk of entry is primarily from traded fruits. Probability of entry was considered high with low uncertainty for the main host fruits. The fact that the pest has established in Italy and France, and has also been introduced in the USA and Canada, was considered a strong indication that the pest can enter easily. Volumes of imports are not large but the concentration of the pest is likely to be very high on the fruits. For minor host fruits, the risk is considered as medium with low uncertainty; the difference is due to the fact that the concentration of the pest is not likely to be very high on these hosts, plus the fact that they are less likely to be infested than the major hosts.
Establishment
The pest is likely to find large areas with suitable conditions for establishment in our region although the establishment of D. suzukii in more northern parts of the EPPO region is likely to depend on the presence of overwintering sites associated with human habitation. This is due to the fact that host plants are widely present in the PRA area (both agricultural and home-garden plants). Climatic conditions are suitable (only northern areas of Europe and Russia are considered unsuitable). Management practices can be adapted but experience to date in the parts of the PRA area where the pest has occurred indicates that D. suzuki establishment cannot be prevented.
Spread
The risk of spread was considered high. Spread noted so far is a consequence of both human and natural spread. D. suzukii was first reported in North America in 2008 in California and by 2009 it was widespread in a range of hosts from Oregon, Washington and British Columbia. This demonstrates the ability of D. suzukii to spread if suitable hosts are present and climatic conditions are favourable. The pest has also spread in France.
Impact
The EWG concluded that the potential for economic consequences due to D. suzukii incursions were 'high', with 'low' uncertainty. The strongest factor determining this decision was the fact that there is already evidence of extremely high crop yield losses where this pest establishes. Management and experience, and the fact that growers could change their agricultural systems and grow different crops altogether, may well reduce damage levels in the future.

There are uncertainties regarding the evaluation, in particular the EWG did not consider that grapes could be regarded to be a major host. However, there is some uncertainty over this point and the possibility of infestation potential could not be ruled out. In such a case the potential for economic damage in the region is higher.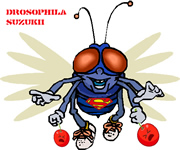 Cartoon of D. suzukii
Courtesy: Dr M Hauser, CDFA (US)
Management
From the pest risk assessment it can be concluded that the pest presents the characteristics of a quarantine pest. However the rapid spread (combination of natural and human spread), makes its regulation difficult. Nevertheless such regulation is possible and the EWG considered that management measures should be identified so that EPPO member countries could consider including measures in their regulations. The following measures are suggested for host fruits:
Specified growing conditions (growing the plants under a net or in greenhouses and trapping to verify pest freedom);
Pest Free Area (following ISPM no. 4);
Countries could also establish a Systems Approach based on the combination of area of low pest prevalence; surveillance based on trapping; treatments of the crop; inspection during packing and handling; and cold treatment during transport ;
It should be noted that the efficacy of cold treatment has not been verified for commercial consignments and is therefore not recommended.
Further activity and information
The conclusions and recommendations of the Pest Risk Analysis are under review by core members and will be discussed at the next Panel on Phytosanitary Measures in April 2011. The EWG that performed this analysis recommended that information on this pest and its control should be communicated urgently to European and Mediterranean countries so that growers are informed about this important emerging pest. A fact sheet was prepared and circulated in July 2010.
The Expert Working Group was composed of:
Mr Richard Baker - Food And Environment Research Agency York (GB)
Mr Peter Baufeld - Julius Kühn Institut (JKI), Kleinmachnow (DE)
Mr Alberto Grassi - Fondazione Edmund Mach – Iasma, S. Michele All'adige (IT)
Mr Jose Maria Guitian Castrillon - Tecnologias y Servicios Agrarios, S. A. - TRAGSATEC, Madrid (ES)
Mr Martin Hauser - California Department of Food and Agriculture, Sacramento (US)
Ms Tracy Hueppelsheuser - British Columbia Ministry of Agriculture and Lands, Abbotsford (CA)
Mr Jonathan Knight - Imperial College London (GB)

Core member
Mr Philippe Reynaud - Laboratoire de la Santé des Végétaux, Angers (FR)

EPPO Secretariat
Ms Françoise Petter
Mr Robert Sunley