Expert Working Group for performing PRA on Agrilus anxius
Paris, 2010-09-13/16
Agrilus anxius originates from North America where it is considered to be a serious pest of birch trees (Betula spp.) grown as amenity and forest trees. European species of birch (e.g. Betula pendula and B. pubescens) planted in North America are more susceptible than North American birch species. In the EPPO region, these birch species are widespread and important as amenity and forest trees. Concerns were raised regarding the increasing trade of wood chips from North America, which might constitute a pathway for the entry of A. anxius into the EPPO region. Agrilus anxius was added to the EPPO Alert List in February 2010 and the Working Party on Phytosanitary Regulations decided in June 2010 that a PRA for this species should be performed. The Expert Working Group for performing PRA met in Paris in 2010-09-13/16 to develop a PRA. The overall conclusion of the PRA was if the pest enters in the PRA area, it would be likely to establish, spread and result in economic and environmental damage. Phytosanitary measures were recommended. The risk of entry was considered likely with a medium uncertainty. Detailed data is lacking on the volume and frequency of import of plants for planting, wood and wood chips, and on the birch species which are traded.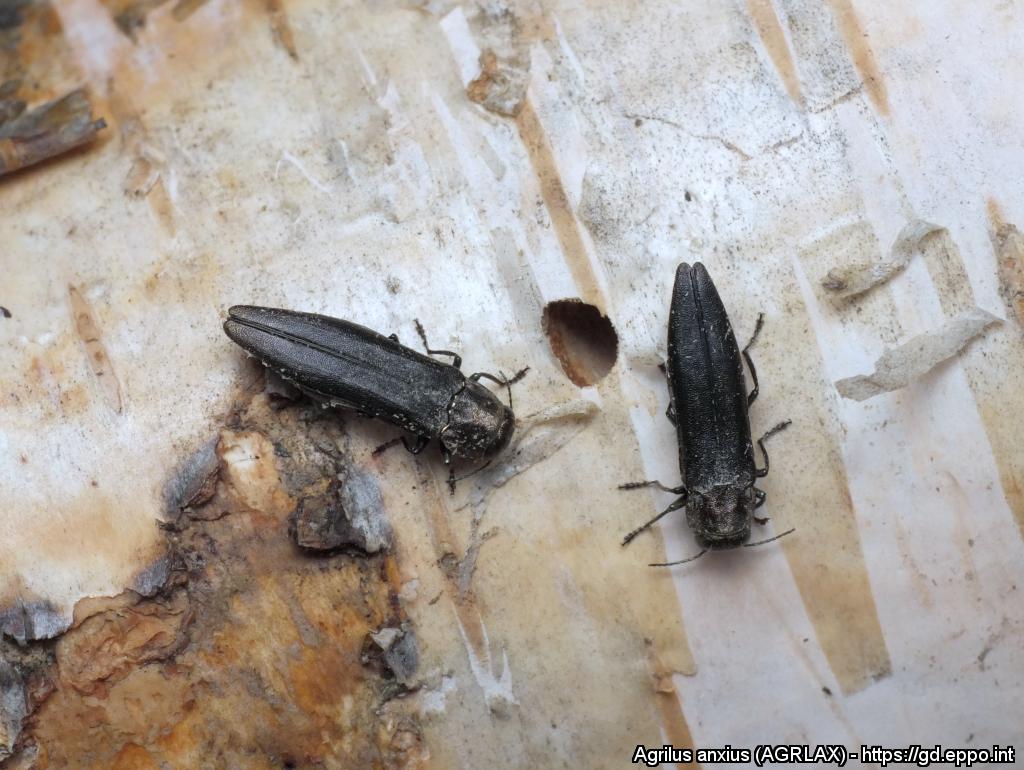 Adults and exit hole on Betula
Courtesy: Eduard Jendek
The three most important pathways identified for entry of A. anxius in the EPPO region are:
Plants for planting of Betula spp. originating in areas where the pest occurs in Canada and in the USA
Wood with or without bark of Betula spp. originating in areas where the pest occurs in Canada and in the USA
Wood chips originating in areas where the pest occurs in Canada and in the USA.
In addition, the expert working group raised questions relating to the risk associated with wood packaging material and the efficacy of ISPM 15 heat treatment in providing 100% control of this pest.
The overall probability of establishment was considered as to be "very high" as birch is widespread in the PRA area. The pest in its current distribution occupies a wide range of ecological and climatic conditions, which are also present in the PRA area. A. anxius would be difficult to eradicate, if introduced, as it would most likely not be controlled by any natural enemies that might occur in the PRA area, nor by treatments. It is also highly pre-adapted to the hosts in the PRA area.
The probability of spread is considered to be "very high" as A. anxius can spread naturally (it is a strong flier) but also with human activities (movement of plants, wood and wood products) because the wood boring habit and cryptic nature of the pest makes detection of infested material difficult.
The conclusions of the EWG will be reviewed by different bodies in the EPPO system in 2010-2011. This may then enable a recommendation for regulation to be considered by the EPPO Working Party in June 2011.
The Expert Working Group was composed of:

Dr Christiane Fassotte - Walloon Agricultural Research Centre - Gembloux (Belgium)
Dr Daegan Inward - Centre for Forestry and Climate Change - Forest Research - Farnham (UK)
Dr Robert Haack - US Forest Service- , Northern research Station- East Lansing, Michigan (USA)
Dr Dan Herms - Ohio State University – Wooster (USA)
Dr Claire Sansford (Core member) - Food and Environment Research Agency- York (UK)

Secretariat:
Ms Muriel Suffert – EPPO Secretariat
Dr Andrei Orlinski - EPPO Secretariat (in charge of the Panel on Quarantine pests for forestry)
Ms Fabienne Grousset – Consultant for EPPO who has prepared the draft PRA.